This Year's Smart City Expo World Congress Seeks To Empower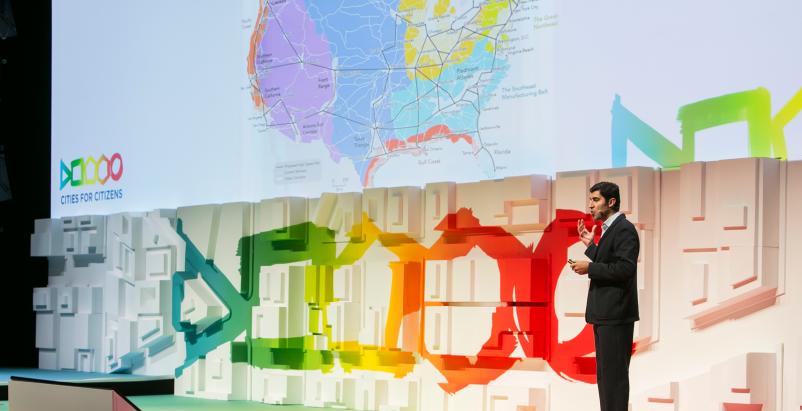 With the majority of the world's population now living in urban environments, the concept of Smart Cities is more important than ever. To manage growing urban populations, public and private sector leaders will have to embrace technology, data, sustainable design and new methods of collaboration. The label of "Smart City" encompasses all of these imperatives and more, bringing together urban experts and doers that can help ensure that the future is safe, equitable and efficient.
But cities need more than leaders to succeed. The heart of Smart Cities isn't in the IoT or data or self-driving cars, but in the people who actually live in cities. The needs and desires of citizens need to be embedded into cities' visions and plans, yes, but simply accounting for citizens isn't smart. Leaving people out of the planning process and then subsequently locking them out of any future decision-making is not a model that cities can afford to pursue.
Instead, cities must enable their populations and ensure that they can participate, reflect and access all that Smart Cities can offer. This is the ethos that will drive this year's Smart City Expo World Congress, which will run under the motto "Empower Cities, Empower Citizens."
"Top-down governance approaches are gone for good and we need to shift the relation between city governments and residents taking it one step further," Expo Director Ugo Valenti said in a press release. "Never before in history has there been so much talent and creativity concentrated in so little space. It is our responsibility to seize this opportunity and use all the means to grasp the full potential of these urban powerhouses."
Held each year in Barcelona, the Expo draws influencers from around the world to share their Smart City insights and visions. This year's edition, which runs from November 14 through 16 at Fira de Barcelona's Grand Via venue, will bring more than 420 speakers to dive deep into the field through keynotes, plenary sessions, dialogues and breakout groups. Accompanying the speakers will be over 650 exhibitors and vendors, all bringing with them new solutions and products for city leaders to consider. Exhibiting alongside them will be over 700 global cities, there to share their successes and programs to the world. In short, the Smart City Expo World Congress is the leading event in the urban innovation space.
To cover the wide array of topics embedded in the Smart City ethos, the event organizers have structured the agenda in such a way as to foster the most constructive discussion possible. Each session within the Congress is assigned one of several topic groups, most of which will be familiar: governance, mobility, safe cities, economy, sustainability, circular economy, society and data and technology.
Even within these buckets, though, the central theme of empowerment shines through. Sessions under the "mobility" banner, for instance, carry titles like "Advancing the Health and Wellbeing of People in Cities" and "Developing Inclusive Urban Environments." These programmatic ambiguities are a feature, not a bug. The boundaries between economic sectors are blurring together under the Smart City movement, and the Congress' content is reflecting this transition.
Another example of this collaborative spirit comes in a new event that will share the Grand Via during the show. The first ever Smart Mobility Conference will be held jointly with the Smart City Expo World Congress this year. Organized by Smart City Expo, this new event came into being when the Expo's mobility track merged with the international railroad industry show BcnRail. This unified new show will highlight intelligent transportation solutions and will have its own space within the Grand Via.
While talk of empowerment appears set to define this year's show, another conversation swirls outside Fira de Barcelona's walls. The current political situation in Catalonia, which began with a referendum on Catalonian Independence on Oct. 1 and escalated as the Catalan Parliament voted for independence from Spain weeks later, has sparked significant tensions between Madrid and Catalonia. Despite this, the Smart City Expo World Congress will go on, uninterrupted.
"Our calendar hasn't been affected and life in Barcelona continues as always," Valenti said in a press release. "The political context has had no impact on the daily life of the city nor the security, mobility of both citizens and visitors and the running of hotels, restaurants, companies or banks."
That the conversation on Smart Cities will continue uninhibited is yet another example of the potential of Smart Cities. As national squabbles sizzle, city life goes on. Such an idea was discussed this past summer in the aftermath of the U.S. withdrawal from the Paris Climate Agreement. At the Chicago Forum on Global Cities, city leaders reacted by pledging that their cities would honor the agreement. This signaled that cities, not nations, are becoming the driving units of culture and innovation on a global scale. Barcelona's resilience during this diplomatic episode only highlights the power and continuity that Smart Cities can provide.
In light of the assurances that this year's Smart City Expo World Congress will go on uninterrupted, this year's show promises an especially prescient look at the future of cities. Recent events have paved the way for cities to exert a greater influence on the world, but the leaders of those cities will still need to have hard conversations of their own about what exactly this sort of leadership will look like.
Innovation alone will not be enough. Autonomous cars, data, smart lighting are all means to facilitate growth, the Congress argues, but they are just means, not the end. The key message of this show is that people, not technology, should be at the core of the city. For cities to be engines of change and progress, empowering citizens is the first step.
To join the conversation, registration for this year's Smart City Expo World Congress can be found here. If you can't attend this year, be sure to follow along on Twitter using the hashtag #SCEWC17 and following @SmartCityexpo. Further coverage of the show will be forthcoming.
Image Credit: © SCEWC Barcelona 2016