Urban Gardening In Florence: A Social Sustainability Experience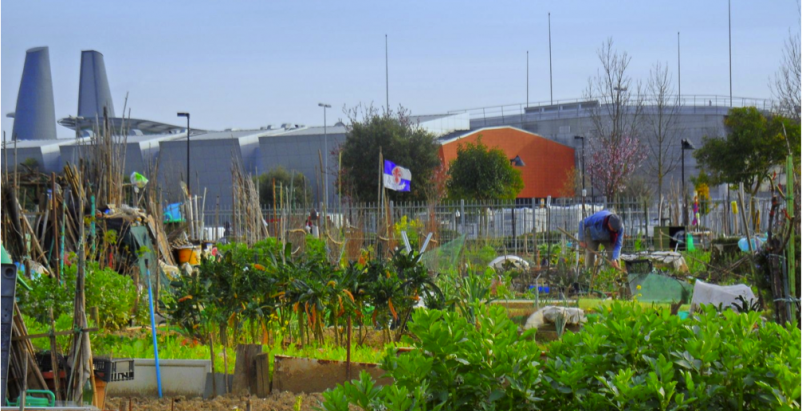 The concept of "urban agriculture" or "urban gardening" is gathering momentum all around the world. The idea of cultivating, processing, and distributing food at the local level is attractive for several reasons. The first is obviously food production, but in many countries this concept takes the form of a social and didactic tool that may also have the sustainable goal of requalifying degraded urban areas.
In this approach, several people share the common/collective experience of seeding, growing and curing a common garden, that can be either in soil or in vases or other containers. The goal of this experience is not always that of eating the resulting products, but it also serves to educate people in the knowledge of natural growth cycles, what affects healthy food production, what are sustainable practices in agriculture, as well as being a therapeutic experience for socializing and sharing experiences. Many of these experiences involve children or mentally impaired individuals, but anyone can join and profit from the experience. 
The goal of producing food is surely an important one. It is reported that about 15 percent of the world's food is now grown in urban areas. According to the U.N. Food and Agriculture Organization (FAO), urban farms already supply food to about 700 million residents of cities, representing about a quarter of the world's urban population, and this type of agriculture can increase the level of food security.
There are many different means to implement urban and community gardening programs (see Inspiring Urban Agriculture Projects, Urban Gardening Around the World and Next-gen urban farms: 10 innovative projects from around the world). Let us briefly introduce some examples from the USA:
The "Brooklyn Grange Rooftop Farm" is a project of urban architecture launched in New York by the Brooklyn Grange company that has converted the flat roofs of two buildings in Queens and Long Island City into a cultivation field. This is one of the most extensive projects in the world, with an area of almost 11 hectares distributed over the two buildings. Brooklyn Grange grows, using a 25-cm layer of soil irrigated by rainwater and produces many varieties of vegetables that are mainly sold in markets, shops and catering companies in New York City.
The urban garden developed by Ron Finley, a successful designer who, after acquiring one of the many abandoned lands in Los Angeles, turned it into an urban vegetable garden where he started growing tomatoes, without the initial consent of the municipal administration, calling himself a "guerrilla gardener". He became famous thanks to a TED talk that received over two million views, and attracted attention from numerous celebrities and collaboration proposals from corporations.
Local Sprout, an urban farm in San Antonio, Texas. Local Sprout targets communities, aiming at growing fresh fruits and vegetables year-round, using a hydroponic growing system. Their project goals (from the Local Sprout homepage) are:
Increase access to healthy food for all people.
Reduce the environmental impact of food production.
Teach everyone about a better food system.
In Italy, there is a long history of subsistence gardening. Except for the Po Valley and a few other valleys, most of Italy is mountainous, making it unsuitable for estensive cultivations except olive trees and vines. However, historically, most peasants and people living in small villages would grow their own vegetables in small gardens. This practice was gradually abandoned by people living in towns and larger villages, which are relatively small in Italy with respect to the rest of the world. Therefore, there is an extensive "boundary" between urban and country scenarios, where home gardening resists still today. In recent years, there is some tendency by young people to recover abandoned fields for growing vegatables, and a diffuse desire to cultivate at least a small piece of field.
At present, urban gardening can be interpreted in several forms: classical marginal agriculture engulfed in a growing city, experimental gardening aimed at reducing the cost of transportation or recycling urban wastes, shared gardening in which an extension of soil (generally public) is divided in parcels that are assigned to single citizens, private gardening (from back yards or balconies) or co-gardening in which people collaborate in a common effort.
Also, the techniques employed are quite varied: from traditional methods to hydroponic agriculture (experimental gardening) to high-productivity methods. One can find very heterogeneous urban horticulture experiences: private and public gardens, of various extensions, shared and social, on the balcony or on the ground, collective or not, with professional and economic implications, with educational, socializing and work reintegration purposes and so on.
During the past few years, the town of Florence, has witnessed the widespread desire for a more "natural" way of living, shared by many young people. With the active support of the University of Florence, they engaged in supporting environmental sustainability in various forms. Some co-gardens have been extablished in the educational complex of Viale Morgagni (student house), where students themselves supply the university canteen with products from their garden. 
But co-gardening is not the only urban activity being developed in Florence. A few years ago, the "EcoEquo" desk of the City of Florence started the project "Orto Volante" (flying gardens),  which, with the collaboration of Institutions, Associations and other cities, monitored urban gardens and developed actions to enhance them. Guided visits open to citizenship have been organized to particularly significant realities: La Fattoria dei ragazzi, Villa La Pietra, Orti Dipinti, Cooperativa Le Rose, Orto di Ripoli, the "Giardino dei Semplici" botanical garden, OCA of San Salvi (Self-managed Collective Gardens) , the garden of Palazzo Pucci, the gardens of Filiderba, the garden of the Torre di Bellosguardo and others.
Meetings with citizens (e.g., with Salvatore Ceccarelli on participatory genetic improvement), specific events, and counseling desks were held. In recent years, the Ortobioattivo project, which is spreading the culture of vegetable gardens in the city with a continuous experimentation on production techniques and with the active involvement of citizens and schools, has assumed a particularly important role for urban agriculture. The Semele cooperative also draws inspiration from Ortobioattivo. Thanks to the active participation of consumers, it has created work to produce vegetables with high nutraceutical value.
In this urban context, the University of Florence plays an increasingly important role thanks to various initiatives. The "Giardino dei Semplici" botanical garden has created demonstrational gardens suitable also for small spaces and inspired by the Ortobioattivo: interested people can participate concretely in the cultivation of vegetable gardens, exchange experiences and deepen their understanding of specific topics (use of fermented, lombricompost, biodynamics, use of biostimulants and corroborants, consociations, effective microorganisms, mycorrhizae, nutraceutical foods, urban beekeeping, food waste, urban vegetable gardens to capture CO2, etc.).
The Botanical Garden of the University of Florence has also been an experimentation ground for the biological control of weeds and pathologies for two years: the results are very encouraging, and the experience is continuing in an active way. At the same time, research is being carried out in collaboration with the University of Florence's Biology Directorate, Cerfit (Regional Reference Center in Phytotherapy)  and Ortobioattivo to evaluate the nutraceutical value of plants grown using bioactive techniques. Furthermore, the Botanical Garden has been promoting, for more than 10 years and in collaboration with the University Training Office, training courses for staff and concerning the biological struggle, water saving, good practices, energy saving, etc.
Recently, these experiences have given birth to a project, in the newly established Science Shop of the University of Florence. A Science Shop is a way of opening the University to the problem and questions coming from the social community. In this methodology, citizens and their associations are invited to express their problems, that are then focussed in some public encounters. This originates one or more research projects, that are supervised by some researcher but carried on by students, in interaction with citizens. The urban gardening theme discussed a science café, on November 17, 2017, thanks to the Florence Science Café Association, and a project started about producing a booklet explaining the many different aspects of urban gardening, including the emotional and technical ones.
A related project is about social (common) gardens in Prato, a town nearby Florence. The municipality assigns portions of land to associations, furnishing also the needed water, and is interested in knowing how the resources (water in particular) are used, which are the economic and psychological benefits, what kind of plants are grown, what is their quality as food, and so on.
In conclusion, we can say that the theme of urban agriculture is of great interest for cities around the world from New York to Florence: around this topic private individuals and public institutions are mobilized in a concrete and creative way; there are important experiences of shared gardens and high value of solidarity and inclusion; reflection on the use of land and on common goods is deeply felt and participation in meetings, blogs, events on urban gardens is active and increasing. There is a broad desire to share and exchange experiences, to learn and put into practice sustainable agronomic techniques. Urban gardening produces far more positive outcomes than just healthy and delicious food.
Franco Bagnoli and Giovanna Pacini belong to the Department Physics and Astronomy and CSDC of the University of Florence and the Associazione Caffé-Scienza Firenze-Prato. Ugo Bardi belongs to the Deptartment of Chemistry at the University of Florence. Marina Clauser belongs to the Botanic Garden, Natural History Museum at the University of Florence.
Leading Cities is a global leader in Smart City solutions, city diplomacy and collaboration advancing sustainability and resilient city strategies and technologies.