Understanding Smart Cities And The Potential Role Of Out-Of-Home Advertising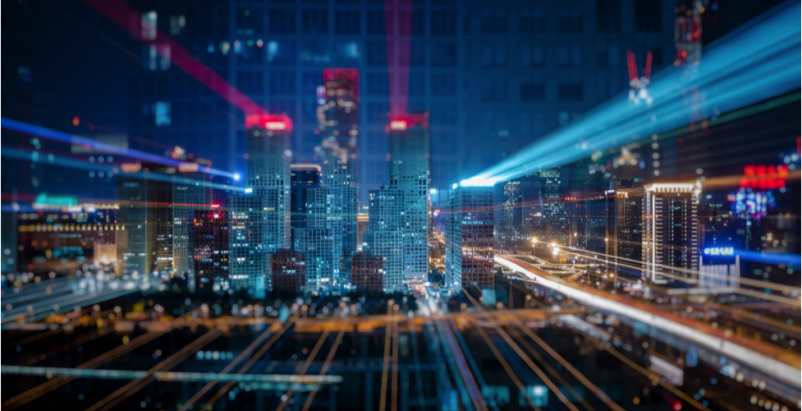 The ongoing avalanche of technology transformation has resulted in big changes to nearly every aspect of city living. This list includes how visitors and residents communicate, consume, connect, and work – and most of it has come at a relatively low-cost to the users of such technology. Those basic economics are driving cities to invest in ambitious smart city initiatives.
Dr. Peter Williams (Chief Technology Officer for Big Green Innovations at IBM) suggests a smart city "is where the Internet of Things and analytics are applied to public infrastructure, services, and participation in the community."
It is the new tech-powered connections that matter most. For out of home (OOH) media companies, the vital connections that matter can be divided into three types:
Machine-to-Machine (M2M) Connections: Information transferred from one machine or "thing" to another over a network. Machines include sensors, robots, computers, and mobile devices. Often called the Internet of Things (IoT).
Machine-to-People (M2P) Connections: Information transferred from a machine (such as a computer, mobile device, digital sign) to a person, or vice versa. Whether a person gets information from a database or conducts a complex analysis, this is an M2P connection. Often called Data & Analytics.
People-to-People (P2P) Connections: Information transferred from one person to another. Increasingly, P2P connections happen virtually, through video, mobile devices, and social networks. Often called Collaboration.
These types of connections are growing at an astounding rate. As more advanced connections are added, the strategic value will become clearer for the OOH industry. Consider wherein all three connections are combined: M2M, P2P, and M2P. This sharpens the focus on competitive differentiation and the creation of new business models.
Digital billboards promoting the release of the film Transformers: The Last Knight used optic recognition technology to identify the model of passing vehicles.
Despite the opportunities, several hurdles stand in the way of an OOH company's ability to fully capitalize on connected technologies:
Although possible, it may be difficult to tap into the full potential of connected infrastructure until digital OOH is more widely dispersed. Digitized assets can have the effect of improving operating efficiencies and reducing costs.
OOH companies must continue to gain insights from the vast amount of data now becoming available. The aim is to use it for anticipating new behaviors, speed new initiatives, and avoid potentially negative outcomes.
OOH companies need to keep pace with rapid changes, such as new business requirements and the mandate to roll out new services.
Proactive initiatives are needed to deal with data security threats that come with increasing connectedness.
OOH companies responding to the smart city challenge with legacy systems often find existing assets lack the scale, flexibility, and operational simplicity needed to compete in new cityscapes.
The Third Platform
Leading analyst companies perceive a sea of change is occurring within cities. Many agree converging digital disruptions give rise to exponential change.
Researchers at Gartner Group call it the Nexus of Forces and others call it The Third Platform. Regardless of the term, the bottom line is that knitting together multiple technology-driven disruptions will create great opportunities for cities and the people who live in them. At its essence, the smart city revolution is all about the networked connections linking up people, process, data, and things.
A starting point for the OOH industry to begin thinking about smart cities integration is with the four elements of people, process, data, and things. Taken together, they comprise the core of a smart city system:
People: Connecting people in more relevant, valuable ways. Today, most people connect to the Internet through devices like PCs, tablets, TVs, and smartphones. In the future, people will be much more comfortable with different kinds of devices, such as a pill that's swallowed to sense and report health concerns to a doctor using a secure Internet connection. Sensors placed on the skin or sewn into clothing will provide information about a person's vital signs. It's possible people themselves will become nodes on the Internet, with both static information and a constantly emitting activity system. For OOH, this could mean changing the current attitudes about new technologies, shifting the emphasis of OOH asset by making them more adept at integrating data from multiple sources.
Process: Delivering the right information to the right place, person, or machine at the right time. Processes play an important role in how people, data, and things work with one another to deliver value in the connected world. With the correct process, connections become relevant and add value, because the right information is delivered to the right person at the right time in the appropriate way. The good news for the OOH industry is there are potent new methods, powered by digital tools, which enable the presentation of more meaningful information to consumers, especially geo-located information that becomes more relevant to interactions with an OOH asset.
Data: Leveraging data into more useful information for decision making. With IoT, devices typically gather data and stream it over the Internet to a central source, where it is analyzed and processed. As the capabilities of things connected to the Internet advance, they will become more intelligent by combining data into more useful information stacks. Rather than just reporting raw data, connected things will send higher-level information back to machines and people for further evaluation and decision-making. The transformation from data to information is important, because it will allow people to make faster, more intelligent decisions, as well as control environments more effectively.
Things: Physical devices and objects connected to the internet and to each other, in ways that encourage more intelligent day-to-day decision-making. Physical items that will be critical for OOH include: sensors (e.g. pressure, radio activity, image, temperature, vibration); consumer devices; enterprise assets that are connected to both the Internet and each other through easy-to-use tools like RFID (wherein a simple tag is useful for identifying an object); and actuators (an object that makes an action, such as turning-off an engine or light). Today, things now sense more data, become context-aware, and provide more experiential information to help people and machines make more relevant and valuable decisions. Imagine smart sensors built into structures like street furniture or disposable sensors that are placed on every OOH poster substrate.
At a minimum, cities want to become smarter in ways that make themselves a more attractive place to live and work. To achieve this goal, city planners and leaders are looking for partners to provide valuable expertise or knowledge.
Recognizing the potential of new technologies, city governments are busy launching various kinds of smart city programs. Most of these cities have built their smart initiatives with two complementary aims in mind: to lower total cost of operations while increasing revenues. City leaders are mindful that one consequence of rapid technology innovation is reducing budgets. Computing costs, storage costs, and connectivity costs are each far less expensive now than they were just a few years ago.
How and why are cities making the move towards the smart city? Some of the top challenges city leaders face are evident; some are less apparent.
This piece is an excerpt from a letter to the OAAA.