AASHTO Taps Tymon For Top Post, Announces Board Leadership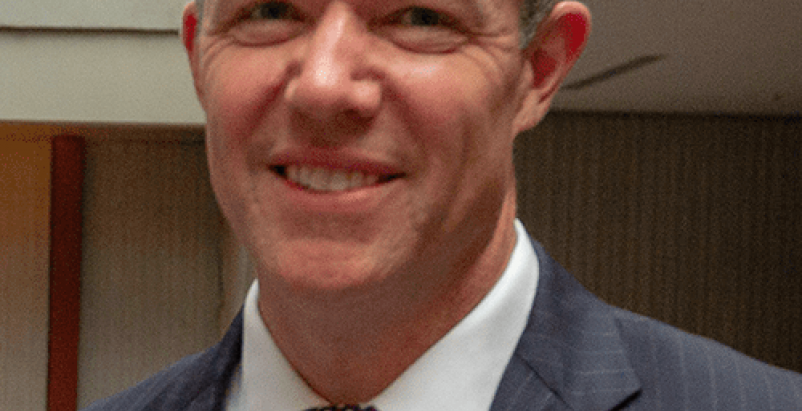 Credit: American Association of State Highway and Transportation Officials (AASHTO)
Following an intensive, multi-month search, James J. Tymon was selected to become the Executive Director of the American Association of State Highway and Transportation Officials (AASHTO) during the association's annual board of directors meeting. Tymon, who will serve as its chief operating officer and director of policy and management, joined the association in 2013. He will assume his new role when the current Executive Director, Frederick "Bud" Wright, who held the post since 2012, retires on December 31, according to a news release issued at the close of AASHTO's 2018 Annual Meeting, held September 20-24 in Atlanta, GA. New Board leadership was announced during the meeting, as well, including the election of Carlos Braceras, of Utah's DOT, and Patrick McKenna, of Missouri's DOT, as President and Vice President, respectively.
"I couldn't be more excited to lead this organization," said Tymon, calling AASHTO "a great association." He added, "I believe in the issues we stand for and I love working for the state DOTs, as they are the ones that build, operate and maintain the facilities that are the backbone or our transportation system."
As AASHTO's chief operating officer and director of policy and management, Tymon will be responsible for the management of the association's internal operations, budget and administration. He will also work closely with the AASHTO Board of Directors in the development of policy positions.
"This is an incredible opportunity to lead an organization that has been at the forefront of transportation in America for more than a hundred years," said Tymon. "Under Bud's leadership, AASHTO has adopted a strategic plan that has positioned us to work smarter and be more nimble as we respond to changes and meet the needs of our members." The organization announced Wright's retirement in a statement issued in May of this year.
Tymon previously served as staff director of the Highways and Transit Subcommittee of the U.S. House of Representatives Transportation and Infrastructure Committee and as senior advisor to Chairman Bill Shuster. As staff director, Tymon managed the subcommittee responsible for writing authorizing legislation for the Federal Highway Administration, the Federal Transit Administration, the National Highway Traffic Safety Administration, and the Federal Motor Carrier Safety Administration. Tymon also served as the committee's lead staffer for the development of MAP-21 – the surface transportation bill signed into law in 2012 – as well as for the Highway and Highway Safety titles in SAFETEA LU – the surface transportation bill signed into law in 2005. 
Prior to joining the House Transportation and Infrastructure Committee, Tymon spent three years with the Office of Management and Budget, where he worked as the program examiner responsible for overseeing the Federal Highway Administration and the Federal Motor Carrier Safety Administration.
"Jim Tymon has a tremendous amount of transportation policy experience at the highest levels in Washington," said John Schroer, AASHTO's president and commissioner of the Tennessee Department of Transportation. "In our estimation, he is the most capable from among a diverse and highly qualified group of candidates to lead AASHTO and its talented staff in the coming years. We think we got the best person in the country to run AASHTO."
Tymon, 45, graduated from the University of Delaware with a Bachelor of Arts degree in Economics and Political Science, along with a Master of Arts degree in Public Policy. A native of New Jersey, Tymon and his family reside in Silver Spring, Maryland.
Newly-Elected AASHTO Board President Prioritizes Workforce and Funding
Also during its 2018 Annual Meeting, the board of directors of the American Association of State Highway and Transportation Officials elected Carlos Braceras P.E., Executive Director of the Utah Department of Transportation, to serve as its new President, and Missouri DOT Director Patrick McKenna as its Vice President. The news was shared detailed in a news release issued by the organization at the conclusion of  its 2018 Annual Meeting, which was held September 20-24 in Atlanta, GA.
"I'm honored and inspired to accept the role of AASHTO president during this inflection point in transportation history," said Braceras, adding that "State DOTs are facing new challenges on several fronts." He noted, "As technology develops rapidly, we as owners need to adapt proactively to operate safer, more effective transportation systems. Attracting and keeping a highly-skilled workforce is critical. It's also imperative that we find ways to educate lawmakers and members of the general public about the irrefutable connection between long-term investment and safer, smarter, and more reliable transportation systems." 
Prior to today's election, Braceras served as AASHTO's vice president and secretary-treasurer. As president he will focus on three emphasis areas: workforce development, reauthorization of current surface transportation legislation to include funding and policy reform, all while "communicating transportation's vital role" in American life.
In terms of workforce development, Braceras said the current robust economy and low unemployment rate are making it difficult for state agencies to compete with the private sector for engineers, technicians, and information technology professionals.
"State DOTs must attract and keep these workers to build, maintain and manage America's increasingly sophisticated transportation networks," said Braceras, who added: "Funding and policy reforms will also be needed because the Fixing America's Surface Transportation (FAST) Act expires in 2020."
A native of New Jersey, Braceras began his career at UDOT in 1986, becoming UDOT's executive director in 2013, responsible for more than 1,600 employees along with the design, construction, and maintenance of Utah's 6,000-mile road and highway system, as well as transit projects. Braceras previously served as the agency's deputy director and chief engineer, where he helped shape UDOT's strategic direction and its mission of developing innovative transportation solutions to strengthen Utah's economy and enhance quality of life. Braceras earned a bachelor's degree in geology from the University of Vermont and a bachelor's degree in civil engineering from the University of Utah. Prior to UDOT, he worked as a well-site geologist in the oil and gas exploration and development industry. Braceras said he and his wife enjoy spending time in the great outdoors, with their favorite activities including skiing, bicycling, golfing, camping, windsurfing and sailing on the Great Salt Lake.
Newly-elected AASHTO Vice President McKenna has served as director of the Missouri Department of Transportation since December of 2015. He previously was the deputy commissioner of the New Hampshire Department of Transportation. McKenna, who is also president of the Mid America Association of Transportation Officials for 2017-2018, is a member of the executive committee for the National Academy of Science's Transportation Research Board. He received a bachelor of science degree in finance from Bentley College and a master of science in management and finance from the University of Maryland University College.
AASHTO Overview
Based in Washington, D.C., AASHTO is a nonprofit, nonpartisan association representing highway and transportation departments in the 50 states, the District of Columbia, and Puerto Rico. It represents all five transportation modes: air, highways, public transportation, rail, and water. Its primary goal is to foster the development, operation, and maintenance of an integrated national transportation system, according to the organization's website https://www.transportation.org/.
As the "voice of transportation," AASHTO works to educate the public and key decision makers about the critical role that transportation plays in securing a good quality of life and sound economy for our nation. AASHTO serves as a liaison between state departments of transportation and the Federal government. AASHTO is an international leader in setting technical standards for all phases of highway system development. Standards are issued for design, construction of highways and bridges, materials, and many other technical areas.