Traffic Safety Expert Offers Solutions To Prevent Deaths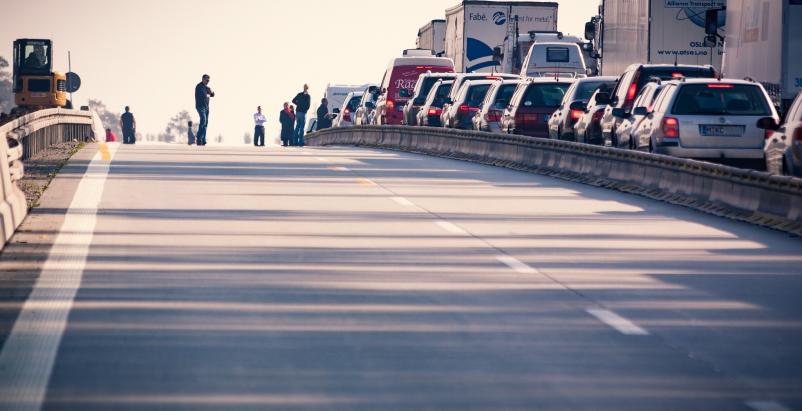 A veteran traffic safety expert has issued a clarion call for safety solutions to prevent traffic fatalities. Written for the international leadership platform, Meeting of the Minds, a newly-published article was authored by one of its network partners, Brian Chandler, Director of Transportation Safety for DKS.
In his writing, published September 10, Chandler offers a timely look at senseless loss of life, acknowledging the senseless deaths from the violent terrorist attack on the United States on September 11, 2001. He reflects on that loss, and on the deaths that result from traffic fatalities, saying, "Each was tragic. Each was preventable." The article offers existing, available ways to tap into traffic safety science.
"The science of traffic safety has solved the problem," asserts Chandler, adding, "Now it is up to us to apply these methods to save lives."
Noting that over 15 years, one half million people have died in accidents, Chandler piece offers "Four Solutions to Traffic Safety" for cities and states to consider. For his part, Chandler has 20 years of experience in traffic safety and operations in State government, Federal government, and the private sector. He is a published author and national expert in crash data analysis, roadway safety countermeasures, safety evaluation, and safety program management. 
A summary of Chandler's four solutions follows:
Ignition Interlock for Alcohol and Seat Belts. There is a device called ignition interlock that requires a driver to blow into a breathalyzer and receive a 0.0 Blood Alcohol Content for the car to start. It's an amazing technology with a $150 price tag. Installing ignition interlock in every new vehicle could result in virtually eliminating alcohol-involved crashes. The interlock technology could be expanded to include seat belt use as well. Nearly half of those killed in traffic crashes (48 percent) are NOT wearing a seat belt. It is freely available in every vehicle manufactured, and in most states, it is illegal to not wear it. Chandler asks: what if the car would not start until everyone was buckled in? How many lives could we save?
Speed Reduction. More than 10,000 traffic deaths are the result of excessive speed, reports Chandler. He writes, "We build vehicles capable of traveling well over 100 miles per hour, but there is not one speed limit posted in the U.S. higher than 80 mph. And crashes at these speeds often result in fatalities. The technology to solve this problem is simple. Speed limit enforcement cameras, coupled with zero-tolerance policies, have been highly successful in many countries in the world. Chandler notes that for many years long-haul freight companies have regulated fleet speeds, governing their truck velocities for fuel conservation and safety, asking: Should we consider a governor for passenger cars and motorcycles as well?
Active Transportation. "An elegant solution many have chosen is to reduce their reliance on cars or forego driving altogether. It is becoming easier and easier to navigate without a car, and we find that without a 3,000-pound motor vehicle involved, the remaining crashes among 150-pound pedestrians and 30-pound bicycles rarely result in serious injuries or death," presents Chandler.
Connected and Automated Mobility. In his final solution, Chandler notes that vehicles connected to the roadway and each other have used the street as their laboratory since the mid-1990s. Now, with hundreds of millions of miles and decades of experience under our belt, highly-automated vehicles are a reality.  He adds further, that, objectively, connected/automated vehicles have proven to be as safe or safer than human drivers, not suffering from our bodily limitations like drowsiness, inattention, fatigue, or impairment from drugs and alcohol. Connected/automated vehicles can see for miles all around them, not just in front, and they can respond near-instantaneously without the limitation of human reaction time.
"Research continues to push the technology forward, and experts estimate incredible safety benefits in the next few years," writes Chandler.
About the Author
Chandler has authored a book on traffic safety, published in 2016, titled, Roadway Safety: Identifying Needs and Implementing Countermeasures. The book introduces the basics of safety needs identification, countermeasure selection, and implementation of treatments designed to reduce the number of roadway crashes and resulting injuries and fatalities. As noted in a book summary on Amazon, the book describes the current state of the practice and research regarding finding roadway safety issues, choosing treatments, and implementing their installation. The book also focuses on crashes occurring at intersections, work zones, and as the result of a lane departure.
Brian Chandler brings a combination of street-level and leadership experience in surface transportation, serving as a traffic safety and traffic operations engineer for the federal government, state government, and the private sector. Bringing a combination of field experience and leadership to the network and those he services, Chandler has worked as a traffic safety and traffic operations engineer for the State of Missouri, Federal Highway Administration, and as a consultant. Mr. Chandler holds professional engineer registrations in Arizona, Connecticut, Missouri, and Washington. He is a certified professional traffic operations engineer through the Transportation Professional Certifications Board, Inc. Mr. Chandler is a member of the Institute of Transportation Engineers, where he serves on the Transportation Safety Council Executive Committee. He also serves as a member of the Transportation Research Board's Committee AFB20, Roadside Safety Design.
For its part, DKS, where Chandler has served as Director of Transportation Safety since January, 2018, is a transportation planning and transportation engineering firm. With office across the United States, the firm uses technology and innovation to advance integrated, functional, and implementable solutions that meet the transportation challenges our cities are facing in the 21st century. DKS works with clients and communities to enhance mobility by providing quality planning, design, and operations services.
About the Leadership Platform
Meeting of the Minds is comprised of private, public, non-profit, start-up, academic and philanthropic professionals. It is an international leadership platform which brings together urban sustainability and technology leaders to share knowledge and build lasting alliances. The organization prides itself on fostering person-to-person and city-to-city learning by spotlighting projects and practitioners working on urban solutions in these eight focus areas, which include: environment (climate change, natural disaster); economy (business, jobs, finance ); technology (innovation, connectivity, IoT); governance (urban policy, justice, services); society (health, culture, education); resources (energy, water, food systems); infrastructure (built environment, urban planning); mobility (public transit, shared mobility).
The global group of experts is led by Executive Director Jessie F. Hahn. Since 2010, she has built and managed the development of Meeting of the Minds into an international leadership platform for city-to-city learning. Jessie's focus is identifying global urban sustainability, innovation, and technology best practices; developing platforms for city leaders to exchange best practices; spotlighting innovators; and building alliances and partnerships between the private sector, public sector, non-profit and philanthropic sectors.
Connecting people and ideas through digital and in-person events and resources, the next Meeting of the Minds Annual Summit will be held in Sacramento, CA from November 27-29, 2018. The Summit brings together 400 opinion-shapers, policy-makers, leading thinkers and innovator from around the world for two and a half days of intensive exchange in thought leadership and cross-sector alliance building. Gathered together, they have a unique opportunity to think critically, ask questions, share tools, identify new best practices, and build lasting partnerships — which make smarter and more sustainable cities possible.