State Tech Innovators, Leaders And Projects Earn NASCIO Awards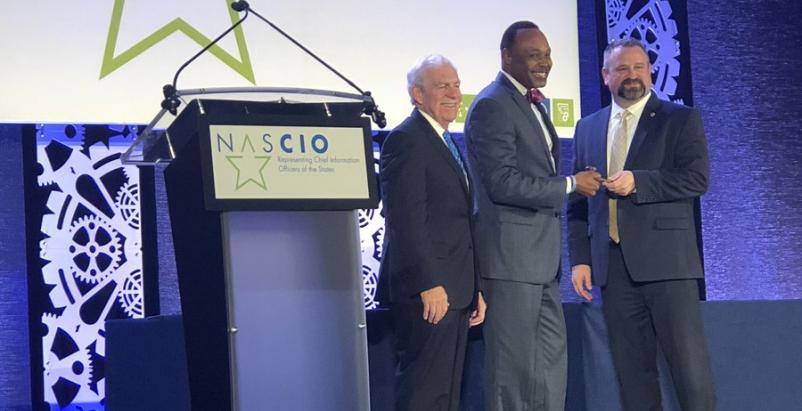 Credit: National Association of State Chief Information Officers (NASCIO)
The National Association of State Chief Information Officers (NASCIO) presented a number of awards in recognition of outstanding service during the 2018 NASCIO Annual Conference, held October 21-24 in San Diego.
State Technology Innovator Awards were presented to three deserving public servants, while eleven states received Recognition Awards for Outstanding Achievement in Information, and a Past President for NASCIO received a Meritorious Service Award. An overview of the awards and recipients, as reported in news releases issued during the Annual Conference, are below. Also during the Conference, the organization announced new executive committee leadership. The association is now led by James Collins, Delaware Chief Information Officer and NASCIO President for the 2018-19 program year. Collins succeeds Oklahoma Chief Information Officer, James "Bo" Reese. 
The NASCIO State Technology Innovator Award honors outstanding individuals who have made contributions to advance state technology policy through the promotion of best practices, adoption of new technologies and advancements in service delivery. Nominees had to be state government employee, and nominations were gathered from NASCIO members as well as non-members and selected by the NASCIO Executive Committee.
The following are the recipients of the 2018 NASCIO State Technology Innovator Award:
Chris Cruz, Deputy Chief Information Officer, State of California - As Deputy CIO for the State of California, Cruz is a visionary leader in digital technology for the department, the state and the nation. From driving SaaS solutions and a single statewide e-mail solution to serving as an ambassador both at home and across the country, Cruz, as recognized by NASCIO, has been instrumental to California's continued success.
David McCurdy, Chief Technology Officer, State of Colorado - NASCIO noted that McCurdy is blazing a path for the State of Colorado in modernizing IT. His advancements to Colorado's technology agenda are making a difference for state employees and Coloradans, thereby helping to create a safer, happier and healthier state. He works to empower the state with flexible technology that will drive sustainable and intelligent business decisions for years to come.
Rajiv Rao, Chief Technology Officer, State of New York - Rao's broad experience and bold vision equips him with a perspective to work with clients to architect innovative technology solutions that deliver big value for New York, noted NASCIO. Leading projects such as data center consolidation, identity-as-a-service, single sign-on for more than 800 New York state apps, and modern artificial intelligence and machine language processing to improve IT support for the state workforce, Rao is truly an innovator making a difference for the state of New York.
Outstanding Achievement in IT
Also during the organization's Conference, eleven exemplary initiatives were chosen as recipients for the NASCIO 2018 Recognition Awards for Outstanding Achievement in Information Technology in State Government. This marks the 30th consecutive year NASCIO has honored outstanding information technology achievements in the public sector through the awards program. Recipients were selected by the NASCIO Awards Committee from a field of more than 100 nominees.
"It has been a great privilege to co-chair the NASCIO Awards Committee, particularly this year as we celebrate 30 years of recognizing states for their transformative and innovative projects," said New Hampshire Commissioner Denis Goulet and Arkansas CTO Yessica Jones. "The recipients honored tonight, as well as all nominated projects, are outstanding examples of how states are working hard to improve the efficiency of state government."    
The 2018 Award Recipients include:
Business Process Innovations
State of New Mexico, SHARE: From a Four-Letter Word to a Five Letter Success
Cross-Boundary Collaboration & Partnership
State of Georgia, Georgia Gateway
Cybersecurity    
State of Missouri, Vendor Security Risk Management and Benchmarking
Data Management, Analytics and Visualization
State of Indiana, Facilitating Data-Driven Innovation: Indiana Management Performance Hub
Digital Government: Government to Business 
State of Illinois, Unemployment Insurance Tax Modernization
Digital Government: Government to Citizen 
State of Michigan, Michigan Education and Career Pathfinder
Emerging and Innovative Technologies
Commonwealth of Kentucky, Kentucky's Integrated Eligibility and Enrollment System
Enterprise IT Management Initiatives
State of Nebraska, Operation Enterprise IT: A Hybrid Consolidation
Information Communications Technology (ICT) Innovations
State of Michigan, Mi Bridges: Helping Michigan Citizens Every Step of the Way
State CIO Office Special Recognition    
Commonwealth of Pennsylvania, Center of Excellence for Electronic Grants
The organization also recognized Mark Raymond, past NASCIO President and Chief Information Officer (CIO) for the state of Connecticut, with the association's Meritorious Service Award. Raymond was honored during a special ceremony the evening of October 23 at the NASCIO Annual Conference.
To spotlight outstanding service, NASCIO created the Meritorious Service Award, honoring leadership in state government and dedication to the advancement of NASCIO's mission. NASCIO's achievements have largely been the product of the enthusiasm, focus and service of its members; this commitment to excellence has served as a catalyst to redefine the role of technology at the federal, state and local levels.
"In the nomination for the award, Mark was described as a 'special leader who understands how to move an organization forward', and I couldn't agree more," stated Bo Reese, NASCIO president and chief information officer for the state of Oklahoma. "I've worked with Mark as a peer and as a leader on the NASCIO Executive Committee, and he has been a standout in terms of strategic thinking and moving both NASCIO and his state forward."
Mark has led the state of Connecticut for the last seven years as an advocate for enterprise-wide thinking and approaches to IT investments and projects. He's been instrumental in the formation of the Information Technology Capital Investment Program, which invests in and creates interoperable systems. He also led the development of the state's first cybersecurity plan and has been a leader in cybersecurity planning and execution not only for the state, but also for NASCIO having chaired the Cybersecurity Committee for three years. Mark was also instrumental in building a partnership with the Commonwealth of Massachusetts to utilize their data center facilities for Connecticut's disaster recovery needs, the efforts of which were recognized by NASCIO with a 2016 State IT Recognition award.
"When our administration began eight years ago, we were handed an information technology infrastructure that was severely behind the curve and in dire need of critical updates, which is why we made modernization of our systems a key priority.  I couldn't have selected someone better than Mark Raymond to head this task," said Connecticut Governor Dannel P. Malloy. "Over the last eight years, he has played an essential role in upgrading Connecticut's information technology systems. Operating obsolete information technology systems creates inefficiencies that cost taxpayers money, result in delays and inefficiencies, and in some cases the inability to allow agencies to share information is downright dangerous. Overseeing such a critical upgrade is no easy task. I have the highest regard for Mark. His decades of experience in this field have proven himself worthy of the recognition he is receiving today. And we are so very grateful for everything that he has helped us accomplish."
Currently serving as Past President, Raymond has been a member of NASCIO's Executive Committee for four years, he was President in 2016-2017 and, prior to that, served in the role of Vice President and Secretary/Treasurer. In addition to the Cybersecurity Committee, Raymond has also chaired NASCIO's Programs Committee, Audit Committee, Nominations Committee and Awards Committee, and has represented NASCIO with testimony on the federal level and as a speaker and panelist at regional and national conferences.
Leadership and Executive Committee Announced
Top state information technology leaders have been selected to serve as the new program year Executive Committee for the National Association of State Chief Information Officers (NASCIO). The association is now led by James Collins, Delaware Chief Information Officer and NASCIO President for the 2018-19 program year. Collins succeeds Oklahoma Chief Information Officer, James "Bo" Reese. 
    
NASCIO's 2018-19 Executive Committee leaders are:
Executive Committee Officers:
President – James Collins, Chief Information Officer, Delaware
Vice President – Todd Kimbriel, Chief Information Officer, Texas
Secretary/Treasurer – Eric Boyette, Chief Information Officer, North Carolina
Past President – James Reese, Chief Information Officer, Oklahoma
Executive Committee Directors:
Denis Goulet, Chief Information Officer, New Hampshire
Mike Hussey, Chief Information Officer, Utah
Yessica Jones, Chief Technology Officer, Arkansas
Michael Leahy, Chief Information Officer, Maryland
John MacMillan, Chief Information Officer, Pennsylvania
Dewand Neely, Chief Information Officer and Director, Indiana
Mark Raymond, Chief Information Officer, Connecticut
Ed Toner, Chief Information Officer, Nebraska
During its Annual Meeting, the Lexington, KY-based organization also released a report of findings from a survey conducted by NASCIO, along with Grant Thornton and CompTIA. As reported in a news article published by Smart & Resilient Cities, the survey, the 2018 State CIO Survey, State CIO as Communicator: The Evolving Nature of Technology Leadership, found that State CIOs value communication, and stand ready to face the evolving nature of technology leadership.
In July, 2018, NASCIO issued its survey findings on "The State of State CIOs" whose results were detailed in a report published on this site.