Smart CityScape Series: Atlanta Part 2 – University Partnership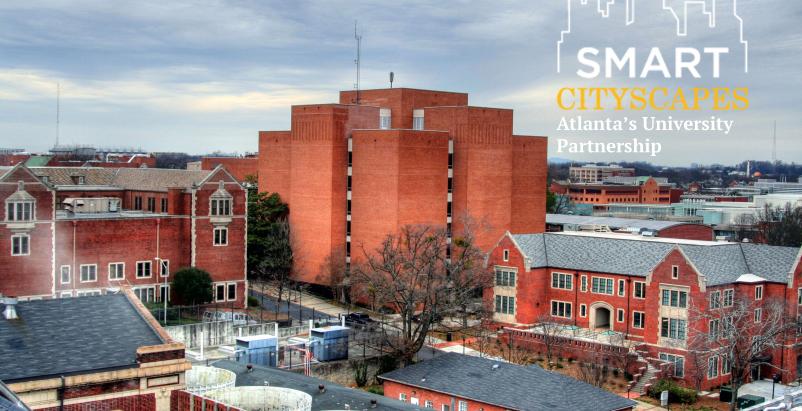 With many municipalities strapped for resources, the Smart City vision can seem like a pipe dream. Even in the cases where funding comes through and a project is launched, there's no guarantee of success. Major obstacles like a lack of civic buy-in or siloed departments can derail projects, costing the city dearly.
Because of these risks, many cities have only dipped their feet in the smart city waters. Pilot programs and piecemeal IoT projects are commonplace in North America, but a few scattered, disconnected projects do not a smart city make. What cities need is a space where new ideas can be tested free from the demands or ROI or the ire of skeptical stakeholders.
For Atlanta, this environment has come courtesy of a strategic partnership with the Georgia Institute of Technology. Along with Georgia State, the city and Georgia Tech are formal partners under the MetroLab Network, part of the White House's Smart Cities Initiative. With its extensive research resources, Georgia Tech enables the city to explore new Smart City avenues in a controlled, safe environment. As Debra Lam, the Managing Director for Smart Cities and Inclusive Innovation for the school's Institute for People and Technology, phrased it, Georgia Tech and Atlanta have institutionalized R&D.
As far as university partners go, Atlanta couldn't have picked a better one. Georgia Tech has been studying smart tech before the term "smart city" entered the lexicon. Beginning in 1998, the school began the Aware Home Research Initiative, which examines how the advances in health and well-being, digital media and entertainment and sustainability impact life at home.  In essence, the school was prototyping smart home technology in its nascent stages, including IoT sensors.
This early research takes on even greater significance in the contest of Georgia Tech's academic culture. For their Smart Cities studies, the school utilizes a systems approach, enabling them to draw expertise from across disciplines ranging from public policy to business to psychology to computer science.  The Institute for People and Technology, which is spearheading this Smart City research along with the school's Center for Urban Innovation, has taken advantage of both the work done by the Aware Home team and the efforts of researchers across the university system.
Another aspect of Georgia Tech's culture that makes the partnership so tantalizing is the emphasis on living laboratories. Eschewing the specialized, closed, Ivory tower environments commonly associated with research, Georgia Tech prides itself on its utilization of real-world environments for testing. The Aware Home was an early example of this, and the university's current Smart City efforts continue this trend of breaking out of the classroom and into the streets.
At this moment, many of these projects are being deployed on Atlanta's streets. Reflecting the school's systems approach to Smart Cities, many different departments are participating in these efforts. As detailed in Georgia Tech's alumni magazine, faculty members from the School of Design are working on solar-powered environmental sensors, while an associate professor from the School of Literature, Media and Communication is working on sensors to measure cyclist performance data. In September, the school will begin working with the city to test autonomous vehicles in the city's North Avenue Corridor – a Smart City testing ground that Georgia Tech has helped the city develop to maturation.
Research and new projects aren't the only benefits that Georgia Tech brings to the partnership, though. Just as Georgia Tech brings a cross-disciplinary approach to Smart Cities, so too do they focus on the holistic attributes of a city. The school has long had close ties to the local Atlanta community, but new Smart City initiatives have deepened the level of engagement. Researchers from the Ivan Allen College, Georgia Tech's Liberal Arts school, agreed to work with the municipal government to create a Community Engagement Handbook, which addresses how to engage citizens and communities with their desires, fears, needs and barriers around Smart City technologies. Beth Mynatt, the Executive Director of the Institute for People and Technology, says that when deploying a new project, especially ones tied to Smart Cities, communities are always involved in the process.
"Hosting community members, interacting with them to understand what they would hope could be accomplished, whether it's in terms of safety or protecting privacy around these technologies, is something that most cities would like to do but don't have the bench to do it," Mynatt said. "We have to bring class-A research strength to those capabilities."
These same capabilities give Georgia Tech the potential of fulfilling yet another vital role in Atlanta's Smart City infrastructure beyond the research and outreach: data management. Even a city as well staffed and forward-thinking as Atlanta can't analyze all of the data it collects without aid, and Georgia Tech is positioned to relieve the city in many ways. For one, Mynatt says, the school would serve as a data curator for the city, easing the city's storage burdens by archiving the Smart City data collected. When the municipal data is combined with the data from private companies that Georgia Tech partners with, the potential of what researchers can accomplish grows exponentially.
"One of the things that's important to us is to be able to collect data coming in, whether it's Georgia Tech research, whether it's the city of Atlanta deployment or whether it's work with some of our private partners is to be able to put that into a shared repository," Mynatt said. "I'm not saying 'open data' because there's going to be variances on data use agreements, but our work is to provide easy access and APIs to make it faster for people to be able to innovate in this space."
Once enough sets are compiled, the city, students and local startups will be able to develop new solutions around the data. This bedrock of data is dependent on silo breaking, which Mynatt acknowledges can be a challenge when dealing with some vendors. Georgia Tech's role as a data curator is meant to alleviate this risk.
Silos are only one of the challenges that Atlanta faces, however. Pollution, congestion and socioeconomic disparities are major risk factors that Atlanta – and all Smart Cities – seeks to address. Georgia Tech has taken major steps to join their city in addressing them, and they've shown no signs of stopping. The school has recently appointed a new faculty council on Smart Cities, co-chaired by Mynatt. While many of Georgia Tech's initiatives are in early phases, the progress they've already made signals that Smart City projects are a major priority.
"All of these are running systems. They're all systems that people are using 24/7.," Mynat said. "A I think that shows a commitment to that Georgia Tech doesn't do this kind of in the abstract; We do it for real."