The Smart City Revolution - Improving Outcomes for Citizens and Businesses by Applying Industry Expertise and Digital Technology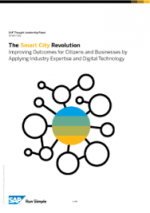 As the world's population urbanizes, leading cities are working to improve quality of life and become economically prosperous. By harnessing the power of innovative digital technologies, cities and their private sector partners and constituents are contributing solutions to meet the challenges of an increasingly urban world.
Read SAP's new White Paper here.