Smart Cities Week 2018 Recap: Collaboration Is Key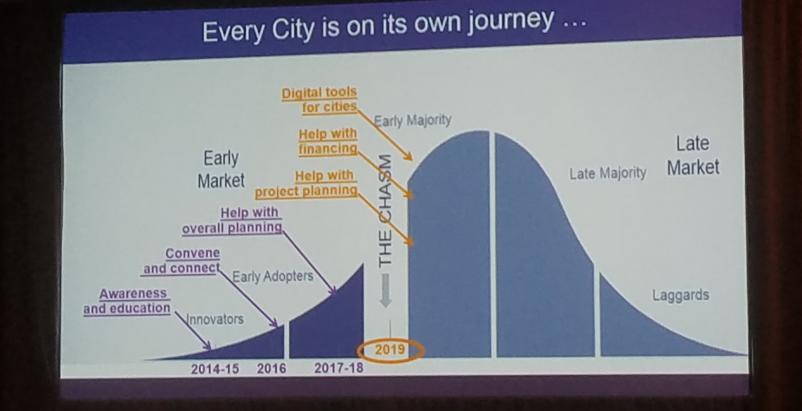 To transform into a Smart City is no easy undertaking. From planning to procurement to deployment to operations, all centered around cutting-edge technology and solutions, the process of becoming Smart is a monumental undertaking for municipalities already under strain.
Luckily, cities don't have to do it alone. This was the message of this year's Smart Cities Week Conference and Exhibition, which was held in Washington D.C. from Oct. 2-4. Centered around the theme "Collaboration: the Cornerstone of the Smart City," the Smart Cities Council-organized event addressed how cities and their various stakeholders can work together to drive change.
The event's programming began with an introduction from Smart Cities Council Managing Director Philip Bane, who observed that every city's journey is unique. The underlying message here is that one-size-fits-all strategies aren't as effective as actually listening to cities. Moreover, Bane noted, Smart City knowledge isn't strictly the domain of the tech industry or civil servants.
"There are people who understand Smart Cities who aren't western companies coming in and telling everyone to use IT," Bane said.
Even between established players, a disconnect between the public and private sector persists. In a panel later that morning, Baltimore CIO Frank Johnson, D.C. CTO Barney Krucoff and Edmonton, Canada, CIO Wendy Gnenz were asked about their relationships with the tech sector. None of them rated their rapport higher than a "four" out of a possible "ten." Establishing a relationship based not around transactions but on shared goals, Krucoff argued, would improve collaboration across sectors.
The mechanism seemingly best suited to cultivating such cooperation is the public-private partnership (P3), as many breakout sessions and plenary panelists touted the model. Just like Smart City solutions though, there is no one-size-fits-all model for P3s.
"A lot of people think a P3 is a panacea or free money, where the public sector can go hands off," Deputy County Administrator for Fairfax, Virginia, Rob Stalzer said during a roundtable discussion on P3s. "You can't go into a P3 expecting private partners to carry the burden. You will pay eventually."
Echoing Krucoff's earlier assertion, Stalzer explained that P3s work best when the partnership creates value for the community and the private partners involved. Naming patience, flexibility and the right skillset as essential ingredients for P3 success, Stalzer also emphasized the importance of emotional intelligence when working to align different stakeholders.
"If you don't get that EQ can be more important than IQ in P3s, you will have challenges," Stalzer said.
In addition to promoting collaboration with startups and businesses, speakers also emphasized building relationships with the most important stakeholders of all: the people. Baltimore CIO Frank Johnson said that people need to be the top priority for Smart Cities and that communities must offer opportunities for growth and engagement. Cities of Service Executive Director Myung Lee also championed the importance of engaging citizen stakeholders. During her keynote, Lee hypothesized that cities aren't places, but people. Going further, she explained how cities empower people reciprocally. As such, any and all solutions must be for the benefit of the people or the impact will be lost.
"Smart City companies need to collaborate better with end users for the tech to be effective," Lee said.
Beyond organizing the platform for these discussions, the Smart Cities Council is also working to spur development and collaboration. One of their chief mechanisms for accomplishing this goal is the Smart Cities Readiness Challenge Grant. Each year, the Council offers benefits including coaching, workshops, products and services to five communities. Sponsors of this challenge include companies like Sensus, Itron and Qualcomm, who offer their expertise and solutions to winning cities. The 2018 winners include the cities of Birmingham, Cary, Las Vegas and Louisville, along with the Commonwealth of Virginia. Puerto Rico was also awarded a special humanitarian grant. Cities interested in the 2019 Readiness Challenge can find more information here. Applications will open on Oct. 16.
The National Science Foundation (NSF) also used Smart Cities Week to offer support toward collaborative efforts. The NSF's Deputy Assistant Director for Computer and Information Science and Engineering Erwin Gianchandani delivered the October 4 morning keynote, where he recognized that deliberate, direct engagement is necessary to drive change.
To that end, he highlighted the Smart & Connected Communities program. This program pairs technological and social research with community engagement, ideally creating a bedrock for innovative growth. Through the S&CC program, the NSF invested $19.6M in 39 projects in 2017 and $22.6M in 13 projects in 2018. A similar level of funding is expected for 2019.
Gianchandani also took the opportunity to announce a new initiative: the NSF Civic Innovation Challenge. This challenge seeks to provide funding for teams who will leverage Smart City tech and social sciences toward improving quality of life and solving community issues. The program is expected to launch in 2019.
Between breakout sessions, panels, hands-on workshops and networking opportunities, this year's Smart Cities Week promoted collaboration like never before. While the challenges facing cities are no less daunting than before, the tools, lessons and strategies on display at the conference demonstrated that there is a way forward for all cities.
"No one person knows everything, but together we can find all the answers," Ebi said.
The next Smart Cities Week will be in San Diego during April 2019. Until then, take a look at the curated list of social media highlights below for more insights from this year's show.