Smart Cities Week 2017 Recap: Tomorrow Is Here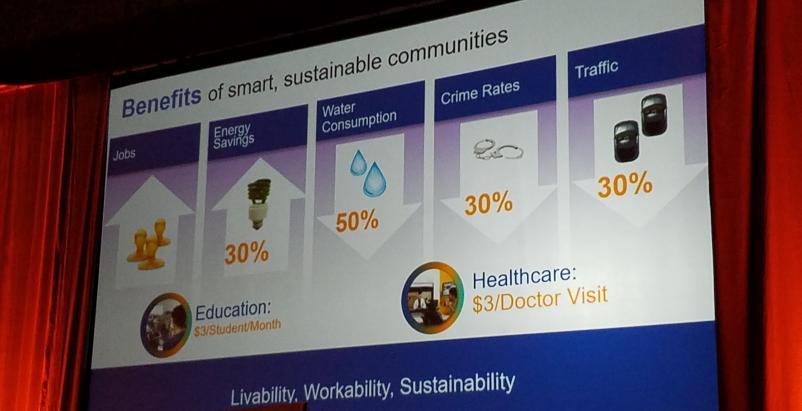 From autonomous vehicles to IoT modules to smart utilities, cities across the world have been adopting smart technology at a growing rate. Advances in technology and the growing utilization of data analytics have made it clear that Smart Cities have truly arrived.
What, then, are the next steps? This year's edition of Smart Cities Week sought to provide actionable and granular answers to city leaders on how to nurture their Smart Cities' growth. Held in Washington D.C. from Oct. 3 through 5, the event attracted over 1,500 state and local government officials, utilities, policymakers, financiers, technologists, non-profit and trade groups, business leaders, academics, researchers and citizen organizations to discuss the future of cities. Organizing the show and asking the hard questions was, as ever, the Smart Cities Council.
"The urban future is already here and we need to start dealing with it," Smart Cities Council Chairman and Founder Jesse Berst said to open up the show.
From there on, the various panels and sessions of the conference delivered strategies and best practices for Smart City success. Topics ranged from procurement to climate readiness to transit to inclusivity, but all discussions were anchored by experienced panelists who had been through the gauntlet firsthand – city officials and private sector partners who have successfully implemented Smart City programs.
This level of expertise was best exemplified in the conference's first panel, where city CIOs discussed how to clear roadblocks to smart infrastructure. The panel was a rogue's gallery of Smart City all-stars, featuring Archana Vemulapalli, CTO of Washington D.C.; Andrew Therriault, Chief Data Officer for Boston; Jeff Stovall, CIO of Charlotte, NC; Jeff Merritt, CIO of New York City; and Peter Auhl, CIO of Adelaide, South Australia. Throughout the discussion, these leaders identified two common hallmarks of any successful Smart City endeavor: identifying a city's unique needs and embracing collaboration to act on them. Said collaboration can involve private partners and community stakeholders, but breaking down silos within government is no less important.
"Cities need synergy across agencies," Stovall said. "We need to ask, 'What do we want to accomplish together?'"
Beyond collaboration and planning, the major themes discussed throughout the show were data analytics and equity. With nearly every city and private sector entity overwhelmed by the quantity of data gathered, speakers from across industries recognized the need for cities to choose areas where they can utilize data to improve effective decision making. For this to happen, city leaders need to reevaluate how they approach data at a root level.
"Cities need to view data as currency in the 21st century," Center for Technology in Government at the University of Albany/SUNY Program Director Meghan Good said.
Equity, on the other hand, was cited as a more existential problem facing cities. Without designing systems that are inclusive and accessible to all members of the population, speakers reasoned, the already existing digital divides would expand and blow up in leaders' faces. Bas Boorsma, the Digitization Lead in Northern Europe for Cisco, expanded upon this in his keynote address. Without a clear plan for implementing technology in a manner that minimizes destructive disruption and addresses the concerns of citizens, digital divides will magnify exponentially.
"Digitization is not the default," Boorsma said. "Without a new digital deal, we'll be on a journey without a destination."
Equity aside, Smart Cities still have many challenges ahead of them. Slow adoption, silos and federal hesitance were commonly cited roadblocks to urban growth. Utilizing data, being more collaborative and developing a clear plan are the means through which city leaders can overcome them, but, as Berst points out, these strategies need to be adopted sooner rather than later.
"Smartness is not just a trend, it's a race," Berst said. "A race for a connected lifestyle, a race for better government, a race to help the disadvantaged and a race for economic development."
As ever, the attendees of Smart Cities Week sounded off on social media to highlight key themes and ideas from the show. For a better understanding of what this year's show was like, check below for our curated list of social media insights.