Smart Cities Took Center Stage At The 24th ITS World Congress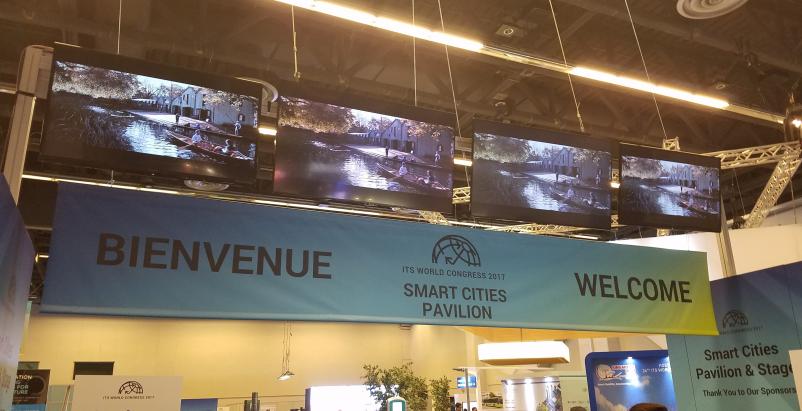 Disruption has accompanied the rise of technology, connectivity and analytics. In both the private and public sectors, the domains of formerly disparate agencies and fields have begun to merge in the wake of such innovation. Leaders on all sides are still learning how to process this, but collaboration is going to be a major theme moving forward as barriers between siloed sectors become blurred.
A good example of this trend is transportation, as topics like data analytics, machine learning and community engagement have become integral to the discussion of the future of transit. As such, any conversation on transit also becomes a conversation on technology and cities. This was reflected at the 24th ITS World Congress, held from October 29 to November 2 in Montreal. The theme for the show this year was "Next Generation Integrated Mobility: Driving Smart Cities."
Held annually in different cities around the world, the ITS World Congress is a showcase of the latest intelligent transportation systems products, concepts and prototypes. Global leaders from across sectors attend each year not only to see these innovations, but also to take part in the greater dialogue surrounding the future of transportation. Organized by ITS America and ITS Canada with co-organizers ERTICO-ITS Europe and ITS Asia-Pacific, this year's show boasted over 250 interactive sessions and 300 exhibitors. Simply, to learn about the present and future states of transit, the ITS World Congress is essential.
"I strongly believe that the mobility of today and tomorrow belongs to the digital world and that data is taking a prominent place," Montreal Director of Infrastructure, Roads and Transportation Claude Carette wrote in his welcome letter to attendees. "We need to find common solutions to prevent possible pitfalls – to avoid reinventing the wheel – so that we d not waste valuable resources and energy."
In addition to the wide variety of panels and demonstrations detailed in the program, this year's ITS World Congress also featured a "Smart Cities Pavilion" to help further the show's theme. The pavilion featured a stage where speakers discussed Smart City-specific issues as well as exhibits for four global Smart City exemplars, including host city Montreal; Columbus, Ohio; Christchurch, New Zealand; and Singapore. Each exhibiting city brought with them best practices for city leaders to internalize, including the importance of collaboration and partnerships to the necessity of a resilience plan.
On the topic of best practices, top leaders in the field were honored with ITS World Congress Awards. Lifetime Achievements Awards were given to Michael C. Doyle, Chairman & CEO, Econolite Group, Inc.; Datuk Ir. Hj Ismail bin Md Salleh of the Malaysian Highway Authority; and Christer Karlsson, the CEO of ITS Sweden. Dr. Peter Sweatman, a cofounding principal of CAVita and a transportation industry veteran, was inducted into the ITS America Hall of Fame.
The show ended on Thursday with a summation of lessons learned at the show and an invitation for the 25th ITS World Congress, which will be held next year in Copenhagen. To gain a better understanding of the concepts discussed, take a look at the social media highlights from the show in the timeline below.