4 Lessons From Smart Cities New York 2018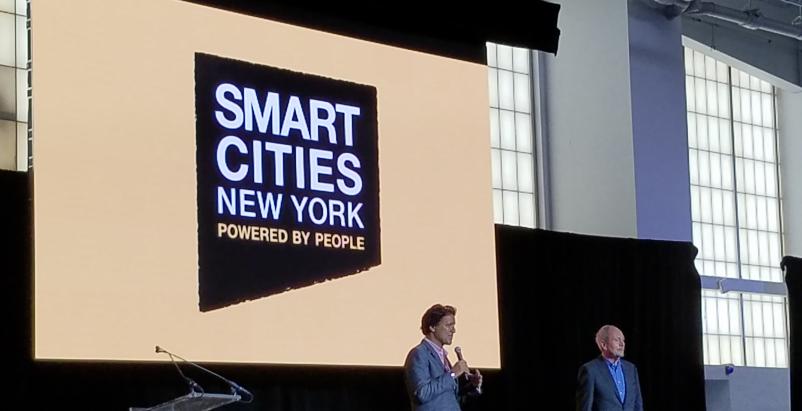 For Smart Cities to flourish, the people who actually live in them must be empowered and enabled. This was the core theme of Smart Cities New York, which was promoted under the motto of "Powered by People." Held from May 8-10 at Pier 36, the show featured tours, workshops, panels and keynotes replete with Smart City insights and ideas.
Tying all of these activities together was an overt sense of humanism, with each presenter calling back to the "Powered by People" theme. Over 200 presenters, ranging from civil servants to tech entrepreneurs, began from this starting point and covered a variety of Smart City topics. In the process, Smart Cities New York played host to a series of revelations that all Smart City leaders would do well to internalize.
Here are four of the most important takeaways from this year's show.
Inclusion is essential
If a city isn't equitable, then it isn't smart. Speakers reiterated this idea throughout the show, particularly U.S. mayors. New York Mayor Bill de Blasio highlighted the need for economic inclusion in cities, while Atlanta Mayor Keisha Lance Bottoms discussed how rushing into innovation could risk exacerbating the digital divide. Creating more inclusive and equitable cities will require deliberate efforts to improve representation, a point hammered home by Kansas City Mayor Sly James. During a panel, he addressed the audience. "Look around you. Who is not here, and why aren't they here?"
It's not all about tech
"Tech is the means, not the end," Chicago Mayor Rahm Emanuel told moderator Bruce Katz during a keynote. The round of applause that greeted Emanuel after this statement indicated that he was not alone in his assessment. Indeed, this has been a common complaint about so-called Smart Cities. Pursuing technological solutions without grounding them in a larger, citizen-focused plan has the potential to increase inequality and alienate citizens. For Smart Cities to succeed, Mayor Emanuel reasoned, urban leaders need to analyze their city's problems and use technology to enhance their plan.
Forget about the feds
Since the 2016 presidential election, federal support for cities in the U.S. has been diminished. Rather than see this as a negative, many urban leaders across the country chose to use this shift as an opportunity to take the lead on Smart City initiatives. "The power of cities has been made clearer by the failure of the federal government to make big choices," Mayor de Blasio said. "Cities are taking matters into their own hands." De Blasio used the Paris Agreement as an example of this, as cities across the U.S. took the initiative to follow the Agreement on their own accord after the U.S. pulled out.
Data helps you stay ahead
While big data is an old buzzword, advancements in technology have increased the utility of data in major ways. As predictive analytics, machine learning and AI software continue to become more sophisticated, Director at Esri R&D DC Andrew Turner explained during a panel, these solutions will be able to process data ever more rapidly and empower cities to solve problems before they happen. "We need to use data to get on the front end of a problem, not the back end," Mayor Emanuel said, noting that Chicago's approach to data is becoming "preventive, not reactive." Practical applications of this principle will further increase efficiency. Harvard professor and former Indianapolis Mayor Stephen Goldsmith predicted that as big data enables bots to handle low-level labor, cities would be able to realign their workforces toward more critical tasks.
For more insights from Smart Cities New York, a curated Twitter feed below contains many quotes and ideas presented by speakers throughout the show.