From Smart Cities To IoT
The smart city concept started with different terms and perspectives as a means to define urban technological evolution. More specifically, "smart city" was not the initial term that was used by urban planners and researchers. Instead, researchers in late 1990s started discussing cities and ICT from different perspectives and with the use of different terms in their attempts to describe ICT project initiation within the urban space or the utilization of the ICT to treat local needs (see below image).
Globally, the notion of smart cities is not new. There are multiple ideas, definitions and approaches to smart cities. An analysis of international approaches and the underlying semantics related to smart cities reveals that the concept has only evolved partially. This includes non-clarity in definition, indicators and measures, and standardisation of critical aspects. There is no "one size fits all" model for smart cities that can be replicated in any city. The current scenario indicates a critical need for defining and contextualising the various aspects of smart city development.
The frst evidence regarding smart city appears in literature in 1997 (where it was claimed that over 2000 virtual cities and urban web pages existed at that point), which introduced the term "virtual city" in an attempt to describe local ICT network initiatives, which in turn enabled the development of local cyber-based (virtual) communities (decentralized, interactive, one-to-one and one-to-many media networks). Virtual cities were based on the World Wide Web and they operated as electronic analogies for the real, material, urban areas that host them. The promise of virtual cities was to develop new interactive "public-arenas", especially in cities where the lack of public space coupled with the growing violence, fear, alienation and the reduction in civic associations do not enable public interaction. Instead, they enhanced "urban privatism".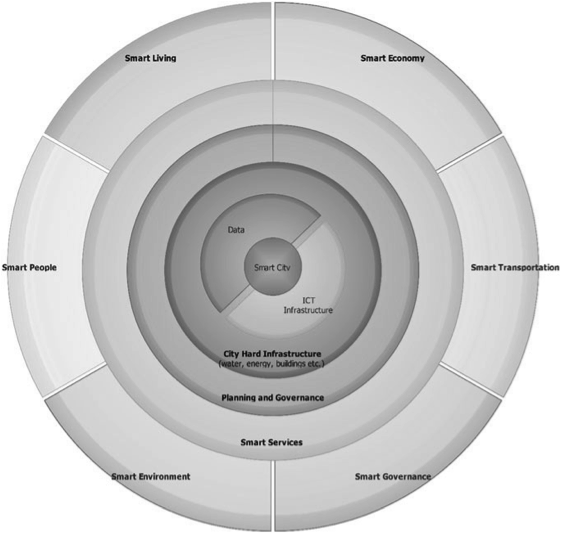 Web or Virtual cities drew together all web activities in a city or simulated a city on the web and they were configured as little more than urban databases that provided public information for the municipal authorities to even transport and leisure data, cultural events and tourist guides. Virtual cities concerned the first attempt that utilized the potential of the Internet for supporting local democracy and enabled urban marketing, new types of electronic municipal service delivery, local inter-firm networking, and social and community development within cities.
There is substantial literature on the definition of smart cities which could be categorised into three major sources:
Research and academic view - Puts sustainability, (mainly environmental sustainability) as the primary agenda to be achieved, where quality of life and economy emerge as second-level priority factors.
Corporate sector's (mainly technology companies) definition - Looks at ICT as a panacea, assuming that the required outcomes such as city efficiency, management, infrastructure, environment, and quality of life follow automatically. Notably, there is nominal emphasis on the overall functionality, resilience, city form and urban design of the smart city.
Government sector - This sector reflects a larger understanding of the use of ICT in delivering governance, recognises the critical relevance of human resources, and puts emphasis on quality of life as well as environment. However, a very limited number of definitions have emerged from this sector.                                                    
The extreme smart city growth that has been performed during the last 20 years has created various alternative smart city types. For a beginning,
Alcatel-Lucent classify smart cities in market-driven groups: "Greenfields" and "Brownfields" that display the size (large-scale cases compared to small-scale ones) of the smart city project; and to four different "box" types according to project organization and business model:
Information Technology (IT) box: a private company initiates the smart city and private funding business model;
Dream box: public-private partnership (PPP) for project definition and respective business model;
Fragmented box: many projects initiated by various stakeholders with little or no integration; and
Black box: initiated and managed by (local, state or national) Governments or public agencies, with "invited" companies to enter this ecosystem.
Today, within the "smart cities" scenario, the paradigm of the creative capital theory calls for a further evolutive leap forward, because it is capable of producing multiplicative and regenerative effects on urban development. The Creative capital theory is therefore no longer simply an approach used for interpretation among economists and sociologists or an urban planning challenge, but rather a call on decision-makers to take action and demand a vigorous commitment on the part of town planners and architects. The development of nations and wellbeing of the community will only be measured according to the cities that tackle the financial global change in a creative manner.
The urban century in which we live is not filled by only "hyper cities", but also shows the emergence of medium metropolises and networks of new cities. One commitment that cannot be put off by governors and managers, planners and designers, promoters and communicators, entrepreneurs and investors, will be that of creating dynamic, vibrant cities that generate new urban values and multipliers of invested capital. These smart cities must be places people want to live, work, and train in and get to know, productive places that attract investments.
Today, more and more cities around the world are transitioning towards being called "Smart Cities." These cities are integrating sensors and various monitoring devices through a network, typically the internet, in an effort to optimize city operation and service efficiency along with improving their interface with citizens directly. The data that is collected can be analyzed to manage many municipal assets such as power plants, water and sewage systems, traffic and transportation systems, and many other community services. In essence, smart cities use the IoT to collect data and analyze it in order to directly interact with city infrastructure and to monitor real-time city assets and community evolution in order to improve operating efficiency and to proactively react to potential problems before they arise.
Smart city projects require expertise that spans many different fields including finance, planning, transport, energy, safety, telecommunications and more. They also require public–private partnerships (PPPs) that embrace all of these different dimensions. While using Public PPP models, crowd sourcing and democratic ecologies which provide better and more efficient public services by taking advantage of private sector's "know-how", cities will create long-term investment opportunities and sustain real-time optimization strategies by providing a safe and reliable place to invest.
According to the World Bank, PPPs are typically medium to long term arrangements between the public and private sectors whereby some of the service obligations of the public sector are provided by the private sector, with clear agreement on shared objectives for the delivery of public infrastructure and/ or public services. There is a wide variety of PPPs, ranging from task forces, formal organizations, corporations and even direct subsidies from public entities to private corporations. Partnerships may be of formal or informal nature. The main sectors where local governments establish PPPs are water and waste management, as well as transportation infrastructure.
Case Study - Link NYC, USA
LinkNYC, a first-of-its kind communications network that is bringing the fastest available municipal Wi-Fi to the millions of people residing in New York, and the countless visitors that fill the city's streets every day. LinkNYC is replacing the aging network of public pay phones and transforming them into gigabit Wi-Fi stations, giving city dwellers and visitors alike free and fast access to information. Not only do these re-imagined pay phone booths house opportunity for exploration, LinkNYC inspires connectivity, opening the door to community interaction and engagement while breaking down the barriers of the digital divide.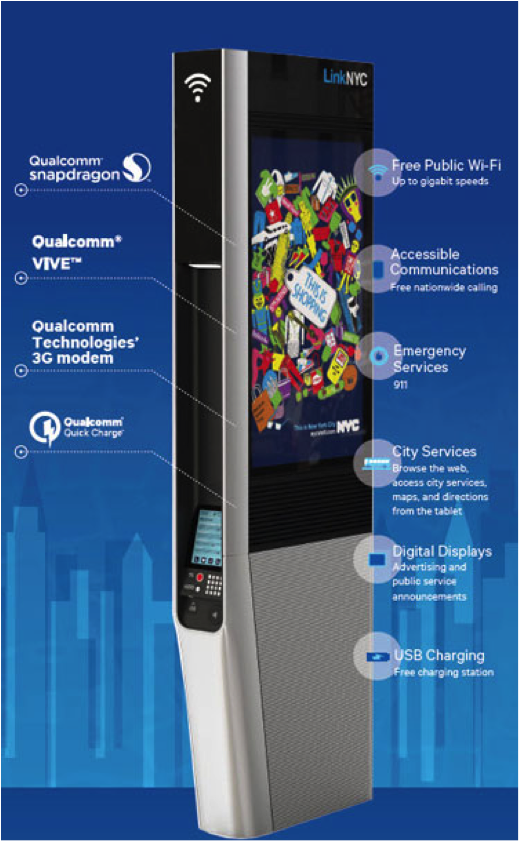 In 2014 the de Blasio Administration issued a competitive RFP to repurpose payphone infrastructure with free Wi-Fi, phone calls and advertising. The CityBridge proposal for LinkNYC was chosen for its innovative and community-first approach and was awarded the 12-year franchise. CityBridge is a consortium of experts in technology, media, user experience and connectivity that includes Intersection, Qualcomm and CIVIQ Smartscapes. Antenna Design is responsible for the iconic physical design of the Link.
LinkNYC is bringing free, super fast Wi-Fi to New York City. Each gigabit Link is powered by an all-new, purpose-built fiber optic network that delivers speeds up to 100 times faster than average public Wi- Fi. CityBridge is investing more than $200 million to build hundreds of miles of new fiber optic cable that will deliver gigabit connectivity to Links in all five boroughs. Each Link can support hundreds of Wi-Fi users simultaneously. Through a partnership with Vonage, New Yorkers and visitors can make free phone calls to anywhere in the U.S. through each Link's tablet, including access to 311, 911 and 411. International phone calls can be made using calling cards. Calls can be made using Link's directional speaker or personal headphones. Every Link will also be equipped with a red 911 call button for direct access to a 911 emergency operator.
Through the tablet, people can access City services and get maps and directions. The tablet runs on a secure Android operating system. Additional apps and services will be rolled out on an ongoing basis over the next several years. Links include opt-in location services with Bluetooth beacon technology. Like GPS, beacons send one-way signals from Links to mobile devices of users who have chosen to receive them. The improved accuracy of beacons could allow for a new array of opt-in, useful applications for users, like improved navigation services for people with disabilities or location specific content.
LinkNYC offers an encrypted public Wi-Fi network, adding a critical layer of protection to personal data.
New York City and CityBridge have created a customer-first privacy policy. The privacy is of prime importance and will never sell any personally identifiable information or share with third parties for their own use.
Do you agree with us? Email or tweet at me to share your opinions and ideas.
Dr. V. K. Gahlot, currently associated with Public Works Department, Government of Rajasthan, Jaipur, India. He is also Honorary Director of Adv. CMG Centre for Research & Sustainable Development, Rajasthan.
Renato de Castro is the CEO at SUIPHOS, a disruptive spin-off IoT project based in Barcelona; VP Smart Cities and IoT projects at SmartUp Consulting Firm; VP International Affairs at The Brazilian Human Smart Cities Network; and Smart City Ambassador of TM Forum.