Smart Cities International Symposium Stressed Importance Of People, Collaboration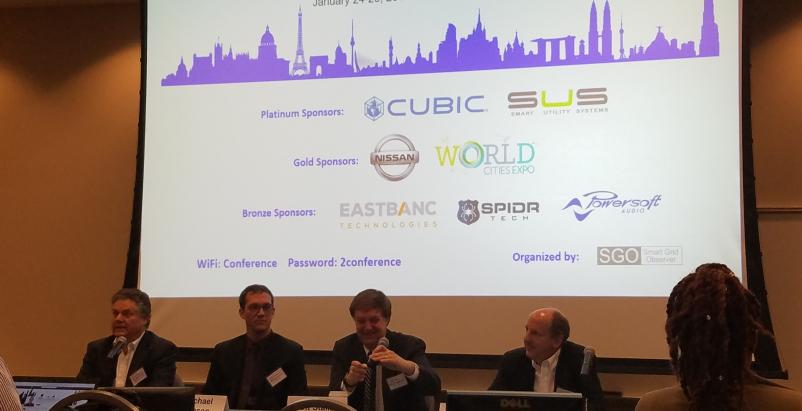 With 6.3 billion people expected to live in urban areas by 2050, actionable solutions were the topic of discussion at the Smart Cities International Symposium and Exhibition. The event took place on Jan. 24 and 25 at the University Center in Chicago, where thought leaders exchanged ideas on the future of urban governance and progress.
Over the course of the symposium, speakers from across the world stressed the themes of scalable design, citizen engagement, contextual data analysis and strong leadership. Panelists also discussed more technical strategies, such as using 3-D mapping to create governance tools, leveraging AMI to connect IoT devices and practical smart lighting and sensor applications. Indeed, connected tech is fast becoming an urban staple, with 50 billion internet-connected things projected to be in use by 2020, according to OGC's George Percivall.
While technology will play a vital role in cities of the future, the consensus of the attendees was that it's not the most important aspect. Breaking silos to achieve greater collaboration was seen as a far more pressing objective, as was taking a citizen-first design approach.
Various panelists saw opening data as a means of achieving both of those goals. In a panel advocating for data-driven decision-making, West Monroe Partners' Peter Mulvaney argued for cities to break down divisions between agencies and share data. This statement echoed Black and Veatch's Scott Stallard, who argued that expert analysis, not raw data flow, is what makes cities smart. San Jose's Deputy City Manager, Kip Harkness, illustrated why an open and collaborative approach is beneficial to cities by posing a question:
"Do we want to be a smart city or a learning city?"
Opening data also brings citizen stakeholders into the fold by enabling the civic tech community.  Not only does this allow civic hackers to take an equity lens with data, as Microsoft's Adam Hecktman pointed out, but there are sound fiscal reasons for digital transparency. As EastBanc's Wolf Ruzicka explained, this can be a cost-saving measure once citizens start developing apps from the data.
Open data is only one part of improving urban quality of life, though. For smart cities to benefit everyone who lives there, cities need to reconsider how processes like education, reeducation and outreach need to be updated for the digital age. Minneapolis CIO Otto Doll recounted a maxim he'd heard regarding citizen-centric decision-making: "Don't look for 'killer apps,' look for 'killer outcomes.'"
Cities will have to balance all of the ideas discussed at the symposium in order to prepare for the future. As each city has its own set of problems, this will require strong leadership and stakeholder buy-in. Meghan Cook, Program Director of the University of Albany's Center for Technology in Government, observed that the cities that navigate between the worlds of policy, tech and business would be the most successful in the long term. With urban populations rising, cities will continue to walk that balancing act and put the ideas discussed at the symposium into practice.