Going Beyond Technology At The 2018 Smart Cities Connect Fall Conference & Expo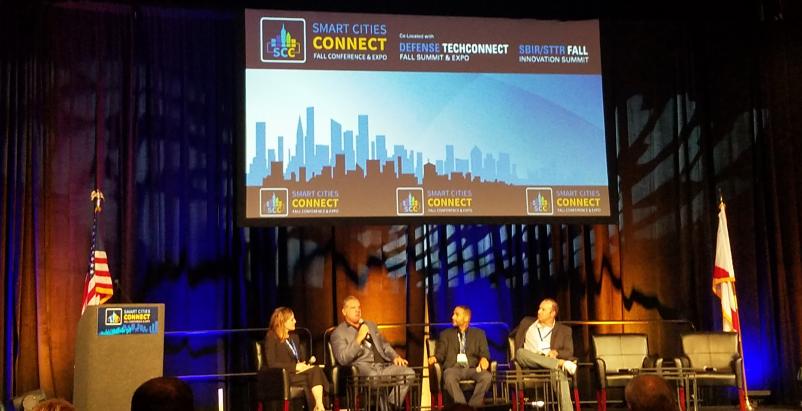 An oft heard refrain about Smart Cities insists that they're not about technology, but about people. This same mantra could be heard at Smart Cities Connect's Fall Conference and Expo, where Think Big Partners' Herb Sih reiterated the intended focus of Smart Cities in his keynote address.
"Think about people. Opening up a dialogue is a crucial first step," Sih said.
Held in Tampa, Florida, from Oct. 23-25, this Fall Conference was a first for event organizers TechConnect, who have previously only held Smart Cities Connect events in the Spring. The last Smart Cities Connect Conference & Expo was held in Kansas City in March. The fall show also deviated from prior events by co-locating with two other events, the Defense TechConnect Fall Conference and the SBIR/STTR Innovation Summit. Combined, there three shows offered glimpses of how technology can drive more effective outcomes in a wide range of sectors.
While the conversation was largely driven by technologists, the focus remained on how solutions can benefit people and foster collaboration. From the discussions, several recurring themes emerged.
P3s are your friend
To ensure that cities remain innovative, public-private partnerships can provide a major assist to communities. In addition to minimizing risk and enabling cities to upgrade faster, P3s can also bring in technical expertise and knowledge that local governments just don't have. "P3s have to be an ingredient for Smart Cities to be successful," Aurora, Illinois, CIO Michael Pegues said in a keynote.
No power, no Smart Cities
Engaging stakeholders is an essential first step for all municipalities looking to become more efficient, and utilities are no exception. In addition to the insights that can be gleaned when utilities and cities share data, the amount of energy required by innovations like the IoT and EV charging stations mandates a rethinking of our energy sources. "Before we can have Smart Cities, we need a resilient grid," S&C Electric Company Manager of Microgrid Business Development Chris Evanich said during a presentation. Sault Ste. Marie, Ontario, is an early leader in this regard, with plans for a $33M smart grid upgrade approved to proceed.
Smart Cities are a journey, not a destination
During one of the last sessions of the show, a discussion on urban leadership strategies, panelists aired their grievances about the term "Smart City." Chief among these complaints was that the term itself implied that a Smart City is a tangible goal that a community can reach. "'Smart City' is a misnomer, it's not a set destination," Mastercard EVP of Global Cities Miguel Gamino said during the panel. "Instead, put people at the center of the conversation."
For more insights from the show, a curated social media feed below shows the best tweets from the event. The next Smart Cities Connect Conference & Expo will be held in Denver, Colorado, from April 1-4, 2019.