Smart Cities Connect 2018 Demonstrated The Power Of Partnerships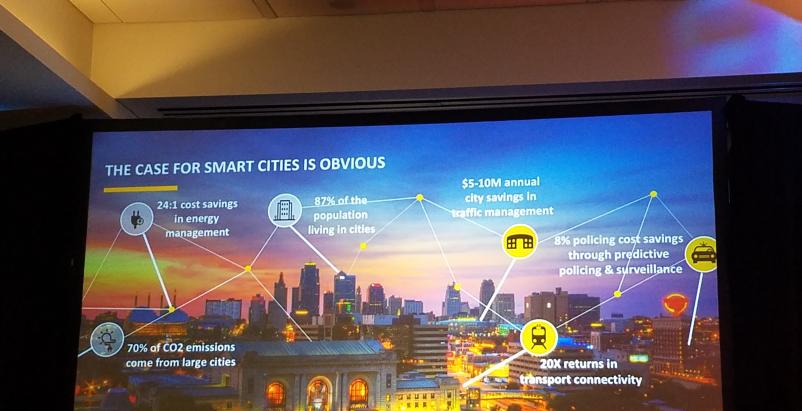 For Smart Cities to work, there needs to be cooperation. Cities and their teams need to work not only with each other, but also with private partners, the community, academia and stakeholder groups whose voices need to be heard. Bringing these parties together to create lasting solutions can prove challenging, but the attendees of Smart Cities Connect showed that they were up to the task.
"This is a conference of doers," US Ignite CTO and Founder Glenn Ricart said when kicking off the conference.
This year's show was the third iteration of Smart Cities Connect and the first to be held in Kansas City, a departure from former host city Austin. Held from March 26 to March 29, the conference and expo attracted over 1,700 attendees, including more than 400 city leaders. Over the course of the week, those present were treated to a series of keynotes, panels and demos that explored and reiterated the key themes of Smart Cities.
Of all the topics discussed throughout the event, the idea of partnerships was given center stage. Many of the success stories at the conference came as a result of collaborative efforts. San Francisco Mayor Mark Farrell, for instance, spoke of the city's ambitious plan provide fiber Internet to every resident. While the finished network is on track to be publically owned, a P3 model will bus used to finance the project. In addition, many of the demos at the show were the product of partnerships between universities, local government and grants from the National Science Foundation.
"The magic word today is 'partnerships,'" Smart Cities Connect Media and Research Editor Chelsea Collier told the audience.
Beyond the discussion of critical themes, Smart Cities Connect also honored Smart City innovators with the Smart 50 Awards. Announced at a gala on the night of the 26th, the awards celebrated the best Smart City projects from around the world. Here are categories and winners:
Community Awards
Ypsilanti Fire Station Solar Installation, Ypsilanti, MI, US
Greenville Automated Taxi Shuttles, Greenville, SC, US
Citizen Life Awards
Understanding Citizens in Tel Aviv, Tel Aviv, Israel
Home Care Services in Warsaw, Warsaw, Poland
Safety and Happenings in Rio de Janiero, Rio de Janeiro, Brazil
Energy Awards
CITyFiED, RepliCable and InnovaTive Future Efficient Districts and Cities, Laguna de Duero-Valladolid, Spain; Soma, Turkey; Lund, Sweden
Smart Cities Through Smart Lighting, Brussels, Belgium
Energy Sharing and Cost Savings with OhmConnect, Berkeley, CA, US
Smart Pole & Intelligent Street Lighting, Bhopal, India
Philadelphia Energy Campaign for Multi-Family Affordable Housing, Philadelphia, PA, US
Underground Infrastructure Sensing, Burlington, VT, US; Winooski, VT, US; Chattanooga, TN, US
Austin SHINES Project, Austin, TX, US
Idaho's First Commercial Zero Net Energy Building, Boise, ID, US
Montreal Smart Public Lighting Control Project, Montreal, Quebec, Canada
Transforming Household Waste in Austin, Austin, TX, US
Wireless IoT Connectivity Platform in San Leandro, San Leandro, CA, US
San Francisco International Airport Terminal 1 Redevelopment: View Dynamic Glass, San Francisco, CA, US
Air, Noise, and Smart Traffic Monitoring in Ireland, Galway City, Ireland; Limerick, Ireland; Cork, Ireland; Dublin City, Ireland
Governance Awards
Kansas City Smart City Initiatives, Kansas City, MO, US
Bhopal Plus App, Bhopal, India
Crime Big Data Analytics from Atlanta Police Department, Atlanta, GA, US
PMC Citizen Assistance, Response and Engagement (CARE), Pune, India
Homeless Data Sharing in Sacramento, Sacramento, California, US
MyRichmond, Richmond, British Columbia, Canada
Gang and Crime Prevention in St. Louis with Smart Streetlights, St. Ann, MO; St. Charles, MO; St. Louis, MO, US
Lake Flood Prevention with Smart Gateway Sensors, Lakeland, FL, US
Horizons Awards
Schenectady Smart City Report, Schenectady, NY, US
Yucaipa Business Incubator Center, Yucaipa, CA, US
Annapolis Renewable Energy Park-Solar Segment Project, Annapolis, MD, US
Chula Vista Bayfront Master Plan, Chula Vista, CA, US
Mobility Awards
Turnit BiBo, Tartu, Estonia
Marietta TravelSafely App, Marietta, GA, US
Solar Assisted Electric Vehicle Charging and Car Share, Chattanooga, TN, US
VIA Mobile Ticketing System, San Antonio, TX, US
India's First Public Bike Share Program, Bhopal, India
Smarter Streets with Video Analytics in Las Vegas, Las Vegas, NV, US
Nation's First Self-Driving Shuttle Pilot in Public Right-of-Way, Las Vegas, NV, US
Intelligent Video Analytics in Singapore and at Changi Airport, Singapore
Intelligent Transport System (ITS), Bengaluru, India
Mobile Application for BMTC Project, Bengaluru, India
The Texas Innovation Alliance, Arlington, TX, US
oneTRANSPORT Initiative, Watford, England; Oxford, England
Electric Drive, Austin, TX, US
Vision Zero Project, Las Vegas, NV, US
Automated Video Analytics for Improved Mobility in Austin, Austin, TX, US
Networks Awards
Emergency Internet Bypass Lane Protocol, Rochester, NY, US
Campbell River Advantage Network, Campbell River, Canada
World's Largest Network of IoT Sensors on City Streetlights, San Diego, CA, US
The Ammon Model, Ammon, ID, US
Richmond Hill Smart Street Lighting Conversion Project by Ameresco , Richmond Hill, Ontario, Canada
StormSense, Hampton Roads, Virginia, US
Array of Things, Chicago, Illinois, US
Simulated Smart City, Cary, NC, US
Just as in past years, Smart Cities Connect was co-located with the US Ignite Application Summit. As part of the organization's goal of using advanced technology to leverage networks toward creating smarter communities, eight new locales were inducted as Smart Gigabit Communities. These new communities are:
Adelaide, South Australia
Colorado Springs, Colorado
Eugene-Springfield, Oregon
Las Vegas, Nevada
Lincoln, Nebraska
Red Wing, Minnesota
San Francisco, California
Lexington, Kentucky
As the conference progressed and conversations were had, attendees posted many relevant insights on social media. For a curated list of social media interactions from this year's Smart Cities connect, look below.