Selections for KCMO Innovation Partnership Program Announced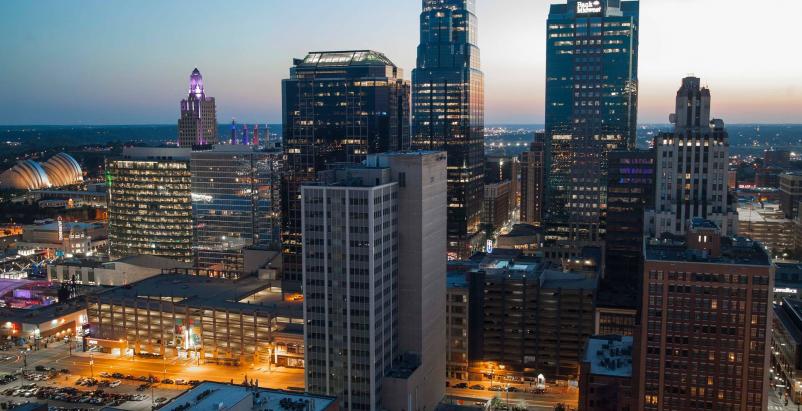 Photo courtesy of Kansas City, MO, via Michael Severo.
Collaboration is proving to be a key cog in the wheel of smart cities. Such is the case for Kansas City, MO (KCMO), which is building on momentum to becoming a world-class city, according to Mayor Sly James. As smart cities continue to seek and find public private partnerships, test programs are addressing key issues.
Six partners have been selected for Kansas City's 2018 Innovation Partnership Program. Now in its fourth year, the program provides a unique opportunity for startups to develop a use case, and allows the city to explore, at no cost, how new technologies may improve City services. It's considered "a front door for entrepreneurs to apply to develop, test, and demonstrate innovative solutions with KCMO data and infrastructure in support of Advance KC and City Operations," according to a news release issued by the Mayor's Office.
The Innovation Partnership Program committee selected a broad range of companies to work with several City departments, and include: Geospiza, DogSpot, Homebase, Gridics LLC, Snorkel, and Dynamhex. Partners will collaborate with the Office of Innovation, led by Chief Innovation Officer Bob Bennett, and other departments, on key issues. After receiving 20 hours of office space in City Hall weekly during the 13-week test program, the partners, in October, will present their technology services and discuss their pilot progress in a pitch to Mayor Sly James and City Manager Troy Schulte, among other attendees from city departments and the City Council.  
"The Innovation Partnership Program asks the startup community and the City to work together to find sustainable solutions to improve services for our residents and visitors," said Mayor Sly James. He added, "This year's IPP class will be testing innovative solutions to challenges ranging from crisis response to increasing efficiency in our sewage systems."
Partners were selected using several criteria including the ability to support economic development and operations strategies such as improving quality and efficiency of City services and operations, supporting environment quality efforts with the City, engaging neighborhoods, and improving economic vitality and social equity.
The report announcing the partners included brief descriptions from the companies about their technological solutions, which prove instructive to smart city leaders seeking public private partnerships to solve both common and complex issues addressing municipalities across the country.
For its part, Geospiza, which will work with the Public Safety Department, uses data to enable cities to better prepare for and respond to crises through assessment of multiple data streams. These allow communities to identify where more difficult rescue and recovery operations may occur, which allows for better deployment of public safety resources.
It provides emergency managers, city planners, and other key stakeholders with comprehensive insight into community vulnerability. Understanding population vulnerability allows officials to quantify risk, prioritize preparedness and risk-reduction interventions, and conduct effective and efficient response and recovery activities, according to the company. Engaging in a pilot of Geospiza will enhance Kansas City's emergency preparedness and reduce costs around data collection and analysis in emergency management.
The Kansas City Office of Innovation will work with DogSpot. The company has a network of high-tech dog houses in the community, which can be rented by the minute. DogSpot houses are temperature-controlled, sanitized, and equipped with a camera so that dog owners can monitor their pet. Placing several DogSpot dog houses in downtown Kansas City could make the city more dog-friendly and increase potential revenue of area businesses.
Homebase is a Kansas City-based connected building solutions provider delivering connectivity, automation, and community management solutions for property owners and managers of apartment communities. The company, which will work with the Housing Services division, hosts a connected building management platform, which allows residents to experience modern and efficient living, while making property management more seamless. With the use of Wi-Fi and connected Smart Home devices, the platform allows users to pay rent, monitor utilities, report maintenance, and more. Homebase reports that it would like to develop a solution for affordable housing that helps bridge the digital divide. This would work with property owners and managers of affordable housing to offer connectivity, a smart home package, smart appliances with greater energy efficiency, and metered utility usage.
Set to collaborate with the City Planning staff, Gridics is a real estate technology company that has developed a zoning code software management platform which cities across the country have adopted. It developed a site-specific zoning application that helps cities manage, update and visualize their zoning code in real time. This could help Kansas City write, test, and visualize rezonings more easily, and more effectively answer questions about land use and zoning.
Kansas City's Water Services and Sewer Department will work with Snorkel as part of the Innovation Partnership Network. Snorkel is a software tool that helps city staff better allocate the city's fat, oil, and grease management resources and extend the life of its sewers. It allows city officials to identify which restaurants are equipped with grease traps, whether they maintain and pump their traps appropriately, and how poorly managed restaurant grease relate to broader systemic problems within the city's sewer problems within the city's sewer maintenance program.
With this data, notes the company, the city can more efficiently allocate restaurant inspection resources, ensure better compliance with ordinances, and keep more fat, oil, and grease out of the sewers, which saves money on maintenance and repair and extends the life of the city's sewers.
Dynamhex, a data analytics software company, will work with KCMO's General Services Department. The company works on municipal energy usage from both an economic cost and an environmental sustainability standpoint. Their technology product visualizes complex energy consumption patterns geographically on a dashboard for government officials. This allows municipal leaders to make data-driven decisions and target areas of energy waste and inefficiencies. The management of organizational level and regional level energy usage is helpful for measuring energy and emission performance and saving money.
The companies will not receive any financial investment from the city; during the trial period, however, the city will allow these companies to have access to city data and infrastructure to provide a test bed for their product or service.
Kansas City, Missouri has made news in the past year for its smart city initiatives, including a Smart & Resilient Cities article on its Smart City RFP. Bob Bennett, CIO, was included in an industry paper, in a report covered by this site, by Eden Strategy Institute, as Kansas City was named one of the Top 50 Smart Cities Worldwide.