Seattle Partners With UPS On Cargo eBike Program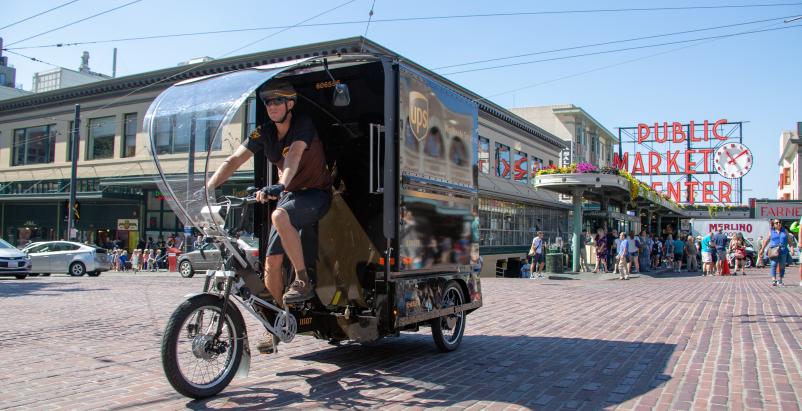 In the latest of ongoing efforts to address growing traffic congestion and air quality concerns, Seattle will be the first city in the United States to pilot UPS electric cargo bikes with a program created through a partnership between the global delivery service and the Seattle Department of Transportation. The news has received global attention since UPS (NYSE: UPS) and Seattle Mayor Jenny Durkan announced in late October the deployment of an innovative downtown delivery pilot project using pedal-assist cargo eBikes and customized, modular trailers. The cargo eBikes will operate in the historic Pike Place Market and downtown Seattle area on sidewalks, and in designated bike lanes. 
According to a UPS news release detailing the plans, UPS partnered with the Seattle Department of Transportation to develop plans for the new, 12-month pilot program. The partnership is being recognized as a forward-thinking solution, and nod to history, as UPS began in Seattle, in 1907, as a bike messenger company. The company, which presently serves more than 220 countries and territories worldwide, is based in Atlanta, and has established a strong sustainability program.
If successful, UPS will expand the pilot route and consider additional cargo eBike deliveries in other areas of the city. This is the first tailored urban delivery solution to address growing traffic congestion in Seattle's downtown corridor, and is part of UPS's Cycle Logistics Solutions that help reduce carbon emissions, noise, and traffic. The initiative will help eliminate cargo delivery attempts and dwell time, both expected to reduce traffic and pollution. According to the news release issued by UPS, each pedal-assisted eBike will also carry up to 400 pounds of cargo. Special pavements and designated bike lanes are also being created to accommodate the scheme in the historic Pike Place Market.
"Seattle has always been the city that invents the future, and now we are partnering with one of our hometown companies to help drive innovations in transportation," said Seattle Mayor Jenny A. Durkan. "As Seattle grows and public and private megaprojects limit capacity on our downtown streets, this pilot will help us better understand how we can ensure the delivery of goods while making space on our streets for transit, bikes, and pedestrians," said Durkan, adding, "We are eager to learn how pilots like these can help build a city of the future with fewer cars, more transit and less carbon pollution."
"While we have launched cycle logistic projects in other cities, this is the first one designed to meet a variety of urban challenges," said Scott Phillippi, senior director of maintenance and engineering, international operations at UPS. Phillipi added, "The modular boxes and trailer allow us to expand our delivery capabilities and meet the unique needs of our Seattle customers. It's exciting to return to our roots – UPS started in Seattle in 1907 as a bicycle messenger company. We're looking forward to being able to offer these customizable urban delivery solutions to other cities nationwide."
Developed in collaboration with Silver Eagle Manufacturing, using Truck Trikes, the cutting edge cargo eBike system will have removable cargo containers that are deployed via a specially designed trailer. This unique, "plug and play" design will provide greater flexibility to meet varying delivery needs. It will also be able to make deliveries to areas conventional delivery trucks can't access directly and currently require that trucks be parked on the periphery for long periods of time. This will reduce congestion in these areas by reducing truck dwell time, instances of double parking and other unintended consequences associated with downtown deliveries.
UPS partnered with the Seattle Department of Transportation to develop plans for the new pilot program. If successful, UPS will expand the route and consider additional cargo eBike deliveries in other areas of the city. This is the first tailored urban delivery solution to address growing traffic congestion in Seattle's downtown corridor, and is part of UPS's Cycle Logistics Solutions which help reduce carbon emissions, noise, and traffic.
The UPS® cargo eBike is equipped with a battery-powered electric motor that can travel longer distances than traditional bikes, carry substantial loads and navigate hills and other terrain. The modular, detachable boxes on the trailer can hold up to 400 lbs. and have a 95 cubic foot capacity. The bikes can be operated with human pedal power or battery power, providing drivers with the flexibility they need to navigate changing terrain and energy efficiency.
UPS and the University of Washington Urban Freight Lab will evaluate the cargo eBike's reliability, design and integration into Seattle's infrastructure over the next year, and report back on traffic and emissions reduction. The Urban Freight Lab is an initiative that brings together transportation engineers and urban planners who manage public spaces with retailers, freight carriers and technology companies supporting transportation solutions. UPS will share data and analyses from the pilot for assessment against two of the lab's key objectives: improving first delivery attempts and reducing "dwell time," both of which should reduce traffic congestion and pollution.
Freight delivery plays a significant role in the growing congestion of cities, according to a report issued in January, 2018, by the World Economic Forum and Deloitte. Among other insightful findings for the freight industry, as well as urban planners, delivery trucks are responsible for seven percent of traffic in American cities, according to the report.
The success of the UPS eBike was first demonstrated in 2012 in Hamburg, Germany, and serves as a prototype for the company's newest cargo eBike in Seattle. The company also operates inner-city delivery projects with delivery on foot and by bike in more than 30 major cities worldwide, including Leuven and Mechelen, Belgium; Paris and Toulouse, France; Frankfurt, Hamburg, Herne, Offenbach, Oldenburg and Munich, Germany; Dublin, Ireland; Rome and Verona, Italy; and London, U.K. in addition to the one other eBike previously operating in the United States in Pittsburgh.
Using its Rolling Laboratory Approach, UPS deploys approximately 9,300 low-emission vehicles worldwide to determine what alternative fuel and advanced technology vehicles work best in various routes and duty cycles. This includes all-electric, hybrid electric, hydraulic hybrid, ethanol, compressed natural gas (CNG), liquefied natural gas (LNG) and propane. In Washington, UPS uses 10 electric and hybrid electric vehicles. The cargo eBike is part of a broader UPS strategy to continue to electrify its delivery fleet.
The company has established a strong sustainability program to get and stay ahead of the curve on solutions to what have become common climate change impacts.
In its latest report, UPS partnered with GreenBiz to conduct research "to better understand the transition toward commercial fleet electrification, including barriers, motivators and strategies for accelerating the market." The report's Executive Summary offered keen insight on the status of the logistics industry and future of sustainability initiatives, including the following:
"Commercial fleets are making the transition to a clean energy future and fleet electrification is leading the way. This shift is driven by various factors, including a technology and market evolution, renewed attention on global climate risks and the improving economics based on a more favorable total cost of ownership. According to the U.S. Environmental Protection Agency (EPA), the transportation sector accounts for the largest portion of total U.S. greenhouse gas (GHG) emissions (28 percent), and the medium-and heavy-duty truck sector accounts for 23 percent of those emissions. The same trend holds true globally, and emissions reduction goals are emerging in cities across the globe. Electric commercial vehicles help fleet operators reach challenging global emissions goals, and more renewable energy projects coming online create an opportunity to power commercial fleets with cleaner sources, further reducing total emissions. At the same time, electric options are increasingly becoming more cost competitive, offering comparable (or even favorable) features to their diesel alternatives and becoming more widely available from a range of manufacturers. While curves are ahead in the road to widespread electric fleet adoption, many fleet operators are seeing opportunities and challenges — in short, those in the ecosystem can learn from each other. Overall, signs indicate progress is being made and we're moving in the right direction," according to the 2018 UPS/GreenBiz Report's Executive Summary.
Last year, in its 2017 UPS/GreenBiz Research Study UPS partnered with GreenBiz "to research the challenges associated with logistics in dense urban environments and, perhaps more importantly, to highlight some of the solutions and strategies that can contribute to a more environmentally sustainable city center." The Report's Executive Summary offered that "urban life is deeply intertwined with sustainable e-commerce and access to goods. Sustainable e-commerce solutions can function as a kind of shared mobility for goods and services, similar to the way in which buses provide a more efficient option for personal travel than single-occupancy vehicles. When combined effectively, consolidated shipments on environmentally-focused vehicles using data-driven routing can provide a step forward."
UPS (NYSE: UPS) is a global leader in logistics, offering a broad range of solutions including transporting packages and freight; facilitating international trade, and deploying advanced technology to more efficiently manage the world of business. UPS is committed to operating more sustainably – for customers, the environment and the communities we serve around the world. Headquartered in Atlanta, UPS serves more than 220 countries and territories worldwide.