Seattle Mayor Calls for Reduced Fossil Fuels, Increased Transit Investments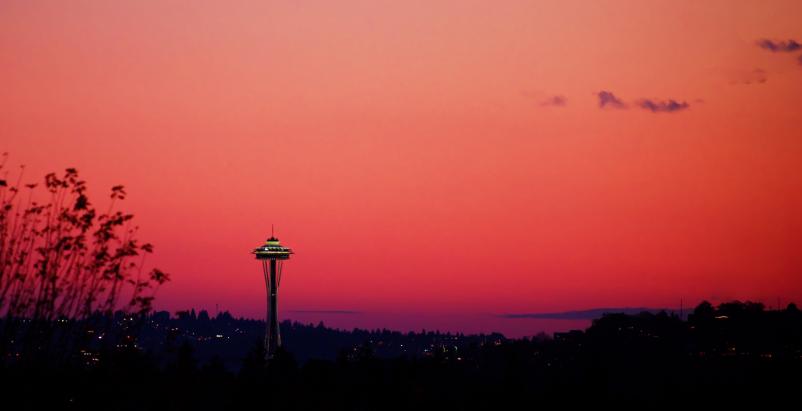 The City of Seattle's Mayor has reinforced her intention to reduce the city's dependence on fossil fuels, and focus on smart transportation investments. In addition to presenting her first budget address, Seattle Mayor Jenny A. Durkan recently signed an Executive Order to reduce the size of Seattle's vehicle fleet by 10 percent. A detailed review of the 2019-2020 Biennial Proposed Budget reveals that the Mayor's plan seeks efficiencies across City government, and outlines additional steps the Emerald City will take to reduce its dependence on fossil fuels.
Noting the city is entering a new era of budget realities, the Mayor reinforced that "the budget re-prioritizes to invest in the programs that are working for the largest number of people." As such, with a focus on transportation, Mayor Durkan's proposed budget includes investments for transit and transportation, including providing an additional $128.3 million over 2018 levels. The budget increase would allow for an increase in Metro Service by 30 percent in the next two years, and extension of the ORCA Opportunity Program.
The Executive Order calls for repurposed fuel savings for critical City services. The ambitious fleet reduction goal will create efficiencies in City government by decreasing ongoing costs and eliminating a significant percentage of the City's contributions to carbon emissions, according to the September 24 news release issued by the Mayor's Office on September 24, following the budget address.
"Getting serious about finding efficiencies in our City budget and addressing climate change means making hard choices, and reducing the size of the city's fleet makes sense for our City's future," said Mayor Jenny Durkan. "We have been spending too many taxpayer dollars on our City fleet and we know we can move faster in transitioning to clean energy vehicles," she said, adding, "My Executive Order will move Seattle closer to our goal of having a completely green fleet by 2030."
"To meet the demands of our growing city and create a city of the future, we must invest aggressively in our transit and transportation system: buses, light rail, biking, and walking. We also must invest to maintain our existing infrastructure and smartly manage the right-of-way, so people can keep moving," said Mayor Durkan. The State of Washington's largest city, Seattle is located on Puget Sound in the Pacific Northwest, home to an estimated population of more than 700,000 residents and many leading high tech companies, including Microsoft and Amazon.
The Executive Order directs departments in the City of Seattle to submit recommendations for fleet reduction with the aim of trimming approximately 10 percent from the City-owned fleet of over 4,150 vehicles. Mayor Durkan's Executive Order also asks departments to pursue electrification of future fleet vehicle purchases while pursuing partnerships with local and state agencies including King County, Sound Transit, and the Port of Seattle to help consolidate our fleet.
The Executive Order builds on Mayor Durkan's order earlier this year that committed the City to the goal of achieving a fossil-fuel-free fleet by 2030. The City is a national leader in fleet electrification with over 200 plug-in electric vehicles, hundreds of conventional hybrid vehicles, and the largest government-owned electric vehicle charging hub.
The transportation sector accounts for over two-thirds of Seattle's core greenhouse gas emissions. Addressing those emissions is a core pillar of Mayor Durkan's Climate Action Plan. In April, Mayor Durkan announced that she would transmit legislation requiring the inclusion of electric vehicle infrastructure in new construction or renovation that includes parking. Earlier this year, the City also announced new city rapid charging stations, to encourage the use of electric vehicles and be powered by Seattle City Light's clean energy. Studies have shown that reducing pollution provides significant public health and economic benefits.
Budget Prioritizes Transportation Investments
In delivering the first budget of Mayor Durkan's administration, she noted that the budget http://durkan.seattle.gov/2018/09/mayor-jenny-durkans-2019-2020-biennium-budget/ calls for a $609 million investment in transit and Seattle's transportation system, $128.3 million over appropriated 2018 levels.
The Mayor's proposed transit and transportation investments focus on three key priorities:
Investments in transit, walking, biking, and managing congestion in the downtown core;
Maintaining our existing streets, sidewalks, bridges, and other key infrastructure; and
More effectively managing the public right-of-way to help keep buses, cars, and trucks moving.
Mayor Durkan noted, "As we get ready for public and private megaprojects, we are facing a new era of tough traffic and need to be as ready as possible for this unprecedented period," adding, "That makes these investments even more important."
As proposed, Mayor Durkan's budget includes investments to:
Increase Metro bus service 30 percent over the next two years. Mayor Durkan's proposed budget would provide an additional 100,000 hours of Metro Transit service over the next two years – a 30 percent increase in the City's investments in King County Metro service. That would be in addition to the 270,000 hours of Metro service the City of Seattle currently funds each year. The Mayor's budget also invests $9 million in capital improvements that will make Metro bus service faster and more reliable.
Sustain and extend her ORCA Opportunity program through 2020. In addition, Mayor Durkan's proposed budget sustains and extends the ORCA Opportunity program through 2020, which is providing 15,000 Seattle Public Schools high school students and Seattle Promise scholars free ORCA passes this school year. Signed into law in July after a unanimous vote by the City Council, ORCA Opportunity made Seattle the largest city in the country to provide high school students with unlimited, year-round free transit passes.
Provide $15.3 million in new investments to support Move Seattle deliverables. The Mayor's budget invests $15.3 million to add 20 new full-time employees to support Move Seattle deliverables including:

$5 million for additional curb ramp construction;
$4.1 million for sidewalk repairs;
$1.4 million for greenways; and
$1.1 million for the Northgate Bridge and Protected Bike Lane to enhance access to the planned Northgate Sound Transit Station; and $550,000 for pedestrian lighting.

$101.6 million to provide maintenance and replacement of key roads, trails, bike paths, and bridges, including:

$5.6 million for sidewalk maintenance, an increase of over $2 million from 2018 levels;
$50.4 million for roads;
$42.4 million for bridges and other key structures; and
$1.1 million for trails and bike paths.
In April of this year, Mayor Durkan released the Seattle Climate Action Plan. In addition, she signed two Executive Orders to embed climate considerations more fully into City operations. The orders followed the release of new bold actions in Seattle to reduce carbon pollution from our transportation and building sectors and make Seattle a national leader in fighting climate change. According to a detailed news release issued by the Mayor's Office in April.
The the first Executive Order called for accelerating the electrification of the City's municipal fleet and phasing out fossil fuel use in City vehicles by 2030. The second Executive Order directed the Office of Sustainability & Environment to develop a process for assessing the greenhouse gas emissions and climate resilience of major city policies, capital projects, and purchasing decisions.
The Executive Order on Green Fleets included the following directives:
Drive Clean Seattle Green Fleet Action Plan: Plan will outline past and future implementation actions that will accelerate the electrification of the City's municipal fleet and phase out fossil fuel use in City vehicles by 2030.
Prohibition of new city-owned fossil fuel infrastructure: Effective immediately, construction and installation of any new fossil fuel infrastructure for the City's fleet is prohibited.
The Executive Order on City Operations Climate Assessment included the following:
Develop a policy for assessing the climate impacts of city decisions: The Office of Sustainability and Environment (OSE) will lead an interdepartmental process to develop a policy and implementation guidance for assessing the greenhouse gas emissions and climate resilience of major city policies, capital projects, and purchasing decisions by December 31, 2018.
Create a consistent framework and reporting protocol: OSE will work across departments to create a consistent framework and reporting protocol for analysis of greenhouse gas emissions and climate resilience. The framework will incorporate consideration of racial equity and social justice consistent with the City's Race and Social Justice Initiative.
"Seattle has long been a leader in developing solutions to the world's most pressing problems," said Jessica Finn Coven, Director of the Seattle Office of Sustainability and Environment, who added, "The actions from Mayor Durkan continue this leadership with innovative solutions to climate change."
Seattle in the Spotlight
Mayor Durkan's focus on climate change has brought increased attention to Seattle over the past months. Over the summer, Seattle's Chief Privacy Officer, Ginger Armbruster, participated in an Axios Summit in Washington, D.C., which was included in a news article on this site. The Axios: 360 event, "Innovating Responsibly: What's Next for Tech," featured Seattle's Armbruster, Shift7 CEO and Third U.S. Chief Technology Officer Megan Smith, and U.S. Senator Mark Warner, of Virginia. Hosted by Axios co-founder and Executive Editor, Mike Allen, and Managing Editor, Kim Hart, the event addressed key challenges confronting cities, and covered how tech companies can continue innovating while internalizing the recent wave of criticism.
In September, Mayor Durkan accepted the Bloomberg Philanthropies America's Cities Climate Challenge from Mike Bloomberg, as Seattle was one of two cities, including Atlanta, to claim the first two awards, as reported on in a S&RC news update published in September. Also last month, the American Public Transportation Association (APTA) announced recognition of Seattle's transit service. As covered across smart city and transportation industry media, including a news story published here, the nation's foremost transit association, APTA named King County Metro Transit the best large transit system in North America during its recent Annual Meeting.