Smart City Expo World Congress 2018 Twee-cap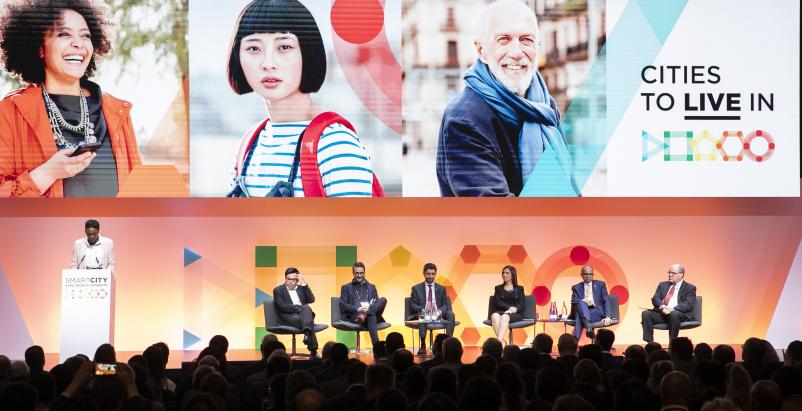 From technologists to civil servants, the Smart City Expo World Congress holds something for everyone with a stake in the future of urbanism. With a stated goal of empowering cities and collectivizing innovation, the Congress has established itself one of the largest and most influential Smart City events in the world. This year's show, the eight edition of the Congress, was no exception.
Held in Barcelona's Gran Via Venue, this year's Smart City Expo World Congress attracted 21,331 visitors from over 700 cities. Greeting these attendees were 844 vendors and over 400 speakers, all seeking to further this year's core theme: Cities to live in. Event organizers Fira de Barcelona divided panels and presentations into five content tracks: Digital Transformation, Urban Environment, Mobility, Governance & Finance and Inclusive & Sharing Cities. Co-location with the Smart Mobility Congress, the International Integrated Water Cycle Show (Iwater), the Circular Economy European Summit, the Sharing Cities Summit, the Digital Future Society and the Smart City Week created more opportunities for attendees to expand their Smart City knowledge.
In addition to offering Smart City insights and strategies, the event also took time to honor exemplary efforts in the sector. This year, Singapore was named the Smart City of 2018 winner. Winners of other awards include:
Innovative Idea - Cape Town, South Africa
Digital Transformation - Gaoqing, China
Inclusive and Sharing Cities - The Hague, Netherlands
Governance & Finance - Doha, Qatar
Mobility - Atlanta, U.S.
Urban Environment - Shanghai, China
Next year's event will be held from Nov. 19-21. Until then, relive this year's show with some social media insights. A list of the best tweets from 2018's Smart City Expo World Congress can be found below.