San Antonio Future-Proofs Traffic Management With 4G LTE, Laying Road To 5G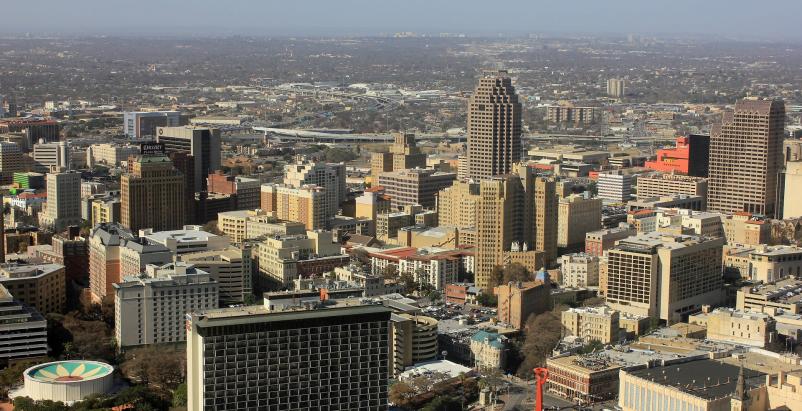 The City of San Antonio has a population of more than 1.4 million people— and is expected to grow by at least a million individuals within the next 20 years. Rapid growth required the city to seek smart, efficient expansion of its infrastructure and services. For instance, the city's Traffic Management Center must be prepared to handle greatly heightened roadway usage.
The Traffic Management Center, with a staff of 16 people overseeing nearly 1,400 intersections, is responsible for traffic signal operations, lane control, sensor-based detection devices and nearly 60 video cameras that facilitate real-time monitoring.
The city's traffic system is finely tuned. Even minor disruptions and technical issues can drastically hinder motorists' ability to proceed through several green lights in succession during normal traffic flow.
What the city needed
In 2015, the City of San Antonio recognized the need to upgrade its complex traffic management system, which included a dozen radio towers throughout the city. About 300 intersections, featuring access points connected to wired lines, were serving as reference nodes for the remainder of the intersections, each of which featured a wireless access point.
The resulting radio-based wireless mesh network allowed traffic managers to remotely communicate with devices in the field, but not consistently. This proved problematic because remote access is what allows staff at headquarters to centrally monitor key applications, troubleshoot problems, and adjust the clocks that synchronize traffic lights and flow.
With the reduced communication, the journeys that drivers were experiencing on the major routes were becoming poorer and poorer. Complaints from frustrated citizens were beginning to grow, as was the number of man-hours necessary to send personnel into the field to manually adjust clocks and other settings. Also contributing to the problem was the department's lack of a remote cloud management solution.
The answer?
By installing cloud-managed routing platforms in nearly 700 traffic cabinets and implementing 4G LTE as its primary Wide Area Network (WAN) source, the City of San Antonio took the uncertainty out of its connectivity equation.
The access point's dual-band, dual-concurrent WiFi maintains a more manageable mesh domain with an updated, more reliable connection back to the data center.
San Antonio also began using a management system which enables the team to be both reactive and proactive in their management of the city's traffic system.
Benefits of this solution
Fast, easy deployment: During initial deployment of the devices, the city was forced to make a quick decision to switch 200 LTE devices from one carrier to another. The change was easy, taking place in just a few days, with support from the team.
Constant connectivity for reliable access: With constant 4G LTE connectivity through routers, the Traffic Management Center has been able to boost the city's rate of communication with intersections from about 60 per cent to nearly 100 per cent — surpassing administrators' recent 95 per cent mandate.
Streamlined network troubleshooting & real-time management: When a problem arises at an intersection, the traffic management team can investigate from headquarters via live stream, then ascertain whether the situation calls for a simple fix.
Compact for easy physical access: From a maintenance standpoint, the routing platform's relatively small size makes physical access and maintenance easy, as it sits near ground level in a traffic cabinet, with an external antenna mounted outside the cabinet.
Potential to scale up network and applications: The City of San Antonio's Traffic Management Center can easily scale up its network without sacrificing throughput and speed.
Constant connectivity and cloud management have opened up a wide variety of possible smart city LTE applications for the City of San Antonio, including syncing software with Computer-Aided Dispatch (CAD) to provide more granular data about traffic expectations for public safety.
It has changed the city's mindset to the point where the traffic management team is beginning to come up with new ways to utilize the system to make their jobs easier, and to make the journey better for the traveling public. The city's 4G LTE project is the foundation of the smart city and will allow new and evolving technology to be built on top.
The road to 5G
One near-future technology that is expected bring even greater efficiencies to smart cities is 5G. AT&T is working to deploy 5G in San Antonio before the end of 2018, which will help expand IoT devices around the city, opening up new opportunities in security and public safety on the road.
While the industry waits for 5G, 4G LTE will continue to improve and offer a pathway to 5G while the current applications are enhanced and made ready for the next generation. Investments made today in 4G will seamlessly transfer because both forms will work together. The two will work in tandem to handle different types of network traffic in the most effective way possible. 
As 4G LTE lays the road to 5G, cities like San Antonio that have built a solid technology foundation have the flexibility to take on the future and provide citizens with the most efficient and safest experience on the road and elsewhere.
Ken Hosac is the VP of IoT Strategy at Cradlepoint.