San Antonio Launches 311 Civic Tech App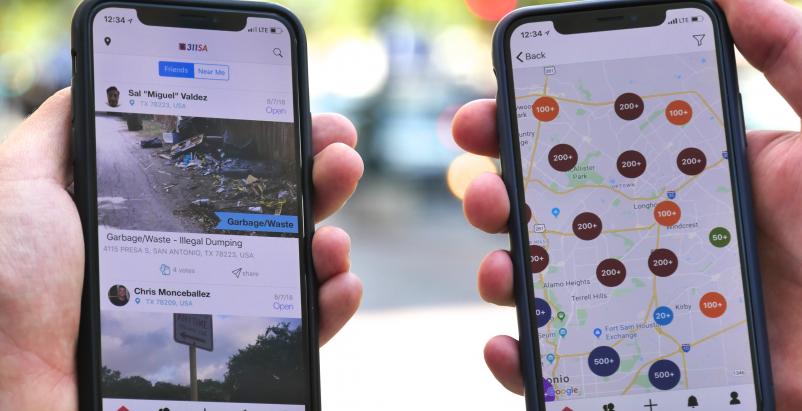 Credit: Cityflag and City of San Antonio.
Smart city leaders and start-up collaborators in San Antonio, TX are pleased with early success of a new resident-friendly initiative to address local issues. Cityflag, a San Antonio-based tech start-up, released its 311SA app in August, and is reporting a 90 percent resolution rate. The goal was to work with the city, whose Innovation Office oversaw the project, and its residents on the interactive social network to solve issues in a more hands-on, responsive, and even fun way.
The founder of Cityflag, Alberto "Beto" Altamirano, is reporting that in the first six weeks since launching, more than 90 percent of requests submitted through the program have been resolved. So far, according to an article appearing on Statescoop, more than 4,700 San Antonio residents have started using the app, submitting 2,544 requests, with 2,328 being dealt with, said Cityflag's Altamirano. He added, "Our thesis was that our mobile application was going to create an engagement boost for users because of its social element and gamification," Altamirano told StateScoop. "The success rate is at 90 percent. That is very exciting because the application itself invites the community to participate." Altamirano founded Cityflag along with Eduardo Bravo and Alberto Gomez. 
The Cityflag 311 App is a one-stop shop for all government information and non-emergency services, and it is designed by placing the citizen in the center of the user experience design, a smart people-centric approach, according to the company. Details of the launch of its Cityflag app were published in an August 15 news release issued by the City of San Antonio. The free app, available on both android and iOS devices, allows users to within seconds report and submit photos of problems such as potholes, graffiti, illegal dumping and stray animals. Reports are geolocated with flag icons, and participants can see the issues be addressed and resolved by changes in the flag colors, according to an article in the San Antonio Express-News, and re-posted on the company's website after the August 15 launch event. The "gamified public service app" is interactive, rewarding users points and badges for engagement, allowing them to follow others and be followed, and let them see what's being reported citywide, said the report. Residents can download the app from the iTunes store or Google Play under the name "311SA" or find it on the city's website.
The app encourages users to vote on each other's flags, rather than submit multiple requests for the same problem. Users can also see if anything in their neighborhoods has already been reported.
"No other application in any city has this, where you can vote and interact directly with anyone on the platform," said Altamirano, Cityflag's CEO and one of three co-founders. "Whenever you see a pothole on your street and it's the same pothole your neighbor flagged, automatically the location component will inform you someone has reported that same pothole," Altomirano said. "So instead of creating a new flag, you vote on it."
Cityflag won an initial $40,000 contract last year as part of a nearly $8 million city initiative to become a "smart city" by increasing digital connectivity and internet-of-things initiatives, reported the San Antonio Express-News. The news story, "New app makes it a snap to report city problems," by Lynn Brezosky, shared feedback from San Antonio's Mayor and City Manager, who have heard positive feedback from residents.
City Response Positive
At the intersection of civic technology and community engagement, San Antonio officials are driving home the importance of public involvement as a key factor in providing successful city services to residents of the fast-growing region. This year, the City of San Antonio, the 7th largest city in the country and second largest in Texas, with U.S. Census population estimate for 2017 at 1.51 million, is celebrating its 300th Anniversary.
"I'm thrilled that here in the city of San Antonio, where we have pledged to be smarter, to be funner, we're doing that here today," city Mayor Ron Nirenberg told a packed launch party held recently at the Geekdom Event Centre. "I get calls about potholes and graffiti and you know street crimes and things like that and it's a lot of fun to be able to work on that and improve it," Nirenberg said. "Now, for the first time ever, citizens are going to have the power in their hands to be able to experience that as well."
City Manager Sheryl Sculley said the Cityflag partnership gave residents a new way to communicate with their city. "We worked to find new ways to further engage the community … to get the public more involved and make it easy for them to respond or report things that are going on," she said. 
Paula Stallcup, assistant director for communications and public affairs for the City of San Antonio and senior manager for the City's 311 services, has also been involved in the 311SA app development since its start. Previously the City had a reporting app, but it lacked interactive features and did not give users visibility on the City's responses. The newly developed 311 app offers residents an interactive way to communicate with the City. There are almost 800,000 calls to 311 annually, according to Stallcup, as reported in a feature article published online at Startups SanAntonio.
"The app is different from what you might expect in a city services app," Stallcup said, adding, "We are excited about the functionality within the app—people can report an issue 24/7 and not have to remember to call the City in the morning." For cities considering an interactive smartphone 311 app like San Antonio's that help drive civic engagement, de la Cruz emphasized how benefits extend beyond residents.
"Cities are developing new avenues for civic engagement using a technology most residents already possess, a smartphone. In the U.S., 80 percent of all mobile phone users use a smartphone, according to the Startups San Antonio feature. The article, written by Iris Gonzalez, details the operational aspects of the newly-launched civic technology. The 311 app allows San Antonio residents to upload photos of municipal problems such as a downed street sign or graffiti and geotag it using Google Maps. The reported issue gets highlighted with a red flag until City employees use Cityflag's "citizen relationship management system" to acknowledge the problem which turns the flag yellow. App users can read City employee comments on each issue and can vote on the severity of specific ones. The top-flagged issues appear on the app's "urban feed" and once addressed, the issue's flag changes from an open green flag to a closed blue one once resolved.
Earlier this year, the City of San Antonio's Innovation Office partnered with Geekdom to launch CityTechSA and are wrapping up work with its first two startups, Reckon Point and Kinetech Cloud.
"Over the past year the City of San Antonio has been more open to working with startups because we see the talent that is developing within our city," Chief Innovation Officer Jose de la Cruz said, adding, "It helps us to increase our capacity for innovation."
Startup Focuses on Civic Engagement for City Success
"Civic engagement and listening to your residents are the most important things you can do, and an app like 311SA helps you to do that in a new and fresh way," de la Cruz said. "I would also say to look at your local tech talent and find ways to help them grow. As a city organization, we have the opportunity to influence how that talent grows in our city."
The company's philosopshy, according to its leadership, focuses on a commitment to creating a more inclusive and transparent relationship between civil society and government. Improving the level of public participation, transparency of governments and communication channels between government and society are key commitments.
Cityflag is contributing to the development of engaged citizens and civic leaders by building up the direct service capacities, as noted by the company in a section of its website titled, "What we think." The statement continues, "These experiences are intended to give emerging leaders a better understanding of a community that is undergoing dramatic change and greater knowledge of the city's resources to respond. Cityflag introduces the use of government technological platforms to expand public participation channels while facilitating transparency and accountability of public management. It includes apps and web services for citizenship, as well as programs of digital inclusion and civic innovation applied directly to the communities."
Along with a host of national, local and industry media, Statescoop covered the introduction of Cityflag's 311 app in a news article published in November, 2017. That same month, Cityflag's founder was named to Fortune Magazine's "30 Under 30" List, as reported in a November, 2017 business report published in The Revard Report. The company has been in the media spotlight extensively. Having drawn media interest from USA Today, Business Insider and start-up news sites, many smart city planners are likely to continue to keep watching the progress of civic tech apps like this newest one by Cityflag which, so far, has been well-received in San Antonio.