Tennessee – A Case Study In Creating A Resilient State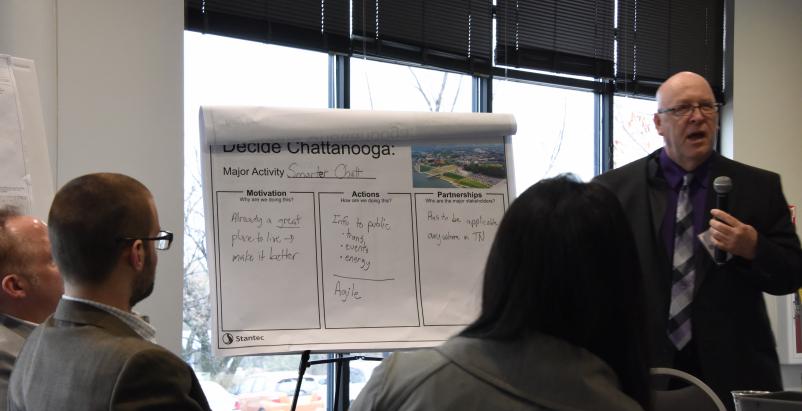 Technology and resiliency
As communities strive to become more resilient, they would be wise to anticipate and adapt to the stressors that new technology-driven-transportation will bring. That's why any approach to addressing tomorrow's transportation challenges should consider environmental, economic and social resilience. Traditional transportation project goals and metrics must be revisited and updated to address equity in:       
Spending by mode of transportation
Access to transportation infrastructure
Access to new technology-related transportation employment opportunities
Diversity of transportation options
Safety performance of the transportation system overall
With responsible planning, community leaders and planners can take advantage of the benefits in safety, mobility, accessibility and equity that advanced transportation systems bring. In other words, it's possible to embrace enhanced technologies now to create resiliency in the future.
But first, how does the world currently connect with transportation technologies?
Before looking to the future, it's important to understand how people engage with mobility. For decades, city planners have been designing communities around cars – not people. And, now they're paying the price. From 1945-1955 North America experienced a transportation revolution. At the end, they had established policies and infrastructure to focus on the automobile's needs. But now, community networks are experiencing the unintended consequences of urban sprawl, suburban isolation, disproportionate infrastructure spending and harmful environmental impacts.
Tennessee has recognized its transportation systems must evolve from an "automobile focus" to a "people focus" if they are to effectively serve their communities – and officials have started looking for answers and a process to prepare their communities for resiliency, and success.
How Tennessee is setting the stage for resilience in their transportation systems 
Nearly two years ago, Nashville, Tennessee was named one of the 100 Resilient Cities (RC) pioneered by The Rockefeller Foundation. As a member of the 100RC Network, cities are given access to tools, funding, technical expertise and other resources to build resilience and fight the complex challenges of the 21st Century. And, many have taken advantage of this partnership.
In July 2017, 100RC held their Global Summit in New York City. There, Buro Happold introduced a "Design Sprint" workshop, bringing together connected and automated vehicle experts and many 100RC participants – including representatives from Nashville – like Erik Cole, Nashville's Chief Resilience Officer. He said, "The intersection between resilience and infrastructure and transportation is absolutely critical. Resilience incorporates so many different issues as we deal with the shocks and stressors our cities face." However, it's important the discussion moves beyond just one city. And because the other metropolitan cities in Tennessee didn't get a chance to participate in 100RC's Global Summit, global consulting firm Stantec stepped in to help Nashville facilitate a larger, state-wide discussion.
The Stantec team drew inspiration from the original Design Sprint workshop to create a similar process to address the transportation challenges US communities face today, starting with in Southeast. They created the "Design Spark" - a workshop led by industry experts to address new mobility technologies and embrace their potential to help communities become more resilient.
In February 2018, Stantec hosted their first Design Spark in Nashville titled, "What does emerging technology in transportation mean for resilience?" The half-day event included representatives from across Tennessee – the Tennessee Department of Transportation, Tennessee Economic and Community Development, Oak Ridge National Lab, and the City of Nashville. Stantec also brought in their global transportation and mobility experts.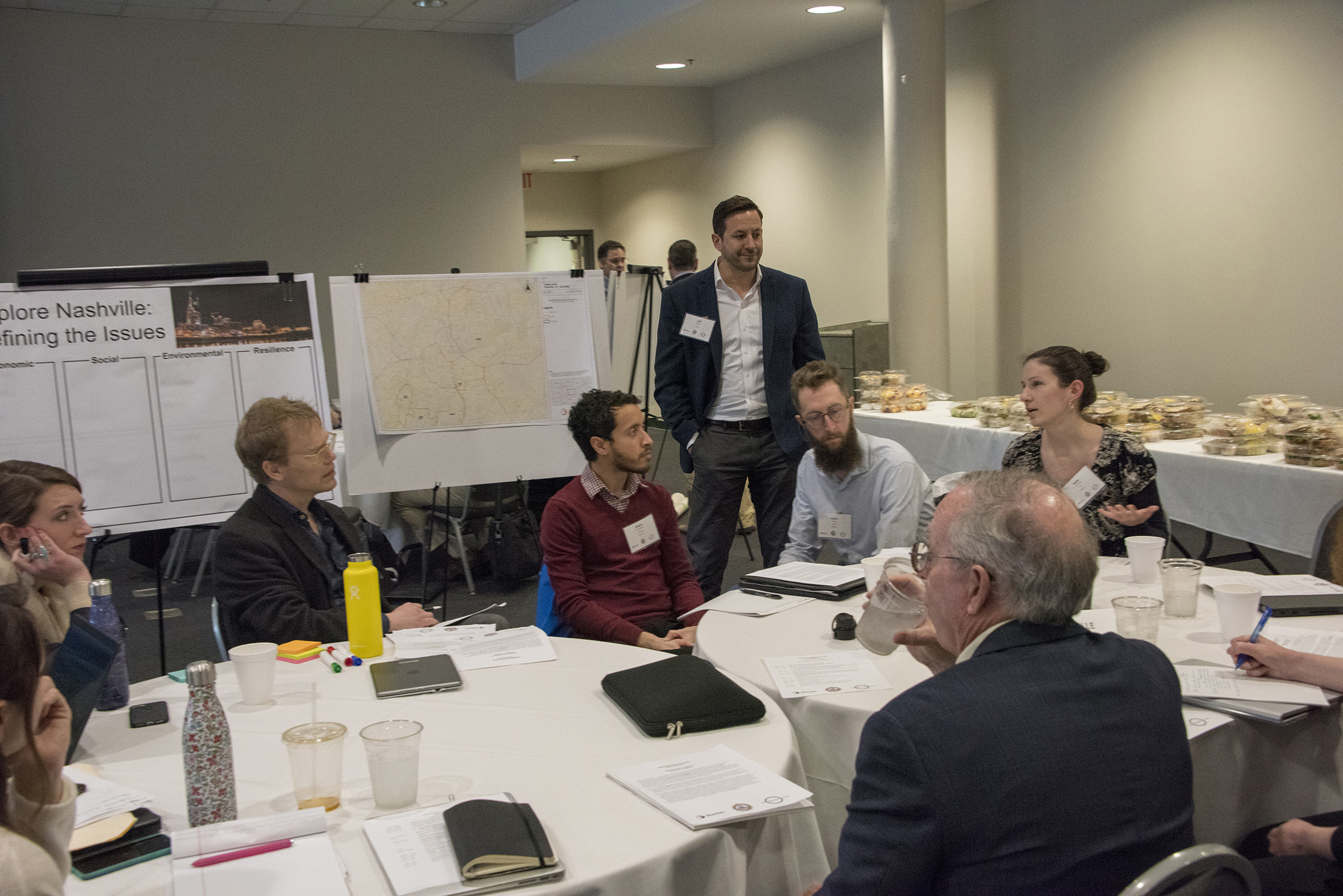 During the session, the participating cities of Memphis, Nashville, Chattanooga, and Cookeville discussed emerging transportation technologies and the social, economic, and physical impacts these technologies may bring. The participants gathered in individual breakout groups to examine their pre-identified problem statements - an issue / problem participant's wanted to discuss among a broader stakeholder group that includes subject-matter experts (present at the meeting). For example, the City of Nashville's problem statement explored how transit agencies could provide meaningful and quality service to low-income and transit-dependent populations and geographies while making the most efficient and effective use of taxpayer resources. With the goal of these discussions centered around transportation and resilience, the groups set key objectives:
Understanding mobility and resiliency issues facing Tennessee
Networking – discover common ground
Sharing ideas – expand possibilities
Focus on short- and long-term thinking
Walk away with actionable ideas
This forum included resilience officers, chief elected officials, city planners, state transportation agencies, academia, and technical consultants from across the state. Erin Hafkenschiel, Director of the Nashville Mayor's Office of Transportation and Sustainability helped set the tone, saying, "It's important to have these larger conversations about technology and making infrastructure investments in the community. Not having access to transportation is negatively impacting residents in Davidson County – it ranks 93rd in the country in cities offering workers accessible transportation. We know that not having access is preventing people from getting and keeping jobs – and it's also preventing them from completing higher education. Another statistic shows Nashville having a 24 percent college graduation rate. The number two reason listed for this was limited or no access to transportation."
"And if we can manage growth along transportation corridors," Hafkenschiel continues, "we preserve our rural areas, which helps with stormwater management and access to open space – which also relates back to resiliency." 
Since the Design Spark, Stantec continues to act as an accountability coach to the participant cities, having held a follow-up discussion will be held at a TennSMART meeting on May 17, which embraced additional stakeholders. TennSMART is a non-profit consortium established to further intelligent mobility development in Tennessee. The Consortium focuses on connected and automated vehicles, heavy duty trucking and freight efficiency, cybersecurity, electric vehicles, and multimodal commuting. The group is made up of 20 public and private founding members. The goal of the May meeting was to further engage decision-makers and solidify actionable plans.
It Takes a Village
What are some of Tennessee's early takeaways? A resilient city is one that demands engagement from a region's brightest minds – from a multitude of industries. It takes a village to ensure that "disruptions" are being planned for appropriately, with smart policy, and group buy-in so that these disruptions have little to no impact on the community. It's about providing an opportunity for various stakeholders to have larger discussions about resiliency and apply them across a region or state rather than across one jurisdiction.
According to Nashville's Erik Cole, "The Design Spark was a great opportunity to get together with colleagues from around the state and think outside the box with practitioners that do the type of work we do. We can look at our challenges and borrow ideas from other cities and circle up among our own agencies – public works, transportation, city planning – to look at these complex problems and outline a plan and approach that would deliver more innovative solutions."
Tennessee is just one example in North America of how engagement can help further resiliency – another progressive global city is working on a unique solution to prepare for the smart mobility revolution as well.
What's happening globally to prepare for resiliency in transportation systems? 
Many other cities across the globe are preparing for future transportation technologies—in February this year Dubai launched a first-of-its-kind program – the Dubai World Challenge for Self-Driving Transport. This multi-year international challenge is designed for industry leaders, start-ups, and academia tackling the transport challenges faced by global cities. It is the first of its kind to be truly global in its outlook, not being limited by country or region.
The Challenge awards will be made at the Dubai World Congress of Self-Driving Transport in October 2019. Both the Challenge and Congress aim to raise the public awareness of modern and future technologies of self-driving transport. The combined events will seek to identify the impact of self-driving technology on investments and various transport strategies—and exchange ideas about the technologies and policy innovations needed to accelerate the adoption of smart mobility solutions.
And, according to H.E. Mattar Al Tayer, Director-General and Chairman of the Board of Executive Directors of the RTA and Chairman of the Dubai World Congress for Self-Driving Transport, "The Congress will be a global platform for self-driving transport bringing together prominent experts, specialists, policy makers, technology manufacturers, researchers and academia. It's no coincidence that Dubai has a similar approach to Tennessee in preparing for future technology – it's something more and more regions across the globe are embracing."
Susan Marlow is a Principal at Stantec with more than 28 years of experience in geospatial technology and information management. Before joining Stantec, Susan was the founder and CEO of Smart Data Strategies.