Positive Contamination of Smart Parking
Rio de Janeiro a city with almost 12M inhabitants shares a problem familiar to most cities—a lack of adequate parking spaces and the means to properly manage them. Parking is an essential need for city drivers and those businesses wanting such individuals to get to work, shop or do business, but lack of a streamlined parking system can cause greater congestion, longer commutes and short-fused tempers. There is great value for any city, especially a city with the existing traffic congestion of Rio, not to mention the increased traffic during next year's Olympics, to seek a solution for parking that improves drivers' experience, optimizes revenue for the city and reduces traffic congestion simultaneously.
Presently, Rio de Janeiro's parking system and relevant monitoring simply does not exist according to modern standards. There are no parking meters or monitoring software.  Instead, Rio's formal system of parking is a legacy system whereby drivers parking in a "managed" spot, purchase a parking ticket from the street parking supervisor for R$2,00 ($0.50 USD) for up to two hours of parking. The transaction is cash-based, with little, if any control or oversight. The rest of the on-street parking in Rio it is an informal system with non-managed spots generally managed by individuals who don a vibrantly colored vest and usher drivers toward the nearest vacant spot, whether they are looking for one or not. Of course, this "service" comes at a fee—yes, a fee for parking in a non-metered public spot and at least some drivers seem happy to pay it.
Can a more formal, more technology-based approach to parking management make an impact in Rio, or any other city?
In Donald Shoup's piece Free Parking or Free Markets he explains "sixteen studies conducted between 1927 and 2001 found that, on average, 30 percent of the cars in congested downtown traffic were cruising for parking." Added congestion is just the beginning. Shoup further references a 2008 study conducted within 15 blocks of Manhattan's Upper West Side that determined it took an average of 3.1 minutes driving .31 miles to find a parking spot. It does not seem like much, but he calculates that on an annual basis that is the equivalent to "366,000 excess vehicle miles of travel (equal to 14 trips around the earth) and 325 tons of CO2."
Tweet this article: Smart Parking In Rio @Mike_E_Lake @SmartResCities 

One thing is clear, parking provides a plethora or problems from polution to congestion.
As the population in urban centers globally continues to increase, reaching new records, the challenges of parking and the problems created by parking (or lack thereof) will grow evermore significant.
Since 2014 the concept of a Smart City has been increasingly adopted by city leaders to improve the quality of life for their citizens and improve the environment for future generations. Defining a Smart City as a developed urban area that creates sustainable economic development and high quality of life is the clichéd tip of the iceberg. A Smart City must address and excel in 6 key areas (economy, mobility, environment, people, living and governance), which can be achieved in any number of ways including the use of strong ICT infrastructure.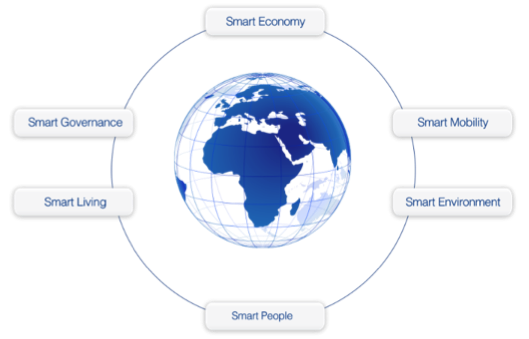 Addressing the outdated, poorly managed parking systems of any major city can begin to make credible advancements in not one or two of these key areas, but in all six. Whether it is the economic benefit of more easily moving goods and consumers or the smart environment that reduces the amount of CO2 being used to find an open parking spot, a sophisticated parking management system has more benefits than just the more obvious reduction of congestion and the decrease in stress traffic creates. The positive contamination of a Smart Parking system is a foundational requirement for any Smart City given the impact such a system has on improving all 6 key areas of a Smart City.
A study conducted in 2010 tells us that the yearly social and economic benefits of Smart Services are estimated to be about $28 million USD with vehicle related services representing approximately 46%. Every reason exists for city leaders to take this challenge of parking and the many problems it can create seriously. But what goals must be set and what must such leaders do to achieve those goals?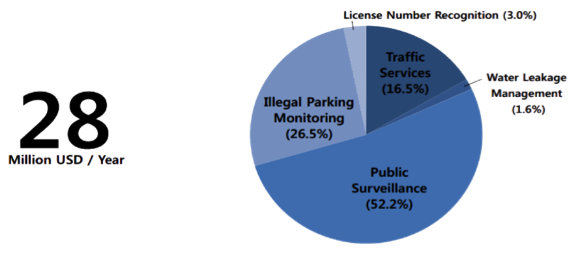 With a Smart Parking system the goals are very simple:
• Balance parking supply and demand
• Implement innovative parking management policies
• Locate parking with sensitivity to context
The challenges will be to:
• Improve the cities that have a one-size-fits-all parking requirement for the entire city
• Change parking requirements in order to accommodate density and transit availability
• Manage parking effectively, which requires an initial investment of public resources.
Next year, as millions of Olympians, media and spectators descend on Rio de Janeiro, we will have a better understanding of the challenges parking and the increased traffic congestion caused by parking will have on a system not equipped to handle such demand. Will Rio serve as an insight for city leaders elsewhere to appreciate the gravity of their own parking challenges? Will it serve as a motivating force for investment with a proactive approach to implement Smart Parking solutions now?
Smart Cities are governed by smart leaders, we can only hope that their wisdom comes not just from best practices, but lessons learned as well.
Michael Lake is the President and CEO of Leading Cities, an international network of civic, business and academic leaders building bridges to share best practices, facilitate economic development opportunities and foster city-level diplomacy.
Sandra Fernandez is the Quality Control Manager of ACIN-iCloud Solutions, a Portuguese software developing company that creates solutions through the power of innovation and the use of new technologies, making it a leader in several market segments within the Cloud Computing industry.