National League of Cities Meets to Share Solutions, Elect Leaders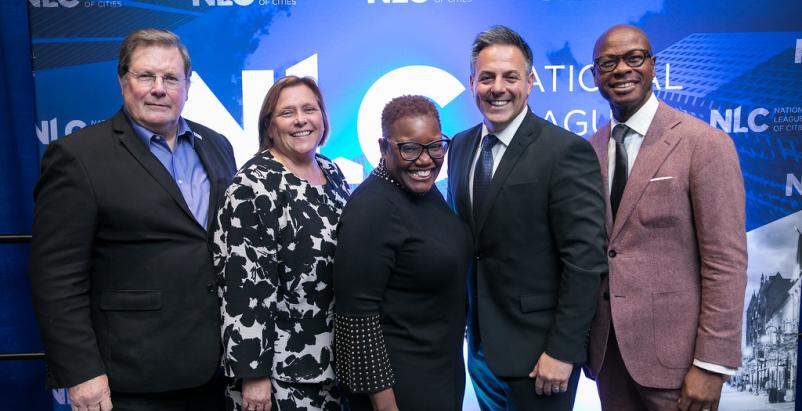 To help readers stay abreast of current news and reports from the National League of Cities, here is a summary from NLC's recent City Summit.
More than 3,800 mayors, councilmembers and other delegates from all 50 states and the District of Columbia convened for the National League of Cities (NLC) 2018 City Summit Conference, which took place in Los Angeles, CA in early November. In the immediate aftermath of the 2018 midterm elections and with federal gridlock likely to continue, city leaders took action, sharing strategies and solutions to address issues like the affordable housing crisis, investing in infrastructure, combatting the opioid epidemic, and building a sustainable future. NLC is the largest and most representative organization for cities, their elected leaders, and municipal staff, which advocates for city priorities in Washington by building strong federal-local partnerships.
"At a time marked by division, it is more important than ever for city leaders to come together for the good of our residents, and for the future of our country," said newly-elected National League of Cities (NLC) President Karen Freeman-Wilson, mayor of Gary, Indiana. "It is an honor to lead the National League of Cities as we raise our collective voice on the issues that matter to the residents in our communities," said Wilson, who added, "Together, we can make real change happen in our nation's cities."
City Summit's Opening General Session featured an analysis of the 2018 midterms by CNN's Ron Brownstein. As part of its main programming, NLC offered a "fireside chat" between Los Angeles Mayor Eric Garcetti and entrepreneur and business leader Elon Musk, according to a news release issued at the event's conclusion, which noted other featured speakers during the week, including: former first lady of California and advocate Maria Shriver; Esri CEO Jack Dangermond; Wells Fargo CEO Tim Sloan, among other notable presenters.
"From investing in infrastructure to fighting the opioid epidemic to adapting to a changing economy, local leadership has never been more important to move the country forward," said National League of Cities (NLC) President Mark Stodola, mayor of Little Rock, Arkansas. Stodola added, "Washington may be divided, but local leaders are united in our responsibility to find solutions to the challenges we're facing in our communities."
City Summit concluded Saturday, November 10, with NLC's Annual Business Meeting, at which time members elected the organization's 2019 leadership and Board of Directors. NLC's officers and leaders provide strategic direction and guidance for NLC's federal advocacy, governance and membership activities throughout the year, noted the NLC news release listing all of the newly-appointed members elected to positions as State Municipal League Executive Directors and Federal Advocacy Chairpersons.
NLC's 2019 Officers, nominated for a one-year term, are:
President: Karen Freeman-Wilson, Mayor, Gary, Indiana
First Vice President: Joe Buscaino, Councilmember, Los Angeles, California
Second Vice President: Kathy Maness, Councilmember, Lexington, South Carolina
NLC Immediate Past President: Mark Stodola, Mayor, Little Rock, Arkansas
Members of the NLC Board of Directors, nominated for a two-year term, include:
Joel Navarro, councilmember, Tempe, Arizona
Wayne Messam, Mayor, Miramar, Florida
Deana Holiday Ingraham, Mayor, East Point, Georgia
Chasity Wells-Armstrong, Mayor, Kankakee, Illinois
Patrick Wojahn, mayor, College Park, Maryland
Angelia Washington, Councilmember, Jacksonville, North Carolina
Steve Patterson, Mayor, Athens, Ohio
Greg Evans, Councilmember, Eugene, Oregon
Andy Berke, Mayor, Chattanooga, Tennessee
John Kinnaird, Councilmember, Waco, Texas
Rebecca Viagran, Councilmember, San Antonio, Texas
Sean Polster, Councilmember, Warrenton, Virginia
Steve Williams, Mayor, Huntington, West Virginia
NLC Board of Directors nominated for a one-year term, are:
Amanda Edwards, Councilmember, Houston, Texas
Brent Jaramillo, Councilor, Questa, New Mexico
Harold Perrin, Mayor, Jonesboro, Arkansas
Gary Resnick, Mayor, Wilton Manors, Florida
Also during the Business Meeting, NLC member cities adopted the latest version of the National Municipal Policy (NMP), which forms the basis of NLC's advocacy efforts throughout the year. A number of research publications were released during the week on topics including universal basic income, veteran and senior housing, innovation ecosystems and preparing for the 2020 census.
In its 94th year, City Summit is NLC's annual conference which brings together city leaders from across the country to network, share ideas and solutions, and hear from experts and business leaders. In addition to the speakers, city leaders took the opportunity to choose from more than 100 educational sessions and networking opportunities, as well as more than a dozen mobile tours showcasing innovative programs around Los Angeles. NLC is the largest and most representative organization for cities, their elected leaders and municipal staff, and advocates for city priorities in Washington by building strong federal-local partnerships.