National League of Cities Focuses on Infrastructure Initiative, Convenes Housing Task Force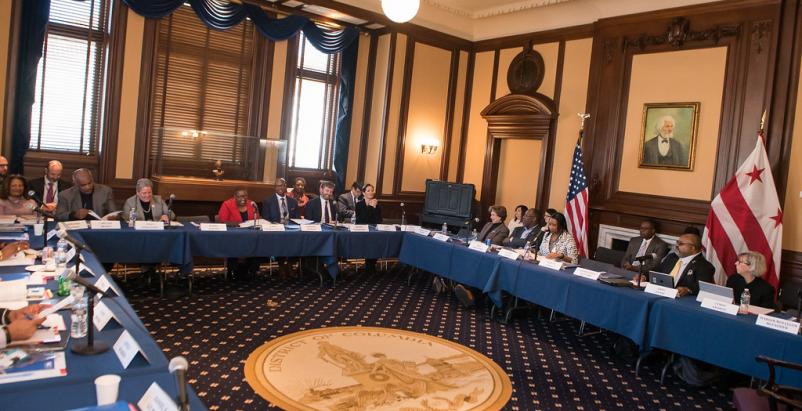 Photo credit: Nick Klein/Jason Dixson Photography for the National League of Cities
 
A renewed focus on working to rebuild America's infrastructure is a top priority for the National League of Cities and its members in 2019, as it continues its advocacy work with the new Congress. Separately, the organization's Housing Task Force recently held its first meeting in Washington, D.C. An overview of NLC news in the new year follows, as NLC members express reserved relief in the end of the government shutdown, and prepare for its Congressional City Conference in March.
In its comprehensive summary https://citiesspeak.org/2019/01/24/in-2019-cities-renew-focus-on-rebuilding-americas-infrastructure/, published through NLC's CitySpeak news outlet, the article details the urgency of action by the Administration and Congress. Written by Irma Esparza Diggs, a senior executive and director of federal advocacy at the Washington, D.C.-based organization, she outlined the defining principles of its Rebuild with Us infrastructure initiative, while offering insight and motivation to cities in moving forward.
"The good news is Congressional leaders have each indicated that there is a window in 2019 to achieve a bipartisan infrastructure package," according to Diggs, who added, "The 116th Congress represents a reset moment on infrastructure." Diggs further said, "It will take support from all groups – from Senate Republicans to House Democrats to the President." She continued, "With a push early this year, cities could leverage the preparation and advocacy of 2018 to see a comprehensive infrastructure package that could solve our nation's challenges around water, transportation and broadband infrastructure, workforce development, and resilience."
Infrastructure Initiative
Through the National League of Cities' "Rebuild with Us" infrastructure initiative https://www.nlc.org/program-initiative/rebuild-with-us#_ga=2.119777224.1329982821.1548703436-445736566.1527710512, NLC reports that cities continue to call on Congress to frame an infrastructure plan that works collaboratively with cities. Improving water infrastructure, updating broadband infrastructure, investing in the nation's workforce and modernizing transportation infrastructure across the country are the key priorities of its initiatives. As noted in the program brief, https://www.nlc.org/sites/default/files/201802/Rebuild%20With%20Us%20Brief.pdf, the initiative reflects the following five guiding principles.
Sustainable Investments: Together, cities and our federal partners must address the existing core infrastructure backlog, reestablish long-term funding and use new technologies that will serve America's cities for the next 100 years;
Locally-driven Projects: Local leaders, from cities large and small, are best positioned to identify where infrastructure needs are greatest and should be given a stronger voice in how limited federal dollars are invested;
Federal-Local Partnership: Cities are already paying their fair share and need a steady federal partner to fund existing national programs and make significant capital investments for the long-term benefit of the economy;
Expand Revenue Tools: Cities should be given more flexibility to raise revenues and use innovative financing techniques while protecting existing tools, such as tax exempt bonds, to drive regional investments that tie into the national network;
Rebuild and Reimagine: Cities are leading the way in building intermodal, sustainable and interconnected infrastructure networks that support a modern economy. Congress must invest in cities' vision to rebuild and reimagine America's infrastructure.
NLC is urging action by its member cities early in 2019, specifically encouraging city leaders to make three commitments:
Connect directly with your members of Congress to ensure they know that cities want to work with federal leaders on an infrastructure package.
Stay up to date on how your representatives are prioritizing infrastructure, including signing up for their newsletters and following them on social media.
Make your plans to join thousands of city leaders in Washington and meet with your members of Congress and their staff in person during the Congressional City Conference http://ccc.nlc.org/#_ga=2.48261350.1329982821.1548703436-445736566.1527710512, set for March 10-13, 2019, for which NLC has announced January 31 as the deadline for Early Bird Registration discounts.
In December, the National League of Cities applauded the passage of the Water Infrastructure Improvement Act. In a joint statement, https://www.nlc.org/article/broad-coalition-of-local-government-organizations-applaud-passage-of-water-infrastructure, issued on December 22, 2018, the U.S. Conference of Mayors (USCM), the National Association of Counties (NACo), the National League of Cities (NLC), the National Association of Regional Councils (NARC), the National Association of Clean Water Agencies (NACWA) and the American Public Works Association (APWA) upon the passage of the Water Infrastructure Improvement Act (HR 7279).
Housing Task Force Convenes
After its creation during the 2018 Annual Conference last fall, the NLC Housing Task Force https://www.nlc.org/article/as-federal-government-remains-mired-in-shutdown-20-city-leaders-convene-in-washington-to convened more than 20 local officials in Washington on January 23, and focused on a handful of key issues. The announcement of the creation of the Task Force was reported in a November, 2018 news article https://www.smartresilient.com/nlc-creates-national-housing-task-force on this site.
"Every American deserves a home that is affordable, of good quality and allows them to contribute to the health and wellbeing of our communities," said National League of Cities (NLC) President Karen Freeman-Wilson, mayor of Gary, Indiana, in a post Task Force meeting follow up note via NLC's CitySpeak. "The leaders who make up the NLC National Housing Task Force will share proven solutions to housing challenges that can be replicated and implemented in cities, towns and villages of all sizes. We can fix our country's housing crisis, and local officials are ready to lead the way forward."
The five priorities that were selected at the meeting are:
Community-Focused Approaches: Measuring success by doing more than "counting roofs" to ensure there are protections against displacement of long-time residents, seniors and people with low- and very-low incomes.
Land Use: examining local development regulations to reduce barriers which increase costs and expanded use of community land trusts, up-zoning, accessory dwelling units, toward the goal of increasing housing equity and affordability.
Regional and Holistic Planning: Connecting housing needs to job growth, health outcomes and mobility strategies, and exploring better regional collaborations to achieve more affordable housing.
Federal Resources: Working with federal partners on a national housing strategy and utilizing federal programs and grants like CDBG, HOME, Section 8 housing vouchers and the Community Reinvestment Act.
Local Housing Tools: Embracing the many options cities already have at their disposal, such as bond issues, impact and linkage fees, leveraged funds and publicly owned land.
After the meeting, an overview https://citiesspeak.org/2019/01/25/five-lessons-from-nlcs-first-housing-task-force-meeting/ of the inaugural Task Force meeting was issued by Karen Freeman-Wilson is the mayor of Gary, Indiana, and NLC President.
In identifying lessons learned, Freeman-Wilson noted the following on the impact of the recent government shutdown, citing: "Government shutdowns ravage HUD and, by extension, the people who depend on it: The U.S. Department of Housing and Urban Development and local housing agencies need funding and access to data, both of which are unavailable when the government shuts down. From December 22, when the partial federal government shutdown began, through January 21, nearly 360,000 people in 125,000 households across the country were at risk because their housing assistance had been delayed, according to an NLC analysis of U.S. HUD data. That included almost 6,000 households in participating cities," she noted.
The National League of Cities (NLC) is dedicated to helping city leaders build better communities. NLC is a resource and advocate for 19,000 cities, towns and villages, representing more than 218 million Americans. The next major event for NLC, Congressional City Conference, will be held March 10-13, in Washington, D.C. The Congressional City Conference is the National League of Cities' annual legislative conference held in Washington. The 2018 conference drew more than 2,500 city leaders to represent and advocate for the interests of cities in the Nation's Capital. The 2018 conference focused on rebuilding America's infrastructure from bridges to broadband — offering local leaders a chance to meet with Congress and Administration officials, share best practices in city governance and develop the National Municipal https://www.nlc.org/national-municipal-policy which represents the federal policy positions of cities nationwide.