NASCIO Report IDs Top Issues for State IT Leaders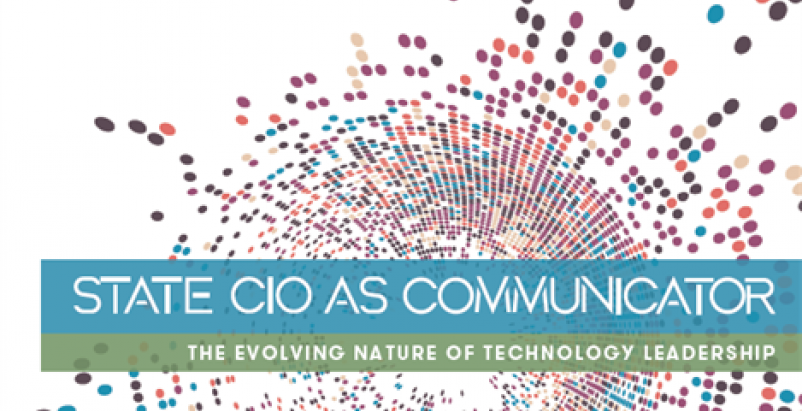 Credit: National Association of State Chief Information Officers (NASCIO)
The National Association of State Chief Information Officers (NASCIO), Grant Thornton LLP and CompTIA have collaborated for a ninth consecutive year to survey state government information technology (IT) leaders on current issues, trends and perspectives. State CIOs value communication, and stand ready to face the evolving nature of technology leadership, according to a news release issued by the organization during its Annual Conference, held October 21-24 in San Diego.
As internal and external pressures continue to mount, state technology leaders say they are confident that by building strong teams and embracing new products and development processes, state IT departments will be able to improve how they serve government agencies and residents. Those and other factors contributed heavily to the 2018 State CIO Survey, State CIO as Communicator: The Evolving Nature of Technology Leadership. The Report was jointly released October 23 by the National Association of State Chief Information Officers (NASCIO), Grant Thornton LLP and CompTIA. The survey includes responses from all 50 state CIOs on a range of issues, from evolving business models to workforce and budget to access to innovation and facing the future. Respondents to this year's survey represent more than 150 years of collective service as a state's top technology official.
The survey sponsors sought to provide these state government IT leaders with an opportunity to voice their thoughts and opinions on matters of high importance, according to NASCIO's overview of the findings. Governors, legislators and business leaders can benefit from these knowledgeable insights about essential state IT services.
Through the Executive Summary, NASCIO Report authors emphasized critical success factors for the CIO. "Gone are the days where state CIOs are primarily focused on IT infrastructure," noted the summary's authors, adding, "When asked, CIOs consistently ranked communication, relationship-building and strategic thinking as the most critical leadership traits for a successful CIO. In contrast, technology expertise came in at number nine."
The Summary offered additional insight into the current mindset of state's top IT leaders, noting, "When we asked CIOs for lessons learned that could be shared with new incoming CIOs, a consistent picture emerged. Key advice that many CIOs shared was the need to build strong relationships with key stakeholders at the governor's office, agency and legislative level, and to develop a strong understanding of the budget process and relationships with the budget office. Once this is accomplished, nurturing enterprise thinking that is focused on generating value for the business will set the foundation for success." The report overview identified top themes, noting that, "A focus on enterprise vision and strategy, security and risk management, and agency customer service and relationship management were seen as the most critical dimensions in order to make a difference."
Addressing Digital Transformation and Emerging Technologies
The needs, benefits, and solutions of an effective digital transformation strategy are maturing and becoming clearer, according to the study's overview. Digital transformation has taken on a broader definition than simply moving state government to online services. State leaders aspire to have seamless citizen transactions, increase engagements, provide mobile services, establish common online identities, and enable crowdsourcing and digital assistants to help navigate services. An effective statewide digital strategy and roll-out requires a collaborative, multi-agency effort. That effort should include agency directors, deputy directors, and other program leaders.
However, the question for state governments remains who should drive those efforts. While the survey respondents were evenly split on the question of the state CIO being responsible for executing a digital strategy for the state, they were overwhelmingly in agreement that the state CIO should take a leadership role in digital efforts. Over 80 percent of respondents believe the state CIO should lead/participate in policy setting and over 70 percent believe the state CIO should set overall direction. This is a small but noticeable change from last year's survey and reflects the growing awareness and maturity around digital services. The state CIO is viewed as the person most able to provide an enterprise view of modernization needs, help set standards and facilitate an effective execution.
In the area of emerging IT, we saw big changes in this year's survey regarding what CIOs consider the most impactful emerging IT. When asked "what emerging IT area will be the most impactful in the next 3 to 5 years?," 57 percent of respondents chose artificial intelligence. This is up significantly from the prior year's survey, in which only 29 percent selected artificial intelligence. Meanwhile, interest around the Internet of Things (IoT) fell from 43 percent to 27 percent. When CIOs were asked if they were planning to deploy some form of automation software, a full 44 percent replied that these efforts were complete, in-progress or planned. Another 29 percent were considering deploying automation software, while a small number either had no plans or were unsure.
About the Report
In detailing the methodology, NASCIO reports that, in spring 2018, the sponsors jointly developed a series of questions reflecting both the new issues of the day as well as follow-up on some of the questions they included in prior years' surveys. The questions were presented to state Chief Information Officers (CIOs) in an online tool, and between June and July 2018, they individually logged in and addressed the forty-six multiple-choice and open-ended questions.
All fifty NASCIO member states completed the survey. Primary respondents were the state chief information officers (CIOs), although deputy CIOs and other senior state IT leaders contributed. Sponsors, in conducting the study, also conducted in-person interviews with twenty four state CIOs and incorporated their "advice from the trenches" along with the quantitative and qualitative responses to the online survey
The 2018 State CIO Survey also highlights critical success factors for CIOs, legacy modernization funding and procurement, digital transformation and emerging technologies. The complete report State CIO as a Communicator: The Evolving Nature of Technology Leadership is available on the NASCIO website. 
Founded in 1969, the National Association of State Chief Information Officers (NASCIO) represents state chief information officers (CIOs) and information technology (IT) executives and managers from the states, territories and District of Columbia. NASCIO's mission is to foster government excellence through quality business practices, information management and technology policy. NASCIO provides state CIOs and state members with products and services designed to support the challenging role of the state CIO, stimulate the exchange of information and promote the adoption of IT best practices and innovations. From national conferences to peer networking, research and publications, briefings and government affairs, NASCIO is the premier network and resource for state CIOs.