MasterCard And Microsoft Announce Smart Cities Partnership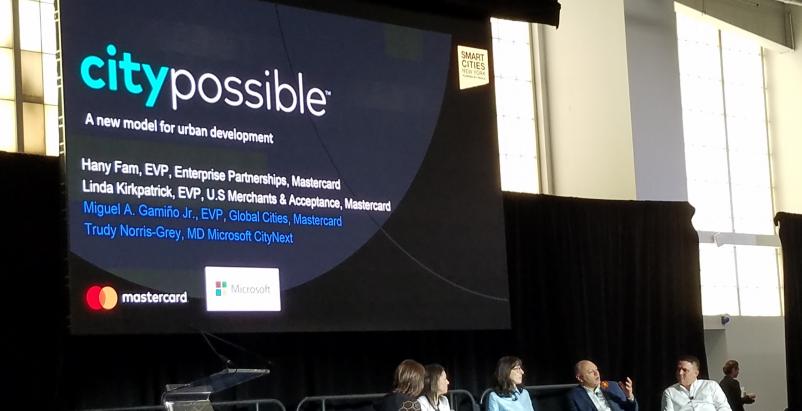 Two companies who have led the way in the Smart Cities space are joining forces to improve urban connectivity and inclusivity. At the Smart Cities New York 2018 event, representatives from MasterCard and Microsoft announced that they will combine their individual payment, data analytics and cloud technologies together to create a global exchange.
This announcement was made during one of the first panels of the conference, held at Pier 36 in New York. MasterCard's EVP of Enterprise Partnerships Hany Fam and EVP of U.S. Merchants and Acceptance Linda Kirkpatrick began the panel and were soon joined onstage by the MD of Microsoft's CityNext program, Trudy Norris Grey, and by a new addition to the MasterCard team, Miguel Gamiño Jr.. Formerly New York's CTO, Gamiño recently joined MasterCard as EVP of Global Cities.
"Today's urban challenges are best solved through collaboration," Gamiño said. "From access to basic services such as transport and affordable housing to engaging arts and culture – locals and tourists expect that cities make good use of resources that already exist and harness emerging technologies. That's why today we invite public and private sector leaders to join us in making tech truly work for people."
This partnership will make valuable insights available to urban leaders and policy makers. The analytic capabilities of both companies working in tandem will provide the analysis needed to tackle long-term challenges.
Additionally, Microsoft will join City Possible, MasterCard's global initiative designed to develop scalable urban solutions through a unified private sector. The two companies are also currently collaborating on UI Labs' City Tech, an initiative aimed at turning cities into innovation testbeds. Through that program, Microsoft and MasterCard are currently working on a two-city pilot that models planned and unplanned events and inform data policy.
This partnership will also include the following aspects:
MasterCard will identify solutions and technologies that could work within Microsoft's CityNext program with the goal of accelerating digital transformation.
Explore potential opportunities to create infrastructure savings by applying demand management solutions to transportation, tourism and energy.
Open up transit access by expanding mobile payment options for citizens.