Leading Cities Visits Rio's Emerging Olympic Village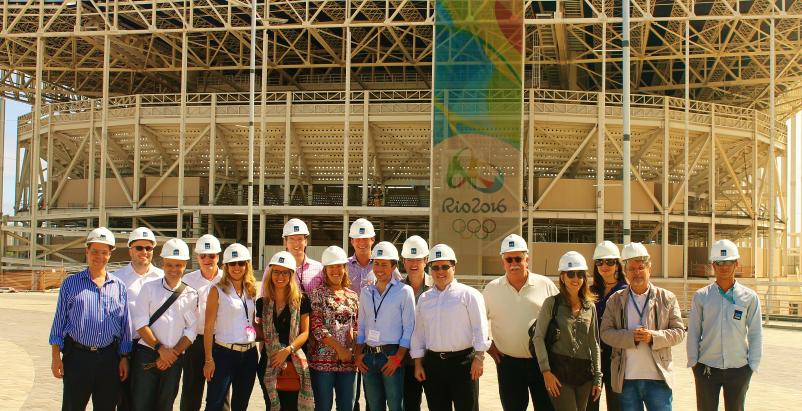 Rio is known worldwide for its spirit, its flavors of fun, food and abandon, its sun, its sensuality and natural beauty. The newest member of the Leading Cities global network, Rio now joins other member cities who have served as host to such mega international events as the Olympics and the World Expo. Our Leading Cities delegation to Rio from Boston and around the world experienced that on our weeklong tour. We dramatically experienced the other reality of Rio, with a carefully guided visit to one of the city's sprawling slums, euphemistically called favelas. A dedicated city official gave us a glimpse of the challenge of remedying years of concentrating poverty and barely livable conditions. The government has tackled the problem and is making modest progress against indescribable odds.
 
In our meetings with officials about other issues, including the economy, investment, jobs, transportation, and education, the subject of the Olympics continued to arise. The Rio Olympics happen soon – next summer. We sensed Rio, though it already enjoys a sunny reputation worldwide, is looking for a boost, like Barcelona got from its Olympics experience in the 1990s. "Hosting the Olympics can provide cities with access to private capital that would not otherwise be available for public projects, but the events are just a milestone, value is created for residents in the long-term vision, planning and investment made possible by such an event," said Michael Lake, president and CEO of Leading Cities.
 
We heard various descriptions of who is paying for what – federal? state? local? private?– and it was a very different discussion than we had in Boston over the last couple of years, at the end of which opponents were so effective that the less-than-committed politicians and organizers threw in the towel and sent the 2024 Olympics' US bid to Los Angeles. We wish them luck.
 
The heart of our exploration of the Olympics in Rio was to visit what we understood is about an 90 percent complete Olympics complex several kilometers west of the famous downtown neighborhoods -- with Christ the Redeemer and Ipanema Beach, whence came that Girl on our radios back in the mid-1900s. Traffic in Rio is so horrendously bad that even if there was room in the city's center for Olympics it couldn't have been placed there. Instead, a former auto-racing track for Formula One competition named Nelson Piquet, amid graceful mountains and along a lake called Jacarepagua (roughly, "Place of the Alligators," though no creatures were evident) was chosen.
 
We arrived on our bus on a day when the clouds and rain had subsided, and the sun beat down through the humid air. Under a wide tunnel with a cool breeze, we debarked, donned hard hats, and were taken on a tour of the progress and shown a glimpse of the future that millions will see next summer, worldwide, on television. Probably many on their smart phones.
 
Before, here, there was little or nothing here, a couple of buildings. Now, surveyed from an air-conditioned temporary structure in the middle of the site, one can swivel 360 degrees and count nine enormous new buildings, all with the exterior structural features that say "athletics." The site is a little over one million square meters, or about 250 acres.
 
Renata Kroeff, who handles institutional relations for the Rio games, and Augusto Ivan de Freitas Pinheiro, an architect who is a special advisor to the Municipal Olympic Company's president for the preparation, described what is under way and what this vast campus will look like next summer – and of course beyond, as Olympics in the modern era strive to leave legacy value.
 
There are nine new buildings, including venues for swimming and diving, handball, basketball (seating 16,000), fighting competition like fencing, tae kwon do and wrestling, bike racing, and tennis (seating 10,000 and 5,000 and 3,000). A wide, colorfully paved, curving walkway extending one kilometer will take visitors through the campus from bus-rapid-transit public transportation – no cars.
 
The tallest building is for media, and a smaller tower is a hotel. Thirty-one residential buildings for athletes, a total of about 3,500 units, are nearly completed close to the water.
 
A handful of private companies are building the campus, under a public-private partnership structure. The companies will get some of the land and further building rights after the Olympic torch is extinguished. Buildings later will be allowed as high as 18 floors. There was no planning or zoning for this area until it was chosen for use for the Olympics.
 
Some 60 percent of the property will have public purposes, 40 percent private. On a map of the "after-Olympics" plan, we counted 23 plots for further development, and a grid of roads will turn this site of international spectacle into a neighborhood.
 
One vast, flat, open area has not yet been built on. It will have retail and food courts on it by next summer, in temporary buildings to serve the Games.
 
One of the larger buildings will be turned into four schools for 2,000 students post-Olympics. Two arenas were here already, for previous use in the Pan Am Games, in 2007; they are being adapted for the Olympics. Six arenas will remain after as athletic training centers.
 
Some of the structures will feature concerts and performances after the Olympics, and a large public park is planned near the lake. The public private partnership arrangement was made possible by a federal Brazilian law. Rio provided the land.
There are other Olympics clusters around the vast city of Rio, but this will be the center of activity. It will be fascinating, to those of us who have seen the many aspects of Rio, to witness how much of the City's diverse neighborhoods are included in the television coverage, and whether the location of the main campus, a long drive from the internationally familiar sights of downtown, like the iconic Christ statute, is noted.
 
If all goes as planned, and both Rio and private developers as well as future residents in need of places to live do benefit, Rio could be the latest model for a successful Olympics. It is usually years afterward when the expenditures and contributions are added up, and each host city knows whether it was a net win or loss. Of course, the attention that comes with the Olympics is considered a win, so it is a matter of continuing debate whether the Olympics are "worth it."
 
Boston looked ahead and didn't want to take a chance. Rio, with all its challenges, is a city of the future and is moving full speed ahead.
###
Tom Palmer is a communications consultant and former journalist in Boston.