Cities Everywhere Join The Ranks Of Leading Cities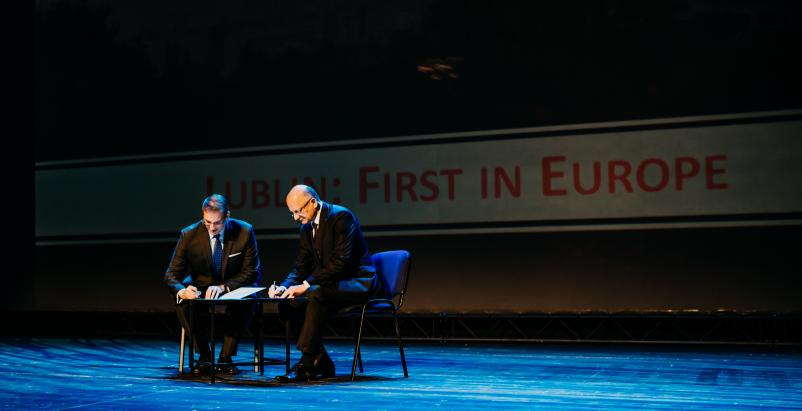 Leading Cities, the pioneering global network for Smart City growth and collaboration, launched a partnership program for cities aiming for growth through collaboration. After nearly a decade of working with select cities globally, with a limit of just one city per nation, Leading Cities is now offering its network, expertise and resources to all municipalities. Cities that join the Member Network will gain access to Leading City's array of Smart City tools, as well as the mentorship, sharing of best practices, and guidance of its cadre of public, private, academic and non-profit leaders. Working in concert, cities will enhance the quality of life of residents, workers and visitors—and lay a new groundwork for proactively meeting the challenges of the 21st century.
The Leading Cities Member Network was launched in Europe at the Smart Ecosystems Expo and Conference in Lublin, Poland. During the opening ceremony of this international event, Lublin Mayor Krzysztof Żuk and Leading Cities President and CEO Michael Lake, formally inducted Lublin as the first European city in the Member Network. "Leading Cities is excited for this opportunity to expand the impact of our work and the realization of our mission to improve the quality of life in cities through Smart City solutions to a much larger audience—all cities, everywhere," said Lake. He added, "Lublin, Poland is the first among many cities around the world that will benefit from the exchange of knowledge, best practices, and innovative solutions that will help municipal leaders and communities tackle the urban challenges cities are facing today."
The Member Network is a subscription-based platform with four optional membership levels. The first level is a Free Membership and entitles members to Leading Cities' information exchange through case studies, articles, daily #SmartCities Headlines, and published best practice; it includes the opportunity to join global leaders in the adoption of the City as a Platform Manifesto.
On the second tier, Basic Membership provides discounted opportunities to Leading Cities events and partner conferences and allows subscribers to publish articles and case studies through Leading Cities' global distribution. It also includes access to the Twin Cities Matchmaking Database, which facilitates sharing among cities as they tackle similar urban priorities. Additionally, this level of subscription provides access to Leading Cities-certified Smart City solutions.
The third-level Smart City Membership provides one-on-one access to global Smart City experts, as well as Smart City Assessments and global recognition through Leading Cities' international network of media partners. Finally, Global Leader Members receive comprehensive technological ethics and risk assessments, Smart City strategy review by leading experts in the field, and connection to Smart City project managers for guidance on successful implementation of Smart City projects. New members can join here.
Interested cities will further their understanding of the necessity of abandoning status quo policy, their commitment to innovative cybersecurity, climate change, educational, and economic solutions, and their appetite for implementing new technologies that address urgent urban priorities.
According to Michael Lake, founder and CEO of Leading Cities, the membership network recognizes that "21st century cities are changing at an unprecedented rate and with increasing complexity. Our new program facilitates a concerted, working relationship between organizations with smart solutions to the problems of the city. This is the most effective way for government entities to innovate."
Further, Lake points out, "By facilitating relationships between government entities and startups with Smart City solutions, the Leading Cities Member Network will allow cities to grow at the rate of innovation."
Graeme Mills is a student at Vassar College majoring in Urban Studies.
Leading Cities is a global leader in Smart City solutions, city diplomacy and collaboration advancing sustainability and resilient city strategies and technologies.