LA Cyber Lab Gets Funding, Announces Expansion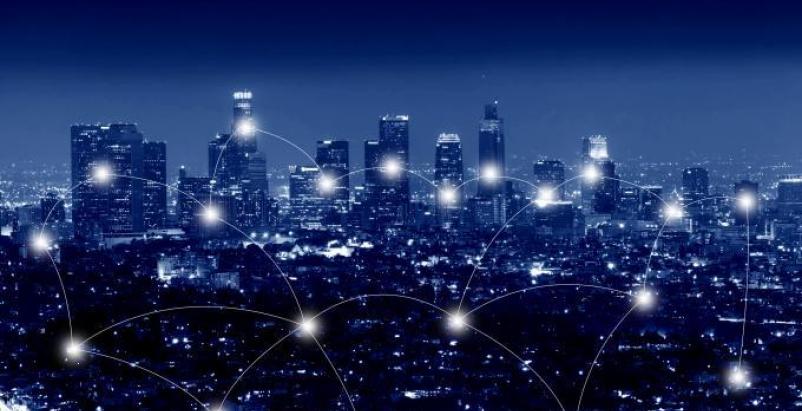 Credit: City of Los Angeles
A Los Angeles public-private partnership aimed at protecting critical infrastructure and helping businesses address cyber attacks, the LA Cyber Lab will be getting a boost from local and federal sources. In a news release issued October 3, Los Angeles Mayor Eric Garcetti announced he will be expanding the capabilities of the Lab. Described as an unprecedented, nationally-recognized partnership that unites local government and the private sector to fight growing threats, the LA Cyber Lab was recently awarded a nearly $3 million grant from the Department of Homeland Security, which is, throughout October, recognizing the 15th annual Cyber Security Awareness Month.
"We learn more every day about the havoc that criminal hackers can wreak on our lives," said Garcetti, adding, "This expansion ensures that L.A. will continue to lead with the urgency that is required to protect our financial, business, and personal information." Los Angeles is home to more than 147,000 businesses and employs 1.6 million persons. According to the U.S. Census Bureau's 2017 statistics, Los Angeles has a population of 3.99 million residents.
"The LA Cyber Lab is a tremendous opportunity to build a unique and growing public-private partnership that serves the Los Angeles community and leverages our strengths in innovation, technology and commitment to service," said Karl Mattson, senior vice president and chief information security officer at City National Bank in Los Angeles. "City National Bank is so proud to be a part of this effort," added Mattson.
About the Lab and Expansion Plans
The expansion will grow the lab's capacity by building a universal, standardized platform for threat intelligence, analysis, and sharing that will be accessible and free-of-charge to participating private sector companies and government entities. Each participant will automatically and seamlessly feed threats to the Cyber Lab, which will subsequently be analyzed, correlated, and distributed to all participating members. Additionally, according to details provided in the announcement, the expansion will focus on nurturing the next generation of systems and professionals dedicated to public cybersecurity through trainings, conferences, and the creation of the LA Cyber Lab Innovation Incubator. Doing so will make the lab and its data available to students, researchers, and product developers.
The Los Angeles Cyber Lab, which opened in August, 2017, is a non-profit organization dedicated to protecting personal and protected information from malicious cyber threats by facilitating and promoting innovation, education, and information sharing between Los Angeles' public and private sectors.
A Board of Advisors, led by Mayor Garcetti and consisting of leadership from nearly 30 top Los Angeles businesses, develops policy and practices to help guide the LA Cyber Lab's mission. Membership is open to all businesses and residents at no cost. Leveraging information generated from the City's award-winning Integrated Security Operations Center, the lab distributes daily and weekly cybersecurity alerts to over 500 local businesses. And through its unique mutual information exchange program, LA Cyber Lab members can contribute to the active defense of networks across Los Angeles and in surrounding communities.
Membership in the LA Cyber Lab will allow Los Angeles businesses of all sizes to access and digest the latest cybersecurity threat information. It will also provide members with streamlined access to law enforcement and the knowledge of "who to call" in the event of a cyber-attack or similar incident.
A number of initiatives were detailed by the LA Cyber Lab when it first opened, and include:
LA Cyber Lab Initiative 1: Protection and Alerts  
During Initiative 1, the City of Los Angeles began sharing information generated from its award winning Integrated Security Operations Center (ISOC) to all LA Cyber Lab members. The ISOC analyzes upwards of one billion security related events per day and also aggregates data from the federal government and key private sector sources.  LA Cyber Lab now allows member organizations to receive cybersecurity data, alerts, indicators of compromise, and threat intelligence generated by the ISOC.  
LA Cyber Lab Initiative 2: Mutual Information Exchange 
The LA Cyber Lab made history when it became the first public entity in the nation to implement near-real time information exchange with a private sector partner in April 2018.  The City of Los Angeles ISOC can publish to and receive from a variety of new sources, enabled by the STIX/TAXII standard format for sharing Indicators of Compromise (IOCs). LA Cyber Lab partners can receive and contribute to the active defense of networks across Los Angeles and surrounding communities. Our organizations receive a near-real time, highly vetted feed of threat intelligence to enhance their internal security protections. None of the data shared includes confidential or proprietary information, so all member interests remain secure.
LA Cyber Lab Initiative 3: Cyber Lab Innovation Incubator 
LA Cyber Lab's "Innovation Incubator" embodies three critical and interrelated objectives. First, the LA Cyber Lab hosts networking events for the business community with the purpose of connecting attendees to federal law enforcement resources and cutting-edge practitioners in cybersecurity. 
Second, the lab partners with academia to provide cybersecurity career training for students and best practices for business executives. 
Third, slated for completion in 2020, the lab will introduce a unique cyber simulator. The simulator will set aside physical and online space—connected to the city's ISOC—to allow independent startups or product developers the opportunity to enhance their security tools. The simulator will host an isolated virtual network for companies to perform penetration testing, incident handling, ethical hacking, and forensic investigations to develop and improve their security products.
According to the Department of Homeland Security, this October marks the 15th year of National Cybersecurity Awareness Month, a DHS  annual initiative to raise awareness about the importance of cybersecurity. NCSAM is a collaborative public-private effort to ensure that all Americans have the resources they need to stay safer and more secure online.
LA Recognized with Government Experience Award
In September, the Center for Digital Governance (CDG) recognized the City of Los Angeles as it announced the winners of its 2nd Annual Government Experience Awards. According to a news release issued September 19, the awards recognize the achievements and best practices of states, cities and counties that have gone to the web and beyond to radically improve the experience of government and push the boundaries of how citizen services are delivered.
The City of Los Angeles won a "Government Experience Project Award" in the "City Government-to-Citizen Experience" category for its implementation of CHIP the Chatbot on LAPD's recruitment website, joinlapd.org, as well as a 2nd Place win in the "Overall City Government Experience" category.
"State and local governments are responding to citizen wants and needs with increasingly sophisticated online experiences," said Dustin Haisler, chief innovation officer for the Center for Digital Government. He added, "This year's Government Experience Awards winners have well-designed websites and innovative channels that provide citizens meaningful information and services, robust data integration and an exceptional user experience."