INTERVIEW: NTIA's Jean Rice Explains Why Smart Cities Need Broadband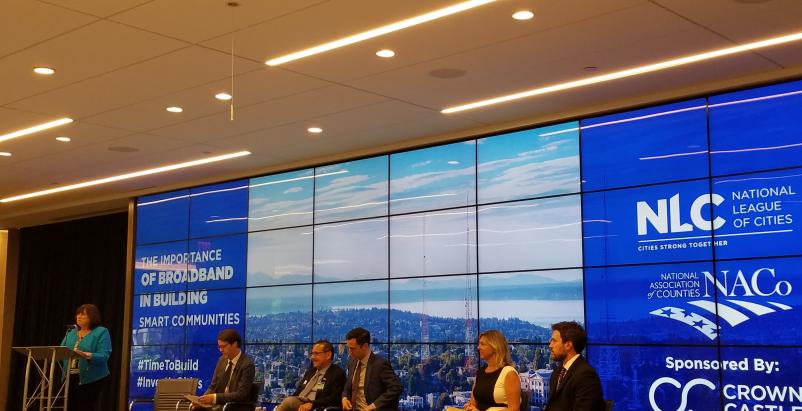 Technology and connectivity are pivotal for the Smart City vision, but without reliable broadband infrastructure, none of it will work. Autonomous cars and the Internet of Things require a robust internet and many cities aren't ready. During Infrastructure Week, Crown Castle, the National League of Cities and the National Association of Counties hosted a panel to illuminate both the country's connectivity needs and the benefits of successful broadband rollout. Jean Rice, the Broadband Development Officer for the National Telecommunications and Information Administration's BroadbandUSA initiative, moderated the panel, which discussed best practices and challenges for cities looking to improve their broadband infrastructure. After the panel, Jean agreed to sit down for an interview to discuss the points of the panel more thoroughly.
This interview has been edited and condensed.
S&RC: Can you tell me a little about what you do and what NTIA is responsible for?
Jean Rice: NTIA basically is an agency which is part of the U.S. Department of Commerce. I work for their Office of Telecommunications and Information Applications, which goes under BroadbandUSA. We're looking to help broadband deployment and Smart City deployment and looking at how to work one-on-one and one-on-many with cities, states and institutions through toolkits and technical systems to try and glean the best practices. We also try to bring in professionals in the field to have others talk to them.
S&RC: What are some of the best practices that are common across the board for Smart Cities?
JR: I think the first part is doing a comprehensive planning process. The importance there is engaging the community, your hospitals, your libraries, your schools, your institutions and the various departments of the city. In many cases, it's not just what you want, but an education of what's out there. Cities need to take a look at what options are out there but also hone in on what's important for the community and not think of it as a onetime process. If you do this process, you're going to have to innovate it, update it. A comprehensive plan coming up with what organization structures, partners, business plan and what your goal is is key.
S&RC: How should city leaders go about engaging various stakeholders?
JR: It's key to think broadly about partners. We see lots of partnerships out there; you'll see a private industry, a university, a city or county government, rural and regional. The idea is look for partners. A lot of the economic development agencies are big partners in this. You'll see a lot of schools at the higher education level participating. Partnerships can be government led, private led, non-profit led, but you want to rely on what are the assets people have to contribute, what are the resources they bring and how does that fit into a partnership plan and that will help you structure it. Right now we are seeing a lot of foundations starting to come in. Whether its Bloomberg or smaller foundations, there is a whole host of models out there that will work for this if you look around. Utilities are getting involved, cable companies. I think people should think broadly and when they do their planning process - talk to everybody to see who has an interest that might be parallel to yours.
S&RC: Once you have partners and a plan, what comes next? What are good implementation strategies?
JR: You must have very clear goals. Are you cost savings? Are you trying to promote digital inclusion, are you doing it for revenue? What is your goal for the project and how do you set up your operations to do that? For example, some of these smart cities projects for big cities they just run it out of their I.T. department. For communities that don't have that office support, they can work together like many do for GIS systems. If you look at planning, vision and partners, that is the basis for your implementation strategy - which might include outreach and marketing, how you're going to refresh the technology, who are the people who will help you meet your goals. I am keeping it kind of high level because there are so many projects from public Wi-Fi to doing a full-middle mile fiber service like the Choctaw nation is going to do in Oklahoma, and then you might also have like San Diego who have, like, six partners on their project. Collaboration is important with other governments and institutions.
S&RC: Are any cases you've encountered where partnerships haven't been able to gel and there just have not been any ways to develop or rollout broadband?
JR: : I think what happens to communities that cannot find the funds or the partner is that they take much longer to plan because it's a harder resource. They might have said, "Let's go it alone," and they realize, "No, we need an individual solution or a state solution." For example, in Connecticut there is an educational network and they work with the state legislature so that all local governments can go in for grant money. Then we have  states that have problems with access, like Minnesota and California and New York, that have programs basically to fund the deployment in those areas. You have to look at your solution and see what's best. In some cases, communities can aggregate demand and say, "Hey, we are interested in a specific application, we will all buy together." We call that demand aggregation and the key to that is, if you can all buy together, using your joint power to get the costs down.
S&RC: So scalability isn't a concern?
One of the reasons we are working on the public Wi-Fi supercluster and supporting the global cities effort is that I think the Smart Cities area really does have scalability that's scale from big cities to others. That's a good reason for other smaller communities to get involved in Smart Cities. One of the thing I think takes a lot of work is improving procurement, and I'm a big supporter of the state of Illinois. They have a smart state plan and they are doing procurement right now for street lighting so that small cities that don't have the expertise to go through a whole procurement process can acquire the technology through this state system. One of the nice parts is they have different, scaling business models available to buy, so there are places to go depending on your needs and interests.
S&RC: Are there any other challenges you've seen cities face?
JR: I think they sometimes grapple with technology issues - What is the best technology? How do we do a procurement so we aren't getting the oldest technology? How do we work with a provider to make sure we keep up? That is not the easiest process and it requires quite a bit of research and work. That's another reason to collaborate. There are some places that have non-profit groups that bring a whole group of area cities together to talk about how they can collaborate on Smart City projects. We'll see more of those because they can bring together easily cities, consultants and companies together.
S&RC: In terms of outreach, how do you go about fostering cooperation between different levels and breaking down the silos?
JR: I'd like to say we started at the federal level with a group of people who are working with broadband in a working group among agencies. We try to do convenings that include state and local governments to try and talk about these issues, but the community that's doing the planning really has to pay attention to the silos. It is so easy for one agecny to say, "I want to do this," and another agency to do something else because they aren't talking to each other. Because of that, you might not get the most robust system you would if you all worked together. There are economies of scale they can use, so breaking down the silos is important. It's surprising when people talk to each other what amazing things can transpire. Anybody involved in this has to think about how to keep the process inclusive and be silo-free if possible. I do think you have a very good value proposition when you say, "We need to work together because we need to save money on technology and we need to make sure the platforms will work with each other and we need to make sure we can make data useful to our citizens and to our elected officials and staff." Those are different levels of kinds of information but I do think it will go there.
S&RC: What do you see realistically happening in the next five years with regards to broadband and increasing internet connectivity among Smart Cities in the U.S.?
JR: I see a great interest in digital inclusion, whether that is in access or usage. I think we are going to see more people-centered solutions. I think the new technologies bring out the ability to look at and access real issues and go forward. I think that local governments will start looking at Smart Cities as a way to further their own plans. Whether it's cost savings, economic development, incubation of entrepreneurs, broadband is one level for them to do these things. It's not the end-all-be-all but it's a very important component.