IDC Technology Spotlight: The Power of the Platform in Smart Cities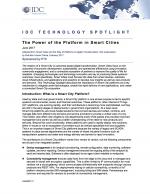 The mission of a Smart City is outcomes-based digital transformation. Smart Cities focus on the outcomes of economic development, sustainability, and operational efficiencies using innovation, community engagement, and a connected ecosystem of partners to improve the quality of life for residents. Emerging technologies and technology innovation are key to producing these systemic outcomes; more specifically, Smart Cities must harness the data from smart devices, networks, cloud infrastructure, and applications and analytics to develop new insights as well as new products and services. This Technology Spotlight discusses the importance of Smart City platforms as a key mechanism to integrate smart technologies, enable the rapid delivery of new applications, and create a connected Smart City ecosystem. 
DOWNLOAD NOW!
Please complete the form below.