How A City Sunken In Violence Became A Center For Innovation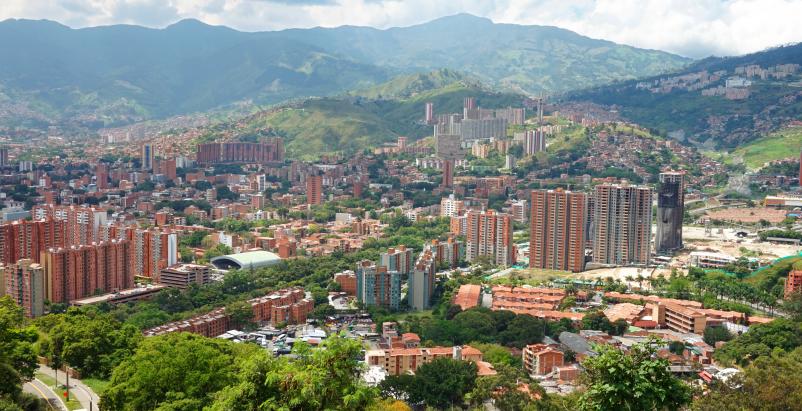 Medellin, and the importance of leadership
I had the pleasure to go to Medellín in February 2016. I knew it was a beautiful city, and I knew all about the problems they faced in a not too distant past. Medellín shared most of the problems  facing many Latin American countries: corruption, violence, drugs, poverty and inequality. What I didn't know was, that I was going to leave Medellín hungry to come back and to understand how that transformation occurred.
As a Brazilian, inequality and poverty is something that I grew up with, and the roots for inequality in Latin America date back to colonial times. Lack of education is one of the roots for poverty. Knowing that, education became the center for Sergio Fajardo's campaign, back in 2004 when he became the mayor of Medellín. At that time, Medellín was economically and socially destroyed, and it wasn't due to lack of resources. It was more a case of government mismanagement, lack of transparency and shortage of new ideas.
I had the pleasure to meet Sergio Fajardo, last year while I was living in Boston. During dinner, he explained how the "cambio" —"change" in Spanish — happened in Medellín. He explained that it all started with the willingness to serve the people, and listen to communities that have been left behind. Of course, Sergio Fajardo didn't act alone. He had support coming from many different sectors of society. This group of supporters was formed in 1999 and given the name of Compromiso Ciudadano. 
Compromiso Ciudadano understood the importance of politics, and knew the difference between good and bad politics. With that in mind, they knew they needed to search for political power, to transform the society in Medellín. With the Mayoral election coming, they chose Sergio Fajardo as their representative. 
With a slogan "Medellín, la más educada" — Medellín, the most educated — Sergio Fajardo put education at the forefront of his electoral campaign. He believes that education is the only way to cross the walls of inequality. Architecture was one of the tools used to achieve this goal. According to Sergio Fajardo, "the quality of education starts by the dignity of the spaces." Investing in low-income areas helped to create bridges between people, and between worlds. 
Smart system and innovation being key for Medellin's revolution
This commitment with innovation and system integration helped Medellin to reduce the crime rate from  381 homicides per 100,000 people in 1991 to 20 in 100,000 in 2015. 
Without doubt Medellin became an example for cities in the region and throughout the globe, and inspired the creation of MedellinLab. A partnership between the World Bank, USAID, the Rockefeller Foundation, and the city of Medellin. The lab was held from May 29 until June 2, 2017, aiming at exposing and sharing Medellin's path towards social resilience and community improvement, to representatives from more than 35 cities.
Medellin showed that we don't need to reinvent the wheel; we can use already known technologies to serve different purposes. That's the example of the metrocable, a gondola lift system, already being used for tourism in other cities, like Rio de Janeiro, for example. However, Medellín was the first city to use metrocable as a method of mass transportation. The system is now used by tourists, curious to see this transformation. The metrocable is part of a bigger plan in Medellín. It is completely integrated with the metro, local buses, and the tranvía, a tramline or streetcar line. So, people paying for one ticket have access to four different methods of transportation, avoiding hours in traffic and walking long distances.
Metrocable also reduces carbon emissions, and air pollution. The metrocable together with education projects, community projects and schools helped to create jobs, decrease crime and create a sense of belonging among the citizens of Medellin.
Medellin is definitely an example of a smart city and a smart community. With the rise of many different types of terror, and violence around the world, it is important to discuss how a smart system can help.
Smart Cities addressing violence
There are different mechanisms and types of smart city systems that can help city officials and citizens create a more secure environment around us. 
Let's start with one that most of us use on a daily basis, social media. According to Mr. Ravi Gupta in his book "Using Social Media for Global Security", the reason why social media platforms are so vastly used is because it helps us to be human, allowing us to share and communicate with others, and foster relationships. There are different types of social media, ranging from television and newspapers, to Facebook, Google+, Twitter, and others. Usually, social media uses a combination of different platforms — social networking, media, crowdsourcing, and location based — allowing interconnection, storing and sharing information.
Crowdsourcing is the "act of sourcing media from a crowd". Beyond usual concerns of privacy involving crowdsourcing, this platform could be a tremendous source of help for society's pressing issues, such as growing violence. According to Mr. Gupta, the platform could reduce violence through community and civic engagement, collecting and sharing knowledge, innovating and boosting a creative atmosphere. As we have recently experienced in the United States, it was through crowdsourcing, using Twitter primarily that identified participants in the white-supremacist rally held in Charlottesville.
Another positive aspect of social media is that police can now use people's online presence to gather information on criminals, to track missing people and suspicious behavior/activities, and to increase the chances of avoiding an incident, such as a terrorist attack. 
Smart city systems are also being used to detect gunshots, as in the case of ShotSpotter, using acoustic sensors, triangulating and pinpointing the exact location, helping officers to respond quickly to an event. There are already cities in the United States using this technology. Chicago is one example—and according to Chicago police Superintendent, Eddie Johnson, using ShotSpotter has helped the police to offer a response five to seven minutes faster than 911 calls.
Together with ShotSpotter, Chicago is using IoT technology through different platforms and programs. One example is CityGrid, "which provides situational awareness and incident monitoring, historical data retrieval, and real-time advanced analytics."
Chicago's Mayor decided to also implement a street lighting project using IoT technology and LED efficient lights. And when it comes to public safety, streetlights can play a huge role. The obvious reason would be to better illuminate dangerous areas. Nonetheless, when combined with a wireless system, the lights can register and share information through "embed sensors, controls, wireless transmitters, or microprocessors."
All this data from streetlights can later be used to not just pinpoint more precisely gunshots, but to detect traffic, weather conditions, air pollution, and monitor incidents, helping to develop a more informed action plan and innovative strategies.
Another American example is Boston, which is considered the Silicon Valley of the Northeast. However, some neighborhoods in Boston —  especially minority communities — have been left behind, with fewer educational and job opportunities.
Trying to address this problem in a more inclusive and integrated way, in July 2017, Mayor Martin J. Walsh presented Boston's first citywide Resilience Strategy, ensuring that all citizens can achieve their full potential. This strategy was based on a racial equity framework and four pillars, which are: leadership by example, creating an environment for collaboration, and community engagement; inclusive policies; income growth and education opportunities for every citizen; resilient infrastructure and adaptive systems creating interconnection between communities to face threats, such as climate change.
Data and people, completely connected and dependent
Data is nothing without people. And that is where Medellin got it right; it first involved peoples' opinions and necessities. The people living in the "comunas" were heard, and they are now proud of the place where they live. 
Data and information technology helped Medellin to grow and develop economically and socially speaking. The question was:  how do we bring a sense of humanity to data, which was never humane, yet is critical for solving pressing human problems? The answer returns to leadership, and it goes back to leaders like Sergio Fajardo, his team, business leaders, community leaders, and others. They used data to improve their community, not by assuming what residents needed, but by making a true assessment of people's necessities to live a better life.
In the United States, cities such as Baltimore and Detroit, where violence remains a major concern, could benefit from a more participatory and socially inclusive use of data. Using information technology to detect gunshots is important and can save people's lives, however, this is a reactionary use of a smart city system. As Medellin demonstrates, solving issues of violence isn't just a matter of solving cases faster or responding more quickly to an incident, but rather a matter of avoiding them completely. This transformational change creates a better atmosphere, a sense of belonging for residents, and a feeling of pride in one's community. It also creates job opportunities, and above all it establishes an environment for education and training.
Leading Cities is a global leader in Smart City solutions, city diplomacy and collaboration advancing sustainability and resilient city strategies and technologies.