Ford Smart Mobility's Chariot Operations Cease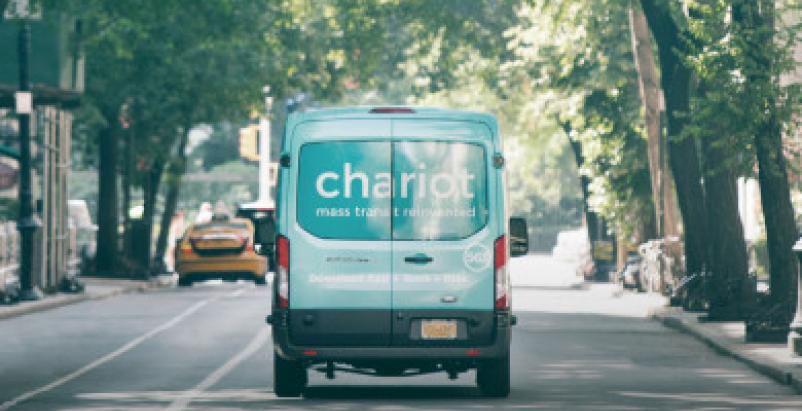 Photo credit: Chariot (Ford Smart Mobility).
The story of Ford Motor Company's plans to boost smart city transit plans has taken a turn. Ford Smart Mobility is moving out of the shuttle service business. Chariot, which was purchased from a San Francisco commuter ridesharing startup two years ago, will cease all operations in March. After announcing its decision to close at the start of 2019, Ford Smart Mobility, the division which acquired Chariot, stopped offering service on its U.K. and U.S. routes as of the end of January and start of February, respectively.
"In today's mobility landscape, the wants and needs of customers and cities are changing rapidly," said Dan Grossman, Chariot CEO in a blog post announcing the decision. "Chariot was built on a commitment to help reduce congestion, ease the commute and improve quality of life in cities, and since our start, we have provided our customers with more than 3 million rides," wrote Grossman. Cities where Chariot serviced customers, according to the company, included: Austin, Chicago, Columbus, Denver, Detroit, Lake Tahoe, Los Angeles, New York City, Seattle, San Francisco Bay, and London.
The Chariot news, as shared by its CEO on the company's blog, has generated attention across both the smart mobility space and automotive industry. The original goal of Ford Smart Mobility, the forward-looking mobility subsidiary, was to help provide alternate means of transportation. As noted on its website as recently as early February, the mission was building sustainable transit. "At Chariot, we're focused on creating a transit solution that relieves congestion while offering a comfortable, personalized commuting experience. The core of our mission is universal access to better transportation. When the world runs on smarter routes, lower costs, and better ride experiences, we'll collectively take cars off the road and transform your twice-daily frustration into a part of your day you actually look forward to."
Ford said the data it gathered from Chariot, mostly that related to how riders used the service to plan their daily trips, will be used to develop and advance future projects for Ford Smart Mobility, according to Bloomberg news reporting. Ford's work toward mobility solutions will continue through other ventures. In November, 2018, Ford Smart Mobility acquired scooter app Spin, a competitor to Bird and Lime. Other new Ford Smart Mobility projects include Ford GoBike, a bike-sharing service in the Bay Area, and Ford Car Sharing in Europe. Ford Smart Mobility also owns Argo AI, an autonomous car development firm that hopes to launch an Uber-style autonomous ride hailing service by 2021.
"We helped Ford build their mobility business, and their experience with Chariot continues to inform their mobility efforts and design decisions for the future," added Grossman, previously COO of General Motors' Maven peer-to-peer car-sharing service. His post continued: "We apologize for the inconvenience this may cause Chariot's riders and our enterprise customers. We are committed to ensuring our customers are aware of the decision and have time to make alternative transportation arrangements. We are truly grateful to our commuters, enterprise customers, and partners for your support over the past five years." Ford paid roughly $65 million for the company in 2016, according to industry reports. After the acquisition, Ford expanded the San Francisco service to Austin, Texas; New York; Seattle; Detroit; and the United Kingdom, where its service in London began in November, 2017.
Chariot, founded in 2014 by a San Francisco startup, ferried passengers in Ford Transit vans, was among the first big bets placed by Ford Motor Company CEO Jim Hackett in 2016, when he was Chairman of the automaker's Smart Mobility subsidiary, according to a recent Automotive News article reporting Chariot's announcement. The article noted that since becoming Ford's top executive in May 2017, Hackett has preached the need to develop "smart cities" with vehicles and other forms of transportation that can cheaply and quickly carry around passengers and goods.
According to Hackett, reported in an update on the decision in FordAuthority.com, the automaker abandoned the project due to the lack of regulatory framework for such app-based ride hailing services. "The issue is that we were ahead of, really, policies that will make this a better business," Hackett told Bloomberg. "I'm very happy with what Chariot taught us and what the next evolution of the business is going to be. This is a pivot for us — a bunch of things have been birthed from the Chariot experience."
Before its acquisition by Ford Smart Mobility, the division's first, Chariot communicated that its goal was to provide a transit situation that sits near public transit in terms of cost, but that provides faster and more convenient routes, according to a Tech Crunch article. The platform crowdsourced the creation of routes, aggregating desired pick-up and destination data from user interaction with its app and determining routes once interest in a particular one reaches a tipping point. It currently has 28 routes in the Bay area, with 100 vans in operation. The announcement of Ford's acquisition of the San Francisco-based company noted that For Smart Mobility planned on expanding into five new markets in the first 18 months. Across the United States, a total of 10 cities offered Chariot shuttles, as did London, at different stages from the time of Ford Smart Mobility's acquisition in 2016 to its ceased operations slated for March, 2019, as reported.