Driverless Shuttle Pilot Rolling Into Grand Rapids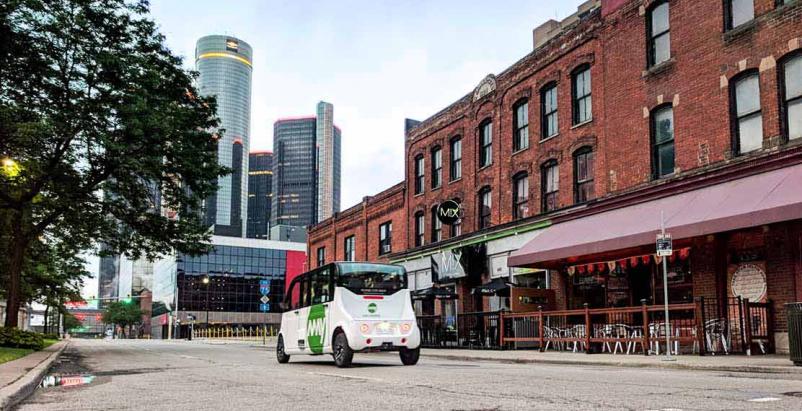 Credit: May Mobility
An Ann Arbor, MI-based startup is making news after announcing plans to bring driverless shuttles to a third U.S. city by early next year. May Mobility has reported plans to add a route in Grand Rapids, Michigan. The plan includes bringing four of its six-seat electric shuttles to Michigan's second-largest city, in a one-year pilot program set to begin in March, 2019. According to a news release issued by the company, the firm's latest initiative follows the launch of its first low-speed autonomous shuttle service in Detroit this summer.
The news of the expansion in Grand Rapids came just days after announcing that May Mobility was adding service in Columbus. The new service in Columbus is slated to start up on December 1, on a three-mile route that loops through the center of the city. The company develops low-speed autonomous shuttles designed to run along a specific route in business districts or corporate and college campuses.
"Across the U.S., cities are seeking cost-effective, safe, and reliable transportation services that will improve congestion and convert cities into more livable and green spaces," said Edwin Olson, founder and CEO of May Mobility. "Self-driving shuttles are a great solution," he added, noting, "As we strive to make transportation that is more accessible and convenient, we're thrilled to be working with the city of Grand Rapids and partners to accelerate a path toward a future where the people of Grand Rapids can drive less and live more."
The goal of the new Grand Rapids initiative is to find ways to address congestion and stimulate the work-life balance in a city that has seen growth in recent years. Looking to improve congestion and convert cities into more livable, green spaces, pilot projector coordinators are supporting self-driving shuttles as a key solution.
"The city of Grand Rapids is the best, real-world testing ground for new and future mobility technologies, and our city is proving that today with this unique public-private mobility partnership," said Josh Naramore, the City's Mobile GR Parking Services manager. He noted that the city has a long history of bringing together urban planning and applied innovation. "We're excited our first [autonomous] pilot is for moving multiple people. This is a step to show that Grand Rapids is ready for autonomous vehicles," Naramore said, adding, "When new technology comes, we want to make sure it's accessible to everyone, not just some."
Public Private Coalition Drives Pilot
A public-private partnership is behind May Mobility's latest self-driving shuttle launch. The Grand Rapids Autonomous Mobility Initiative is a P3 of nine Michigan-based companies and the city of Grand Rapids to bring the six-seat autonomous shuttles to public streets. The Initiative, according to the news release and detailed in a September 29 Tech Crunch article consists of internationally renowned companies including May Mobility, Consumers Energy, Faurecia, Gentex, Rockford Construction, Seamless and Steelcase, and public organizations – including the city of Grand Rapids and Start Garden. The May Mobility announcement noted that the coalition supporting the Grand Rapids Autonomous Mobility Initiative includes the people who design and build the environments where they live, work and move in every day. For its part, Grand Rapids-based Start Garden is an unconventional regional startup ecosystem, which brings together financial, intellectual and social capital to entrepreneurs by connecting them to resources critical to their growth-stage. 
About the AV Shuttle Pilot Program
The fleet will operate on a 3.2-mile section of an existing bus route that provides access to downtown and two of the city's business districts. The route includes 22 stops, 30 traffic lights and 12 turns, including three left turns, according to the initiative's planners. Shuttles, which will be free for riders, will run complementary to the city's existing DASH transportation fleet. As a commuter-driven service, the DASH West provides connectivity to more than 10 City-owned parking lots and points of interest.
The aim of the program is to study how mobility impacts city infrastructure and prepare the community for autonomous vehicles, as noted in the Tech Crunch article. The program will also focus on how these autonomous vehicles improve or affect the mobility of elderly and disabled people. The Grand Rapids Autonomous Mobility Initiative reported that the program will focus on three areas during its operation:
Feasibility: Little research has been done on the impact of mobility on our cities, yet every change in transport technology has transformed them. The autonomous vehicle initiative is designed to gain insight and understand how it impacts existing urban structures.
Accessibility: Address how autonomous vehicles improve or impact mobility for the elderly and people with disabilities, and explore solutions around design of interiors and the urban environment to facilitate accessibility.
Community: Prepare the local community and neighborhoods for the effects of autonomous mobility. This is a priority for the initiative and will include open sessions for community stakeholders for community visioning, goal setting, plan making and recommendations for public investments.
The coalition's approach will include partnering with developers, urban planners, accessibility experts and community stakeholders to understand their needs and design solutions that will build trust and capability with the autonomous technology created by May Mobility.
Ben Thompson, who heads up the company's business development, said they will begin testing the route in February ahead of the public launch to augment the existing route to complement Dash.
"We have partnerships across the city to bring together the best services or solutions to bring the city to the future," Thompson said in the Crain's report, adding, "We want to make sure we are a part of the community, not just selling to the community." The shuttles will be free to the public, and the fleet will run 7 a.m – 7 p.m. weekdays. Grand Rapids transportation officials said the city of Grand Rapids will have authority to charge fares if it sees fit, but is looking for ways to maintain free this program as a free public transportation option.
About May Mobility
May Mobility has received attention in the transportation industry and smart city space, and coverage in business and tech media – including Forbes, Tech Crunch, Car & Driver and Reuters, in the past year. The company is different from other companies racing to deploy autonomous vehicles at a commercial scale, according to Korosec in writing the recent Tech Crunch article on the company's initiatives. It further reported that the startup, which was founded by self-driving and auto industry veterans less than two years ago, raised $11.5 million in seed funding in 2018.  The company's investors include BMW i Ventures, Toyota AI Ventures, Detroit Venture Partners, Maven Ventures, SV Angel, Tandem Ventures, Trucks Ventures, and YCombinator.
The company's mission is to "deliver solutions that work in today's communities to accelerate the path toward a future where people can drive less and live more." May Mobility's founders are reported to bring unparalleled expertise in academia, innovation and the auto industry, counting University of Michigan's APRIL lab, MIT, the DARPA Urban Challenge, Ford, GM, and Toyota among recent experience.
In clarifying its mission to be community driven, the company notes that by partnering with urban planners, property managers, developers, and municipalities, it is building self-driving vehicles and mobility services that can transform the landscape of cities to be more green, vibrant and livable spaces. The company prides itself on listening closely to people in local communities to design and build human-centered solutions that meet real needs. A May Mobility overview states: "At the core we believe that self-driving vehicles can make the world a better place. We are reimagining a future where travel is safe, convenient, and personal, allowing people to move effortlessly between the places where they live, work, and play."
A Closer Look at Grand Rapids
Grand Rapids, the second-largest city in Michigan, considers itself a diverse and culturally rich community, with a population of nearly 200,000 residents, and serves as the county seat of Kent County. Described as the economic engine for the western part of the state, Grand Rapids is located along the banks of the Grand River, 30 miles east of Lake Michigan. The city of Grand Rapids kicked in $250,000 for the one-year pilot, which Naramore said is about a third of the cost for the service, according to Crain's Detroit Business news article published after the announcement. Grand Rapids hopes to become a landing spot for mobility testing, noted Clifford for Crain's Detroit Business. While most technologies tend to focus on the country's largest urban centers such as New York City and Chicago, the article noted that Naramore said his city of nearly 200,000 people could be a model for smaller centers such as Des Moines, Iowa, Indianapolis and Milwaukee.