Drive Clean Louisville Partners City and Utility on EV Charging Stations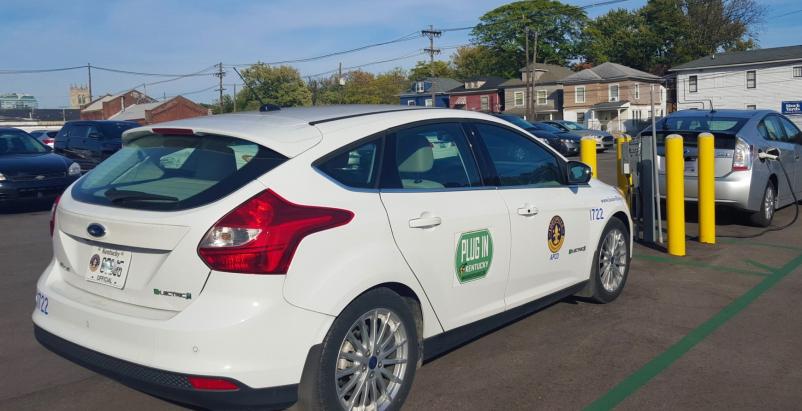 Credit: Drive Clean Louisville
City of Louisville Connects with Utility with Data-Driven Decisions to Determine Locations for EV Charging Stations
At the intersection of data and technology, a smart city public private partnership (P3) is driving solutions for electric vehicle drivers. The largest city in Kentucky, Louisville is working with its local utility company and its residents to generate and analyze data in order to determine best locations for Electric Vehicle Charging Stations.
Drivers of electric vehicles in Louisville have yet another place to "fill up" their batteries with the installation of a new public charging station. The new location, at Seneca Park, was installed through Louisville Gas and Electric Company's EV Charging Station Program. Notably, Seneca Park was chosen using data collected by the Drive Clean Louisville program. For its part, Drive Clean Louisville is a Metro Government initiative that promotes the benefits of alternative fuel vehicles. A survey asked the public to identify places in Louisville in need of vehicle chargers, and Seneca Park was among the top spots named.
The public utility, LG&E, is locating this and other stations around the Louisville area through its EV Charging Station Program. As detailed in a news release issued in late October, the EV Charging Station Program is designed to meet the growing demand for accessible, convenient charging facilities as more motorists embrace electric vehicles. Taking a data-driven approach to selecting the Seneca Park site aligns with one of Mayor Greg Fischer's goals for the city.
"It just makes sense to ask the people who drive electric vehicles to tell us where they need these chargers to be," said Mayor Fischer. "It's a bottom-up, data-driven approach that gives the community a say in the conversation as we work to make Louisville more sustainable."
Located on Rock Creek Drive near the restrooms and tennis courts, the Seneca Park charging station will be available to the public for an hourly fee during normal park hours. The station is equipped with convenient quick-pay options and safety features, including charging plugs that lock in place when not in use.
"It's exciting to help answer the community's call and assist Metro Louisville in bringing its survey results to life," said Beth McFarland, vice president of Customer Services for LG&E and Kentucky Utilities Company. "Installing a public EV charging station at Seneca Park aligns well with the intent of our program, and its design encourages the use of public spaces like widely popular community parks."
Seve Ghose, director of Louisville Parks and Recreation, said he hopes this is the start of a long partnership with LG&E to provide electric-vehicle chargers throughout the community. "Louisville Parks and Recreation fully supports environmentally conscious ventures such as this," Ghose said, emphasizing that parks are the ideal location for charging stations.
Drive Clean Louisville is being spearheaded by the Louisville Metro Air Pollution Control District, which has long been a proponent of alternative-fuel transportation as a way help improve local air quality.
According to Michelle King, APCD Director of Program Planning, the Drive Clean Louisville team is a collaborative effort to find resources and develop policies that promote cleaner transportation options across the city.
"From gathering community input on electric vehicle charging infrastructure to sharing those learnings with partners like LG&E, our goal is to serve as a hub for ideas, information, and opportunities that will allow our city to continue fostering vibrant economic activity while at the same time supporting clean air for all," King said.
Through LG&E and KU's EV Charging Station Program, which was approved in 2016 by the Kentucky Public Service Commission, the utilities host nine additional publicly-accessible charging stations. Customers also can host vehicle charging stations at their locations for public and private use through the program. The utilities continue to evaluate potential locations for additional public charging stations across their service territories.
About Drive Clean Louisville
Drive Clean Louisville is a cross-functional team planning for and exploring opportunities related to electric vehicles and clean fuel transportation for our government and community. The team develops projects for grant funding and policy development with a focus on reducing tailpipe emissions from light- and heavy-duty mobile sources throughout Louisville/Jefferson County. This includes strategies to increase cleaner alternatives to traditional fossil fuels (i.e. gasoline and diesel) and/or engines that include the most effective emission control technologies.
In outlinging its strategy and goals, program information shows that the Drive Clean Louisville initiative will increase usage and ownership of alternative fuel vehicles and clean engine technologies in Louisville/Jefferson County. Its Vision Statement notes that "Louisville will be a community that embraces alternative fuel vehicles (AFV), as barriers to AFVs are alleviated for citizens of all income levels. Residents will be more informed about the benefits, both economic and environmental, of AFV usage, and commerce will be powered through clean engines with Louisville Metro Government leading by example through the implementation of a clean fleet."
Projects which are or have been implemented by Drive Clean Louisville include:
EV Survey Final Report
This report explored both the barriers and the next steps in the promotion of Electric Vehicles. In 2017, Louisville Metro Government conducted an Electric Vehicle Survey to understand our challenges locally. The survey generated 583 responses and indicated that cost of electric vehicles, concerns about driving range, and availability of charging stations are the largest barriers to increased electric vehicle ownership.
To address these issues, Louisville Metro Government reported that it is partnering with local nonprofits to build charging stations, investigating ways to expand the charging infrastructure, and exploring different ways to incentivize owning electric vehicles. Louisville Metro Government is also discussing strategies to increase public outreach to showcase the benefits of going electric.
Crowdsourcing
In conjunction with its EV Survey, Drive Clean Louisville program leaders used crowdsourcing to identify locations in Louisville with the highest demand for EV chargers. More than 200 respondents helped us identify dozens of locations around the city where there is a demand for better EV charging infrastructure. Their responses will help determine where to prioritize the construction of new charging stations. The news release noted that while the locations were fairly evenly distributed across the city, some of the most popular potential sites include the LG&E Mill Creek Station, Jefferson Community & Technical College Southwest, GE Appliance Park, Jefferson Memorial Forest, and local parks and high schools all over the city.
Background on VW Settlement, Electrify America and KY Initiative
On Jan. 4, 2016, the U.S. Environmental Protection Agency alleged that the automaker Volkswagen violated the Clean Air Act by selling approximately 590,000 diesel vehicles built with software to cheat during federal emission tests. Volkswagen later agreed to two partial settlements in 2016 and a third in 2017, and the U.S. Department of Justice resolved the case after a plea agreement. The three settlements require Volkswagen to spend up to $14.73 billion on customer compensation, pollution mitigation and zero emission vehicle investment. The first partial settlement requires Volkswagen to invest $2 billion in building Zero Emission Vehicle charging infrastructure and promoting Zero Emission Vehicles.
Electrify America is a for-profit company owned by Volkswagen created as a part of the VW Zero Emission Vehicle settlement. Electrify America's mission is to "be a catalyst for promoting ZEV adoption by offering transformative, customer-centric infrastructure and energy management solutions." Until 2027, "Electrify America will invest $2 billion in Zero Emission Vehicle (ZEV) infrastructure and education programs in the United States." Currently, Electrify America is considering Louisville for its second cycle of investments. Louisville Metro Government has a continuing dialogue to push for investment in Louisville to help bring Level 3 chargers (capable of charging 20 miles per minute) to Louisville.
The Kentucky Initiative was established from this program. According to company reports, aside from the $12.3 billion consumer compensation and ZEV programs, Volkswagen agreed to pay $2.7 billion to an environmental mitigation trust fund. Notably, Kentucky expects to receive around $19 million from this fund over the course of ten years. The Energy and Environment Cabinet of the Commonwealth of Kentucky is working on developing the state's mitigation plan.
Kentucky's largest city, Louisville's population, according to the most current U.S. Census Bureau data from July, 2017, was 621,349 residents.