Downtown Mobility Plan Brings Cycle Tracks to San Diego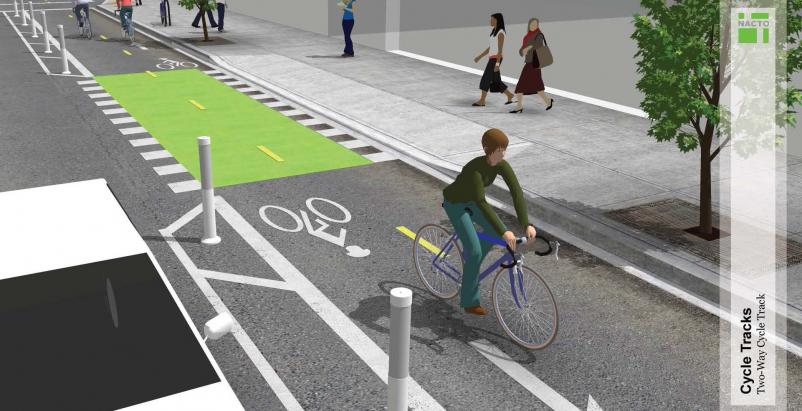 City of San Diego, CA
California's second largest city is taking concrete steps to boost its mobility offerings for its residents and visitors. With the goal of making it easier and safer for cyclists to traverse the streets of downtown San Diego, local leaders recently announced that construction has begun on the first phase of the Downtown Mobility Plan.
"As we encourage people to get out of their cars more, we need to build transportation networks that provide safe paths of travel for everyone," Mayor Faulconer said. "Connecting the popular destinations in downtown to surrounding neighborhoods is an important step in that direction and will give San Diegans more opportunities to embrace the surge in mobility options over the past year," added Faulconer. He, along with City Councilmember Chris Ward, other city officials and mobility advocates gathered at a public event December 19 to announce details of the project.
The Plan calls for the installation of two-way cycle tracks on major arteries in downtown for use by cyclists and scooter riders, creating safer passage from Balboa Park to the San Diego Convention Center, as well as other popular destinations, according to a news release issued by the city. The first phase of the Downtown Mobility Plan will redesign three main corridors with cycle tracks. Those corridors are: Beech Street, from Pacific Highway to Sixth Avenue; Sixth Avenue, from Beech Street to Harbor Drive; and J Street, from 1st Avenue to Park Boulevard.
"The Downtown Mobility Plan is a vital step forward in providing safe infrastructure for all San Diegans and to meet our mobility goals," Councilmember Ward said. "San Diegans are ready for new and innovative mobility options as they move around our city," noted Ward, adding, "This investment will improve the quality of life for those living and working downtown while moving San Diego closer to achieving our Climate Action Plan benchmarks."
Cycle tracks are a special kind of bike lane that provide a right-of-way designated exclusively for bicycle and scooter travel within the roadway, noted the news release. The two-way cycle tracks will be painted green and will be separated from vehicular traffic by parked cars, flex posts or grade variations.
"Building the first phase of the Downtown Mobility Plan will create a tangible example of a protected urban bicycle facility, and serve as an example for the region," Parent said. "Once people see that it works in downtown, they will want protected lanes for their own neighborhoods."
The 9.3 miles of cycle track in the Downtown Mobility Plan accounts for 16.5 percent of the total downtown street network. The second and third phases of the Downtown Mobility Plan will be completed over the next three years, including some sections that are part of SANDAG infrastructure projects. Once completed, there will be several primary paths of travel throughout the downtown area, including Pacific Highway, State Street, Third, Fourth and Fifth Avenues, Park Boulevard, Hawthorn Street, Grape Street, B and C Streets and Broadway (west of Third Avenue).
Over the last three years, the City has repaired more than 1,000 miles of streets and added or improved more than 200 miles of bike lanes. The Downtown Mobility Plan is intended to help the City support more mobility choices, including bicycles and motorized scooters, consistent with the landmark Climate Action Plan. City officials expect to complete all three phases of the plan by the end of 2021. The network of track will eventually stretch from Balboa Park to the San Diego Convention Center, according to the city, as reported in a December 21 article published in The Times of San Diego.
"On the bike front, we're overjoyed change is coming after many years of advocacy," said San Diego Bike Coalition Executive Director Alex Hanshaw in the article. "Prioritizing people who choose to bike and walk is a historic step in the right direction. The lanes also come in a crucial time as we're seeing more people opt for this choice in their commutes, especially as bikeshare and other shared mobility options become more accessible."
In addition to it being California's second largest city, San Diego is the United States' eighth largest, boasting a citywide population of nearly 1.3 million residents and more than three million residents countywide, according to US Census Bureau data provided on the City's website. Within its borders of 4,200 sq. miles, San Diego County encompasses 18 incorporated cities and numerous other charming neighborhoods and communities, including downtown's historic Gaslamp Quarter, Little Italy, Coronado, La Jolla, Del Mar, Carlsbad, Escondido, La Mesa, Hillcrest, Barrio Logan and Chula Vista just to name a few.
San Diego is renowned for its idyllic climate, 70 miles of pristine beaches and a dazzling array of world-class family attractions, including the San Diego Zoo, San Diego Zoo Safari Park, SeaWorld San Diego and Legoland California.