DC Metro to Allow Bikes on Rush Hour Trains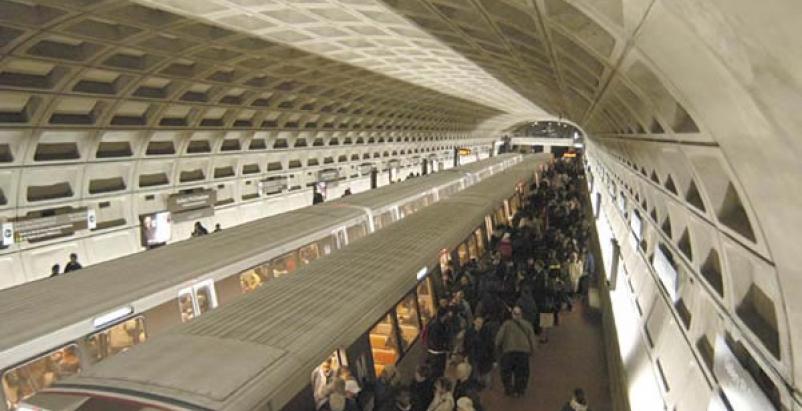 Courtesy: WMATA
Two announcements made by the Washington Metropolitan Area Transit Authority (WMATA) are being heralded by commuters. The first makes last-mile travel easier, and the second, from the Metro Transit Police Department, notes the lowest crime rate on the system since 1999.
Getting in and around the Washington, D.C., area just got easier for commuters. Starting the second week of January, Metro customers will be able to bring their bikes with them on the train – at any time – as Metro ends a longstanding restriction that prohibited bicycles during rush hours.
The policy change, which takes effect January 7, is expected to make Metrorail a more attractive travel option for reverse commuters (i.e. customers traveling outbound in the morning and inbound in the evening) who want to take their bike to travel between the rail station and their workplace.
Metro reviewed its policy and determined that it could respond to requests from the bicycling community by ending the rush-hour bike restriction without significant negative effects, according to a January 2 news release issued by the transit agency. The review took into account that the majority of rush-hour trains are 8 cars in length (the longest possible), and that new 7000-series trains provide more open space. 
According to Metro's announcement, starting Monday, January 7, standard-size bikes will be allowed at all times, on any car of any train, provided that space is available. Customers with bikes are reminded to use the doors at either end of the railcar – not the center doors – and to avoid blocking doors or aisles. Metro will monitor implementation of the new policy to determine whether any modifications are necessary. In addition, Metro reserves the ability to restrict bicycles on the rail system during major events drawing high ridership, such as July 4 fireworks and Inauguration Day. The agency notes that customers can also bring their bikes with them on Metrobus. All 1,500 Metrobuses are equipped with a rack on the front that can accommodate up to two full-size bikes at a time.
When Metrorail first opened, bikes were not allowed in the system at all. Since then, Metro has incrementally loosened restrictions without significant problems. Bikes were first allowed in 1982, with a paid permit on weekends and holidays only. The days and hours when bikes were allowed gradually expanded over time. Permits were eliminated in 1998, and the current policy was established in 2001, allowing bikes at all hours except weekdays from 7-10 a.m. and 4-7 p.m. 
"We received requests from Washington Area Bicyclist Association (WABA) and others in the bicycle community asking us to take a fresh look at our policy," said Metro Chief Operating Officer Joe Leader. He added, "We believe this change supports ridership growth by Metro and a commuting option for those who want to have a bike with them."
The Washington Area Bicyclist Association welcomed the announcement. "Bicycling extends the reach of Metrorail for customers at the beginning and end of their trip. Members of the community have long wanted the option to bring a bicycle along with them on their rush hour trips, especially reverse commuters," said Greg Billing, WABA Executive Director. "I have to say that we're pleasantly surprised with how flexible and accommodating Metro has been in responding quickly to this request. We are grateful to leadership at Metro for this policy change to permit bicycles during all hours of Metrorail operations," Billing added.
Roughly 0.8 percent of Metro customers arrived at their rail station by bike in 2016. The WMATA Board has set a goal of increasing that percentage to 2.1 percent by 2020.
Metro Announces Lowest Crime Rate Since 1999
In a separate news release issued January 3, 2019, Metro announced that there were fewer serious crimes on the transit system than any year since 1999. 
Metro Transit Police are reporting a total of 1,107 Part I crimes in 2018, a 14 percent decline compared to 2017, continuing a three-year trend. The decline was driven primarily by a 19 percent reduction in theft, including 40 percent fewer bike thefts and a 25 percent drop in theft-from-auto incidents. Robberies were down 6.2 percent for the year, and aggravated assaults declined slightly (3%). MTPD reported five sexual assault/rapes during the year, four of which were closed, and four incidents of arson.
"Our riders and our employees are safer thanks to every member of our Metro Transit Police Department, whose hard and smart work contributed to further driving down crime in 2018," said Metro Transit Police Chief Ron Pavlik. "Moving these numbers in the right direction is the result of many factors, including the use of technology, strong coordination with our law-enforcement partner agencies, and proactive policing such as enforcement of fare payment."
Pavlik also expressed his thanks to Metro riders for their assistance, including public tips that have helped close cases, and for reporting suspicious activity.
MTPD continues to use data-driven strategies to assign officers based on crime trends, which are monitored by MTPD analysts on an ongoing basis throughout the year. 
Metro remains concerned about the effect of legislation in the District of Columbia that will "decriminalize" fare evasion in 2019.
"Most serious crime on Metro includes a fare evasion component," Chief Pavlik said. "Our experience over the past several years has been that as fare enforcement has gone up, crime has gone down." The D.C. Council passed the decriminalization bill over the objections of Metro Transit Police and WMATA's Board of Directors.
In addition to uniformed and plain-clothes officers, MTPD uses high-definition cameras throughout the transit system – including aboard vehicles – to assist officers, identify suspects, and protect riders.
Metro customers can report incidents or concerns to Metro Transit Police 24 hours a day, seven days a week, by calling (202) 962-2121 or sending a text message to MyMTPD (696873). In an emergency, dial 911.
Background and History: Washington Metropolitan Area Transit Authority
According to a Metro system Snapshot, ridership in 2017 totaled 301 million trips, with 178 million via rail, and 123 million on busses. The Metrorail covers 118 miles, with 6 rail lines, 91 stations and 1,144 rail cars. Metro operates the 2nd largest heavy rail transit system, and the 6th largest bus network in the United States, employing 12,000 persons.
The Washington Metropolitan Area Transit Authority (Metro) was created by an interstate compact in 1967 to plan, develop, build, finance, and operate a balanced regional transportation system in the national capital area. Metro began building its rail system in 1969, acquired four regional bus systems in 1973, and began operating the first phase of Metrorail in 1976. Today, Metrorail serves 91 stations and has 117 miles of track. Metrobus serves the nation's capital 24 hours a day, seven days a week with 1,500 buses. Metrorail and Metrobus serve a population of approximately 4 million within a 1,500-square mile jurisdiction. Metro began its paratransit service, MetroAccess, in 1994; it provides about 2.3 million trips per year.