Cyber NYC To Launch Global Cyber Center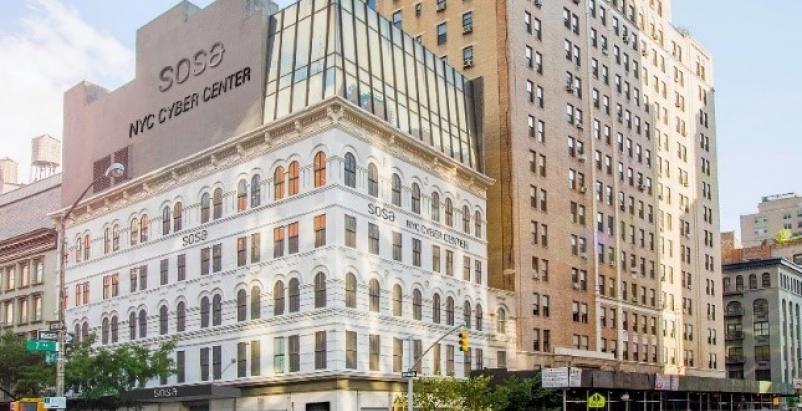 Credit: New York City Economic Development Corporation
The city that never sleeps is uniting the might of civic technology, private innovation and academia to combat ever-growing cyber threats. New York City, in a major announcement which is receiving international attention, recently unveiled plans for a Chelsea-based Global Cyber Center, a SoHo-based Innovation Hub, a Facebook-CUNY Master's Program, a Virtual Apprenticeship Program, and a Cyber Boot Camp for Underserved New Yorkers, among other initiatives. The City will tap world-renowned partners SOSA, JVP, Columbia University, CUNY, NYU, Cornell Tech, iQ4, Fullstack Academy, and LaGuardia Community College to spur innovation and catalyze 10,000 good-paying jobs through cybersecurity.
New York City Economic Development Corporation (NYCEDC) has announced plans to transform New York City into a global leader of cybersecurity innovation and talent to combat one of the world's greatest threats. Cyber NYC, the City's initiative to grow the cybersecurity sector, plans to leverage a roster of world-renowned partners to launch a Global Cyber Center. The Center, according to an October 2 news release, will be an innovation hub for startups, initiatives to fuel commercialization and research, and new talent pipelines to train the cyber workforce of the future.
"New York City needs to be ambitious about cybersecurity because our future depends on it. Cyber NYC will fuel the next generation of cybersecurity innovation and talent, leveraging one of the world's greatest threats to create a major economic anchor and up to 10,000 quality middle-class jobs," said NYCEDC President and CEO James Patchett. "We've convened a world-class roster of partners to help us execute on this essential plan, which will help protect the industries and people that make this city the economic powerhouse that it is today." Cyber NYC, a multi-pronged $30 million investment, is described as a suite of strategic investments to grow New York City's cybersecurity workforce, help companies drive innovation and business development, and build networks and community spaces.
Cybersecurity attacks occur every 40 seconds across the globe, with over 3.8 billion internet users being affected by cyber-attacks in 2017. This extreme threat has created a growing demand for new products and cybersecurity talent. According to estimates, the cybersecurity talent gap will grow to an estimated 3.5 million unfilled jobs by 2021.
With key industries in finance, healthcare, retail, and media – all major targets of cybersecurity attacks and the largest buyer-base of cybersecurity products – New York City has both a need and an opportunity to fuel homegrown innovation and talent, according to sources at Cyber NYC. The report noted that Cyber NYC is expected to catalyze the growth of 10,000 good-paying cyber security jobs over the next decade, a key component of Mayor Bill de Blasio's New York Works Plan.
"EDC's CyberNYC initiative establishes a new partnership positioned to powerfully combine expertise in technology and business innovation, education, job growth, and community collaboration to help fuel our City's forward progress in the rapidly growing industry of cybersecurity," said Geoff Brown, New York City Chief Information Security Officer and Head of NYC Cyber Command. He added, "I look forward to witnessing and participating in CyberNYC in any and all ways through which it contributes to the safety of our City's digital future."
Cyber NYC will be fueled by a $30 million City investment, leveraging up to an additional $70 million from private funding. The release announcing detailed plans noted the robust initiative includes the following distinct, yet connected efforts:
Creating a Center of Gravity for Cyber
Global Cyber Center: NYCEDC has selected Israeli corporate innovation expert, SOSA, to establish a center of gravity for the industry. The 15,000-square-foot, state-of-the-art center in Chelsea will bring together an international community of corporations, investors, startups, and talent to foster collaboration and innovation in New York City's growing cybersecurity ecosystem, according to NYC's Economic Development Center. Located at 17thStreet and 7thAvenue, the center will offer industry-specific events, and programming, as well as coworking space for startups and a cyber range, a virtual testing ground to run simulations.
Hub.NYC by JVP: NYCEDC has selected renowned international venture capital firm Jerusalem Venture Partners (JVP) to establish the city's first international cybersecurity investment hub and create the next billion-dollar opportunity in cybersecurity. Functioning out of a 50,000-square-foot space located in SoHo, this dynamic program will support growth-stage startups, facilitating access to clients, business support, and investment, with the goal of growing them into major cybersecurity companies in New York City.
Inventors to Founders: NYCEDC has selected Columbia University to connect academic inventors of patented cybersecurity technologies with experienced entrepreneurial talent to launch new cybersecurity startups, accelerating innovation and commercialization. It will also provide acceleration resources such as mentorship, training, and validation capital to launch more and stronger early-stage academic startups as quickly as possible.
Developing a Workforce of the Future
Applied Learning Initiative: NYCEDC has selected CUNY, NYU, Columbia, Cornell Tech, and iQ4 to train the next generation of cyber specialists through new certifications and degree programs for New Yorkers. It will provide degree-seeking students with real-world, case-method education about cybersecurity and job-placements, including a new one-year CUNY Master's program in collaboration with Facebook and a stackable credentials program across multiple universities, which will be hosted exclusively on the global online learning platform, edX.org.
Cyber Boot Camp: NYCEDC has selected industry-leading software development school Fullstack Academy and CUNY's LaGuardia Community College (LAGCC), which has one of the largest tech training programs in the region, to prepare New Yorkers for good-paying job opportunities in cybersecurity. Fullstack Academy will lead an intensive boot camp in industry-specific cybersecurity competencies. Adults with minimal familiarity with cybersecurity will be placed in a six-week preparatory course at LAGCC, where participants will learn the basics of industry software and terminology, before continuing onto the Fullstack boot camp. The Cyber Boot Camp will place over 1,000 students in jobs that have an average starting salary of $65,000 over the first three years of the program. 
Working with Industry Leaders
Cyber NYC and its program operators will be supported by an enthusiastic and diverse array of industry partners, focused on growing New York City's cybersecurity industry. Among the most notable are:
Goldman Sachs, whose Chief Operational Risk Officer Phil Venables and Chief Information Security Officer Andy Ozment have agreed to serve on Cyber NYC's key advisory boards, lending their expertise to advise on the overall direction of the initiative.
PricewaterhouseCoopers has committed to hiring students from Cyber NYC's talent programs.
MasterCard has committed to be a partner of the Cyber Boot Camp and to hiring graduates of the program.
Facebook has committed to co-developing a new master's degree program with CUNY.
And, edX.org, which has committed to hosting the Stackable Credentials Program on their global learning platform.   
Representatives from the Center's collaborative public private partners weighed in on the announcement, from NYC Councilmembers to private companies, and academia, who will work together on the wide-ranging program.
"Cybersecurity has never been more important to the pillars of New York's economy – sectors like finance, healthcare, media, and technology – and it will only grow more crucial," said Manhattan Borough President Gale A. Brewer. "You only have to open a newspaper to see how vast the need for cybersecurity is today, " Brewer noted, adding, "Investing in this industry is timely, it plays to New York's strengths, and it will deliver a real return."
"New York City must stand at the forefront of innovation and initiatives in the rapidly growing field of cybersecurity. We have the unique ingredients to become a global leader in this sector," said Council Member Vallone, Chair of the Committee on Economic Development.
"As global leaders on the counterterrorism front, the City that never sleeps is the perfect place for the cybersecurity industry to take root," said Councilmember Peter Koo. He noted, "Our Chelsea Cyber Center will stand out by adding even more jobs, talent and innovation to our growing tech-savvy city.
"We are excited and honored to have been chosen by the EDC to run the Global Cyber Center," said Uzi Scheffer, SOSA CEO. "The Global Cyber Center will serve as a center of gravity for the entire cybersecurity industry and will connect to the finest talent from New York, the States, Israel and our entire global network," noted Scheffer, who also said, "We will see partnerships formed, pilot projects launched and strategic investments made that will positively impact New York and the world."
"We are extremely excited to be collaborating with NYCEDC on this exciting and important initiative," said Orin Herskowitz, Executive Director of Columbia Technology Ventures.  "We look forward to collaborating with CUNY, Cornell Tech, and NYU to help launch more and stronger cybersecurity startups, faster than ever, based on these university innovations," he added.
"I am proud that CUNY has a key seat at the table for this vitally important citywide effort," said Interim CUNY Chancellor Vita C. Rabinowitz. According to Rabinowitz, adding, "CUNY is uniquely positioned to build bridges with industry and equip large numbers of diverse students for jobs combating these ever-evolving threats."
"Fullstack is extremely proud and excited to be part of CyberNYC - a much needed literal and figurative 'Manhattan Project' for cybersecurity," said David Yang, Co-Founder of Fullstack Academy. Yang added, "This is an amazing example of the wholistic support that NYC provides for industries here, as programs like these go a long way towards the long-term security and health of all NYC residents and businesses."
"The exponential growth in sophisticated cybersecurity attacks and their intensity is putting our country, our people and our assets at risk," said Frank Cicio, founder and chief executive officer, iQ4." He added, "NYC is the Financial Capital of the world and most at risk," noted Cicio, a Queens native, who said, "There could not be a better place on the planet to solve this epic challenge. iQ4 has cracked the code on mobilizing education and industry by implementing industry driven virtual apprenticeships at scale that will close the skills gap for thousands of New York students."
"Cyber NYC is an important investment by the City of New York as it provides a route into the well-paying, in-demand field of cybersecurity for all New Yorkers​—enabling them to make better lives for themselves and their families," said LaGuardia Community College President Gail O. Mellow.
"Today's cybersecurity environment is more intricate and complex than ever before, and presents itself to companies, organizations and individuals alike," said Sean Joyce, PwC US Cybersecurity & Privacy Leader. He added, "It's important that we invest in developing skilled professionals, innovative approaches, and build collaboration across the public and private sector to thwart potential attacks and build stronger resiliency."
"As a nonprofit company committed to providing stackable and accessible online education in subjects that address today's critical global skill gap, edX is excited to join the groundbreaking Cyber NYC initiative, said Anant Agarwal, edX CEO and MIT Professor. "We look forward to working with CUNY, NYU, Columbia and Cornell Tech to develop innovative online learning pathways that lead to real career outcomes," Agarwal added.
The city's current cybersecurity industry has a strong foundation with over 100 firms and 6,000 employees. In 2017 alone, the city received over $1 billion in cybersecurity-related venture capital funding. Innovations in cybersecurity help our legacy companies compete, and the industry itself is a hotbed for high-paying and accessible jobs, with over 95% paying over $50,000.
New York City Economic Development Corporation, as noted on its website is the City's primary vehicle for promoting economic growth in each of the five boroughs. NYCEDC's mission is to stimulate growth through expansion and redevelopment programs that encourage investment, generate prosperity and strengthen the City's competitive position. NYCEDC serves as an advocate to the business community by building relationships with companies that allow them to take advantage of New York City's many opportunities.