Cool & Connected Tree Program Aids Dallas' Heat Island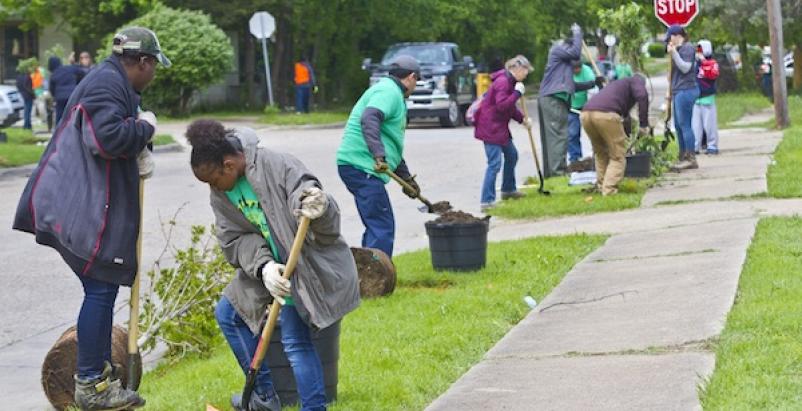 Credit: The Nature Conservancy
In the nation's third worst urban "heat island," one data-driven community-wide collaboration in Dallas, TX is working to live up to its name, Cool & Connected Oak Cliff. Students, local churches and volunteers have teamed up with The Trust for Public Land, The Texas Trees Foundation and The Nature Conservancy in a large-scale tree planting partnership to support a particularly vulnerable neighborhood. Begun this past April, the project will have 1,000 trees placed at two Oak Cliff school campuses, in the surrounding neighborhood, and on walkways connected to public trails. So far, 500 saplings have been planted, according to reports.
Using GIS technology to identify where in Dallas tree canopy enhancement would have the greatest impact, Cool and Connected Oak Cliff addresses a wide array of challenges including the urban "heat island" effect, air pollution, lack of access to green space and public health issues, according to a news release issued by The Nature Conservancy.  Maps were created, identifying most strategic locations for new park and open spaces, which support active and healthy lifestyles for all residents. One map identified high priority areas for strategic green infrastructure park investments that would help address stormwater challenges, connect and expand bike-walk corridors, and mitigate elevated urban temperatures, all with a focus on the people most at risk to these impacts. Maps were created using a weighted overlay analysis based on the following five goals: equity, health, connect, cool, absorb and protect.
The project is supported by a grant from the JPB Foundation, which has funded similar efforts in Boston, Denver and Atlanta and reflects a growing national trend to use trees to address health, social equity and environmental issues in cities.
Addressing Urban Heat
The urban heat island effect is a phenomenon caused by the lack of trees, vegetation and green open spaces in urban areas, combined with dense, hard surfaces like concrete and asphalt. Heat generated by the sun and everyday activities like idling traffic is trapped in these hard surfaces, exacerbating high temperatures and poor air quality. 
"Dallas is hot and getting hotter, with summer temperatures regularly soaring above 100°F," said Janette Monear, Texas Trees Foundation President & CEO. "Our research reveals that trees and green space are three times more effective than other strategies at mitigating the growing heat island issue in Dallas. We can clean and cool our air considerably for our residents by strategically planting trees throughout the city." 
During summer months, urban heat islands contribute to higher instances of respiratory difficulties and heat-related illness and mortality. Children, older adults and people with serious illness tend to be at the greatest risk for impacts related to urban heat. Underinvested neighborhoods like Oak Cliff are often disproportionately impacted as well.
Unfortunately, Dallas is a standout in this space-it is the 3rd fastest growing urban heat island in the country, the Dallas-Fort Worth area ranks 13th on the American Lung Association's 25 most ozone-polluted cities and the city has one of the highest child asthma hospitalization rates in the state.
Parts of Dallas are park deserts, meaning that the elements that combat heat and air quality issues-like parks, trees and green space-are in short supply, particularly around schools. An analysis by the Texas Trees Foundation shows that a staggering 95 percent of schools in the Dallas Independent School District lack adequate tree canopy cover and, according to the Trust for Public Land, approximately 40% of Dallas' residents do not have adequate access to parks or trails. 
"Over 500,000 Dallas residents, including 150,000 children, do not have a park within walking distance of their home," said Robert Kent, North Texas Area Director for The Trust for Public Land. "These park deserts lack green elements like trees that can keep summertime temperatures low and improve air quality." 
Impact by the Numbers
The newly-enhanced tree canopy will create an estimated  $2.9 million in environmental benefits over 40 years, including 248 tons of CO2 pollution removed from the air and over 4 million gallons of storm water intercepted over the lifetime of the trees. In addition, the trees will help clean and cool the air and enhance neighborhood living for 22,000 nearby residents. 
The project is anchored by people in the Oak Cliff community; their input has shaped the planting locations and neighborhood volunteers are helping plant the trees. Oak Cliff schools are also incorporating the project into school curriculum. Community-based "green teams" will water and tend to the trees during the trees establishment period. And finally, to help care for the new trees and monitor their growth, interns from local high schools will be hired. 
"What's unique about this project is that it builds upon existing initiatives between TTF, TPL, TNC, the Dallas Independent School District and many others," said Matt Grubisich, director of operations & urban forestry for the Texas Trees Foundation. "With Dallas heating up, partnerships like this will be essential to ensure we achieve the tree canopy we need to create healthier communities." 
So far, as of late August, some 500 saplings are in the ground, according to a recent feature story published by CityLab and reposted by Smart Cities Dive. It noted that planting trees is a common low-tech solution to battle the heat island, but high temperatures are just one target of this ambitious project. Using sophisticated data and GIS technology, it also aims to harness the many other benefits of trees, from improving public health to taming traffic on the streets. The article by Linda Poon noted that researchers combined data about equity, health, pedestrian safety, urban heat, and flood risks to map out which parts of the neighborhood needs trees and other green infrastructure the most.
According to a recent analysis by The Nature Conservancy, with input from The Trust for Public Land and Analysis Group, American cities lose 4 million trees every year and historically, tree planting has not kept pace with this rate of loss. "We have an effective, relatively inexpensive solution at our fingertips that can help improve the health of millions of people," said Laura Huffman, The Nature Conservancy's Texas director and founding director of its urban conservation program for North America.  She added, "Now we just need to inspire communities to take advantage of it." 
Expansive tree planting can deliver a one-two punch to a number of environmental and public health challenges:
Urban forests cool the air and reduce harmful air pollutants. Trees and green spaces also enhance neighborhood livability, increase opportunities for recreation and exercise and make it easier for people to opt for healthier ways of getting around, like walking and biking.
Science indicates that trees and green space produce multiple health benefits, including: lowered rates of asthma, cardiovascular disease and obesity; reduced impacts from heat waves and improved mental health. A growing body of research also shows that students benefit academically from having nature near schools.
Green spaces improve water quality, reduce storm water runoff, provide habitat for wildlife and increase a city's resilience to the impacts of climate change.
"We're setting out to show that community-driven projects like Cool and Connected Oak Cliff are an effective way to tackle heat islands and the impacts of climate change, all the while, strengthening communities and improving health and wellness, one neighborhood at a time," said Kathy Jack, The Nature Conservancy's Urban Conservation Associate for Dallas. 
About the Partners
The Trust for Public Land creates parks and protects land for people, ensuring healthy, livable communities for generations to come. Millions of people live within a ten-minute walk of a Trust for Public Land park, garden, or natural area, and millions more visit these sites every year. To support The Trust for Public Land and share why nature matters to you, visit 
The Nature Conservancy is a global conservation organization dedicated to conserving the lands and waters on which all life depends. Guided by science, we create innovative, on-the-ground solutions to our world's toughest challenges so that nature and people can thrive together. We are tackling climate change, conserving lands, waters and oceans at an unprecedented scale, providing food and water sustainably and helping make cities more sustainable. Working in 72 countries, we use a collaborative approach that engages local communities, governments, the private sector, and other partners.