Colorado DOT Recognized As Top Innovator, Moves Ahead On Connected Roadway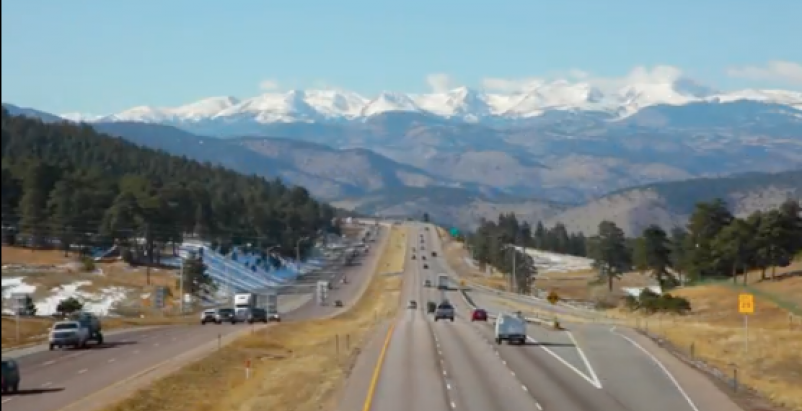 Credit: CO DOT
The Colorado Department of Transportation has been making news and progress this summer with its Lean Everyday Ideas (LEI) program earning a top distinction, and a RoadX Smart 70 Connected Vehicle project creating "an internet of roads."
Just this week, the Ash Center for Democratic Governance and Innovation at Harvard's John F. Kennedy School of Government has named the Colorado Department of Transportation's (CDOT) Lean Everyday Ideas (LEI) Program as a Top 25 Innovation in American Government for 2018. LEI empowers CDOT employees to "fix what bugs them" in their work environment, with the goal of encouraging everyday innovation, and then testing, sharing and replicating those ideas into solutions that can be implemented statewide. The program's concept is that small ideas are the key factor to a highly effective organization, according to an August 14 news release issued by the Ash Center.
"We encourage everyone in the department, and especially frontline staff, to improve our day-to-day operations, which ultimately enhances safety and improves the lives of the users of our system," said CDOT Executive Director Michael Lewis. "To be recognized as one of the Top 25 Programs in American Government by Harvard is a high honor indeed."
For more than 30 years, the Innovations Award has recognized public-sector programs that make all levels of American government more efficient, creative, and effective at addressing social problems and providing services to the public. The program is a significant force in recognizing and promoting excellence and creativity in the public sector. Through its awards competition, the program provides concrete evidence that government can work to improve the quality of life for citizens and that it deserves greater public trust.
The LEI program has captured 569 ideas since its inception in 2013. Of those, 340 are implemented solutions to common problems, and 277 have been fully vetted to become CDOT best practices that are shared through idea cards and articles. The other 229 ideas are suggestions for improvement.
"By creating a more efficient way to do something, you actually increase safety by reducing the amount of time employees are on the highway and in danger from traffic," said CDOT Maintenance Foreman Norman Parra, who covers the Alamosa area. "The Lean Everyday Ideas program gives us the freedom to innovate, which helps improve safety, and it also boosts morale, efficiency and productivity."
The LEI program created a formalized and centralized system to gather and publicize innovative ideas. It originated after employees expressed a need to share their initiatives with all five of CDOT's regions, as detailed on the CDOT websites codot.gov/business/process-improvement and codot.gov/business/process-improvement/local-lean about the programs.
"The Lean Everyday Ideas program provides a crucial platform for CDOT's more than 3,300 employees to engage in continuous improvement," said CDOT Innovation and Improvement Lead Geneva Hooten. "We focus on new innovations, but also on idea spread, which is idea replication from one place to another. Our goal is to prevent staff from recreating the wheel and instead focus on how to make someone else's idea work for them."
In addition to CDOT, citizens benefit from the LEI program. "The submitted innovations promote safety, customer service, and waste reduction," said Office of Process Improvement Director Gary Vansuch, "all which support the secondary effect of cutting costs. It also helps to improve and maintain our state transportation system which, in turn, can enhance safety for the traveling public."
Connected Vehicles: RoadX Program and Smart 70 Project Updates
The Colorado Department of Transportation (CDOT) is moving further along on a project to turn I-70 into a connected roadway. In partnering with Panasonic Corp. of North America, CDOT reports it will build on a successful pilot program to begin real-world deployment of an advanced technology vehicle-to-everything (V2X) environment to the I-70 Mountain Corridor.
Part of CDOT's RoadX program, the Smart 70 project will create a connected vehicle environment along the I-70 Mountain Corridor that will take human-driven cars and connect them with the most real-time data possible to allow drivers to make better decisions when traveling through the mountains. The Smart 70 project will be implemented in phases as technologies evolve that can communicate the ever-growing amount of data available to inform drivers, vehicles and eventually self-driving vehicles.
This partnership represents the largest shared investment in V2X technology in the U.S., according to CDOT. Its Smart 70 project will establish one of the first connected vehicle environments in the United States, setting Colorado up to have the safest, most connected and reliable transportation system in the nation. During the recently-completed pilot deployment, CDOT and Panasonic successfully installed and tested five V2X roadside units and six V2X vehicle onboard units, and established a Network Operations Center to manage the overall system. These efforts set the stage for deploying the V2X system in a real-world environment along a major Colorado highway. By the end of the year, 100 roadside units will be in place along the I-70 Mountain Corridor from Golden to Vail.
By creating this connected system—an "internet of roads"—drivers and traffic managers will receive real-time information about road conditions such as traffic delays, icy conditions, and crashes through continuous and automatic communications between individual vehicles and roadside infrastructure. Once deployed, this system is projected to result in an 81% decrease in unimpaired multi-vehicle crashes, as well as more reliable travel times and, eventually, the ability to communicate with self-driving cars.
In addition to installing roadside units, more than 100 CDOT vehicles that regularly drive the I-70 Mountain Corridor will be equipped with technology that allows them to communicate information to and from the Traffic Operations Center. This is all part of Phase 1 of the program with Panasonic; the next phase will allow traffic managers to begin sending messages to connected vehicles via the roadside units, alerting drivers to upcoming roadway hazards—such as a crash or closure ahead—on in-vehicle screens.
By the end of 2018, roadside units installed along the I-70 Mountain Corridor will be communicating with all equipped vehicles, providing real-time information to drivers and traffic managers. For example, drivers will receive alerts to slow down when vehicles ahead suddenly apply their brakes. If an airbag is deployed, an alert will be instantaneously sent from the vehicle to a roadside unit, so that traffic managers can immediately dispatch emergency responders and tow trucks to the exact site of the crash.
CDOT is projecting that a statewide V2X system will generate more than 2 billion safety messages per hour from vehicles. By leveraging the extensive amount of data available on road conditions (from vehicles, sensors, cameras and more), drivers can receive notifications about potentially unsafe driving conditions even before they begin experiencing traffic delays. News of CDOT's Connected Vehicle plans were widely-reported in the smart city and transportation industry, including a July 27 online article published in Roads & Bridges.
Through the end of the project in 2021, CDOT and Panasonic will continue to announce major updates about the launch of the V2X environment to improve safety and mobility across all of Colorado.
The Smart 70 project explores the potential of connected vehicle technology to transform and improve mobility and reliability on the I-70 Mountain Corridor, without the need of widening the highway. According to CDOT, connected vehicles can transform the way Coloradans travel by creating a safe, interoperable wireless network that allows vehicles to send and receive information from other vehicles, smartphones and road infrastructure (e.g., traffic signals, roadway sensors). A connected vehicle sends and receives important information about road conditions, delays and accidents by automatically communicating information such as the vehicle's speed and direction. By providing real-time information, connected vehicles can prevent crashes before they happen. Information and updates are available at CDOTs website dedicated to the RoadX Smart 70 Program.
The benefits of a connected vehicle environment include: enabling more reliable trips and travel times; enhancing safety and mobility and helping prevent crashes; reducing stop-and-go traffic; allowing roadways to move more traffic, more efficiently, reports CDOT. In addition, according to the agency, the amount of data about road conditions, crashes, weather, etc. available to drivers continues to grow. The goal of the Smart 70 project is to determine the best way to communicate this information, safely and reliably, initially to drivers, and eventually to self-driving vehicles.