The IoT Offers New Revenue Opportunities For Smart Cities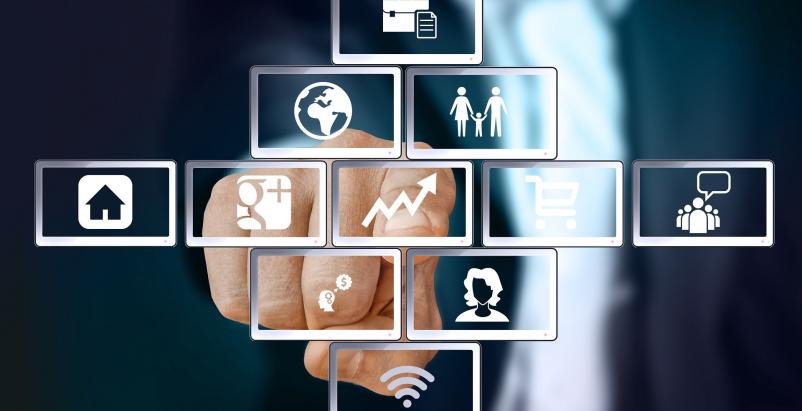 Man came closer to (and continues to do so) emulating nature in the year 1983 when the ARPANET broke first ground. That was a little big bang of its own, because what followed was indeed a whole new world. With wide scale adoption that began in the '90s, Internet ushered in a new wave of opportunities for people to learn and benefit from being connected to one another.
Internet is defined as a global network of computers with standardized communication protocols. The big challenge is to understand what it really mean and what are the advantages of being connected to one another via this medium. And when it comes to what we are calling IoT, the main question is if it make sense for devices to talk to one another without us in the picture.
This has been the natural progression of connectivity through the Internet. While the first revolution was due to people being able to connect to one another via the devices, the next one is upon us due to the devices connecting to each other. It means the value proposition now includes people and systems. It means that groups of people, cities, countries and governments can now come together and have opportunities to manage systems, monitor performance and open new avenues for value creation which essentially translates into a better quality of life. It also opens new opportunities for businesses to promote creative entrepreneurship which really is the backbone of any flourishing civilisation.
What are the key tools of this new internet revolution?
Kevin Ashton, co-founder MIT's Auto ID Lab, was the first to use the term "Internet of things" in a presentation to P&G in 1999. He later wrote in an article for RFID magazine:
If we had computers that knew everything there was to know about THINGS—using data they gathered without any help from us—we would be able to track and count everything, and greatly reduce waste, loss and cost. We would know when THINGS needed replacing, repairing or recalling, and whether they were fresh or past their best.
It's really about THINGS. Because, THINGS lead us to do things that matter.
The Internet of Things, or IoT, is the second big bang after the internet which is changing the world for the better.
Just like Internet saw the rise of new economic models and businesses, the IoT has opened a lot of exciting opportunities as well. Today you have unique businesses that are delivering value in the form of enabling shared economies, like on-demand cab hailing companies. Nobody would have thought that watching short movies while travelling in an OLA cab would be a business, but this is the new business-oriented reality that cities must now start to benefit from.
The benefits show themselves in many ways. Firstly, it opens a whole new way of generating additional revenues for the city itself thus becoming a self-sustaining system, it also allows a better utilisation of resources by enabling new economic models such as the one of shared economy. A city with fully functional IoT platform opens itself up to Cost optimisation models as well which is truly data driven and not mere guess work. It becomes equipped with real time emergency warning and secondary networks that act as backup in times of distress.
The Problem
Municipal governments around the world are constantly inundated with the need for monitoring various assets including pertaining to energy, mobility, connectivity, security, utilities, urban furnishing and environment for preventing asset loss, and improving operational and resource allocation efficiency. Of a specific imminent issue, the surmountable number of IoT-connected electronic devices is threatened to pose environmental hazard worldwide. Without an adequate intervention for recycling program, these devices from around the world are destined for landfill. It is estimated that by 2020, there will be more than 50 billion connections worldwide. The sensors embedded with new Bluetooth technologies generally last 3-5 years while the applied technologies expire within months of installation.
Such lack of control presents not only significant cost and reduced ROI on asset sunk cost for the private sector but also a potential hazard for world's cities. Government contractors, i.e. private sector suppliers of various hardware, equipment and devices to government agencies, are required to be agile in adapting the IoT technology including for monitoring, performance analysis and process improvement purposes. Governments increasingly require complete visibility to their assets, an audit tool of the contractor's performance - specifically if the agreed Service Level Agreement (SLA) has been addressed. This has subsequently created a more competition among government contractors in maintaining their contracts. Consequently, these assets could just be abandoned and remain uncontrolled
Cities continue to expand, and governments need help managing these assets. Nowadays, most part of utilities supplying and maintenance are licensed to private companies through the public-private partnerships agreements. So, it is also increasing the need for an efficient tool to manage and control any type of IoT assets — including analogical assets such as street lightning.
Cisco's Senior Vice President and General Manager of IoT and Applications, Rowan Trollope, has cited a lack of IT expertise as the underlying cause of high failure rate of 74 percent in IoT launches. This is based on the survey that Cisco conducted on IoT deployment in UK and America. The survey further indicated that only 48 percent of data collected from IoT are being analysed.
According to iScoop, IoT services and software will represent the market maker for the IoT industry. Even though IoT hardware market continues its dominance (with a total spending approaching $400 billion by 2020 according to IDC), it is the slowest growing segment. Both software and services will grow faster than hardware and connectivity. In hardware, modules and connecting end points to networks lead, while IoT software spending is dominated by application software (more than 50 percent of total IoT software spend).  In overall, IoT will continue driving both business transformation and innovation acceleration markets such as robotics, cognitive computing, and virtual reality (Vernon Turner, IDC). 
Furthermore, according to Ubuntu/Canonical 2017 survey and as shown in the chart below, 78 percent executives stated that value-added service and maintenance will represent the highest monetization methods of IoT.
IoT Industry Opportunities
McKinsey report provides an insight into the current state and the complex trajectory of growth for existing IoT technology suppliers. The growth paths will determine the players' competitive advantage and successful business models will evolve.  The report affirms the premises in developing a growth strategy of the need for organizations that use IoT to obtain "better tools and methods to extract insights and actionable information from IoT data, most of which are not used today".
It is already possible to highlight the following market opportunities:
Abundance of Data. Governments, corporations and consumer brands are capitalizing on big data movement initially to improve internal process and are extrapolating their applications to chart further growth in new applications.  New IoT companies are scaling rapidly from a few installed assets to thousands and even millions of assets, i.e. sensors, Wi-Fi hotspots, street lights and others. The extraordinary growth must be balanced by hardware maintenance management to optimize operational efficiency resulting from unintegrated maintenance program, consequent contract liabilities and others.
Most IoT data are not currently used.  This finding signals a surmountable opportunity for rapidly amassing of public data. For example, only 1 percent of data from an oil rig with 30,000 sensors is examined. The data that are used today are mostly for anomaly detection and control, not optimization and prediction, which provide the greatest value.  B2B users can generate nearly 70 percent of potential value enabled by IoT.
There is large potential for IoT in developing economies. Over the next ten years, IoT offers higher potential value in advanced economies because of higher value per use. However, nearly 40 percent of value is expected to be generated in developing economies.  Specifically, the McKinsey report highlights the two primary types of opportunities of IoT in transforming business processes and enable new business models. Local companies can maximizes value per use in developed economies while capturing the most growth in developing economies with the infancy of IoT and vantage point of expanding to the broad-based spectrum of categories.
Users of IoT technologies will capture most of the potential value over time. As in other technology markets, the end customer ultimately captures the most value, we find. The report estimates that customers (such as factory owners using machines guided by IoT technology, operators of transportation fleets, and consumers) will capture upwards of 90 percent of the value opportunities IoT applications generate.
In many settings, customers will capture value in both direct and indirect ways, such as being able to buy more efficient machinery that is designed using IoT data from older products in use. Of the value opportunities created by the Internet of Things that are available to technology suppliers, in general the largest share will likely go to services and software and less will likely go to hardware.
Applications within the Cities Segment.  There are several opportunities for new companies to operate specifically within the Cities segment of the IoT settings described by a McKinsey Global Institute report.  The applications involved public spaces and infrastructure in urban settings, adaptive traffic control, smart meters, environmental monitoring and resource management.
IoTrash. The IoT boom is expected to continue on an upward trajectory. By 2020, there will be more than 50 billion connections worldwide. If not properly controlled, this stellar growth can result in the accumulation of electronic trash (IoTrash) in world cities. As IoT hardware has longer product lifecycle than the technology itself, the imbalance implies that the hardware becomes redundant from a technological standpoint. Consequently, these assets will be abandoned and untraceable. Such lack of control presents not only significant cost and reduced ROI on asset sunk cost but also a potential hazard to world cities.
Opportunities to provide "end-to-end" IoT solutions to meet specific needs.  In light of the present stage in the evolution of the IoT industry with its complexity and customers' limited implementation capability, there is a need for interoperability and customization - for hardware, software, and service providers (installers, systems integrators, and others) to deliver end-to-end solutions.
Forrester Research Inc. further provides the following insights into the IoT industry:
"Horizontal" platforms are likely to emerge depending on the industry development. IoT technology suppliers will compete on the basis of distinctive technology, distinctive data, software platforms, and the ability to provide complete solutions. At different levels of technology (within the "technology stack"), the division of value among players will shift over time, with an increasing share going to suppliers of software and analytics.
Global adoption is only one-fifth of all firms. About 19 percent of respondents report IoT usage today, with 28 percent planning to adopt in the near future, across 10 established and emerging countries on five continents. Enterprises are more likely than smaller companies to use IoT. Twenty-three percent of global enterprise respondents use IoT, but only about 14 percent of small and medium-size business (SMB) respondents do. 
Emerging markets show the strongest interest in IoT, across global regions. Respondents in North America and Australia/New Zealand report similar adoption rates of around 37 percent plan to or are already using IoT. European respondents have higher interest and adoption rates at 42 percent. But Latin American and Asian respondents outperform their peers with 52 percent and 75 percent of firms reporting use of or plans for IoT, respectively.
Forrester Research Inc. further identifies varying momentum of IoT applications in different industries as depicted in the following chart.  For example, utilities and telecom sectors recorded the highest rate at 88 percent - of which 27 percent were already implementing IoT and 30 percent were in the planning stage and a further 30 percent were interested.
Deployed correctly, these IoT applications have the potential to drive city revenue.
Nav Krishna is the founder of Rousing, an IOT enabled experiential lighting company based in Bangalore, India.
Renato de Castro is the CEO at SUIPHOS, a disruptive spin-off IoT project based in Barcelona; VP Smart Cities and IoT projects at SmartUp Consulting Firm; VP International Affairs at The Brazilian Human Smart Cities Network; and Smart City Ambassador of TM Forum.