Cities School Scooters in Dockless Do's and Don'ts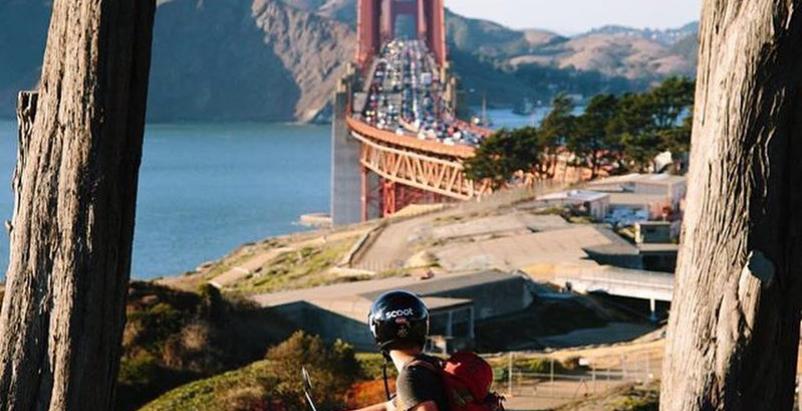 Credit: Scoot
Three California cities are serving as municipal mobility mentors when it comes to regulating dockless, electric scooters and e-bikes. On September 4, the Los Angeles City Council unanimously approved rules for scooters and bikes. San Francisco has moved forward in announcing the two companies selected to be part of its year-long pilot program. And Santa Monica has given the greenlight to four firms in a six-month trial, but will now charge a public land use fee for scooters.
L.A. Law
In a first for the City of Los Angeles, its City Council has approved a set of rules and regulations for the operation of dockless vehicles in, which will begin with an initial 120-day Conditional Use Permit (CUP) period to allow the Department of Transportation to issue permits to dockless vehicle companies. Following the 120-day CUP period, a one-year pilot will begin. Councilmember Ryu introduced a motion in early October, 2017, instructing the Department to develop rules and regulations, and after nearly a year of work, multiple reports and committee hearings, they were approved unanimously during the Council's September 4 meeting.
The guidelines include a 3,000 vehicle cap per operator as well as requirements that dockless bikes and scooters be parked in the upright position to keep the right-of-way clear. According to a news release issued by Councilmember Ryu, the rules approved also ask the Department of Transportation to report back on building out safe alternatives to sidewalk riding, which is illegal in the State of California, and potential revenue from the pilot to support active transportation infrastructure, education and enforcement. Furthermore, it allows each Council office to establish how dockless bikes and scooters are rolled out in their district, and prohibit parking of dockless bikes and scooters in specified areas.
"Today is a big day for dockless bikes and scooters in Los Angeles, ensuring not only the safety of riders and other road users, but also for the development of first-last mile option in the City," Councilmember Ryu said. He noted, "The rules approved today reflect a year's worth of work and careful consideration, and I will be closely monitoring their effectiveness with the Department of Transportation in the weeks and months ahead."
"Everyone in Los Angeles knows we face traffic challenges," Councilmember Ryu said. "We need to be open to all solutions, and support those who want an easy way to connect to existing transit infrastructure. With these rules in place, we will be able to support this mobility option, and ensure it is done safely and responsibly," he added. The 4th Council District which Ryu represents includes Griffith Park, Sherman Oaks, Toluca Lake, Hollywood, Hollywood Hills, Los Feliz, Silver Lake, Miracle Mile, Hancock Park, Windsor Square, Larchmont and portions of Koreatown and Van Nuys.
SF Sets Scooter Standards
In San Francisco, just two of the 12 companies vying for participation in the "Powered Scooter Share Permit Program" were given the green light for operations. In its year-long pilot coordinated by the San Francisco Municipal Transit Agency, or SFMTA, the two companies selected -- Skip and Scoot -- will be able to operate 1,250 scooters in the first six months, with the possibility of that number doubling in the second six months. The other ten who vied for the program but were not accepted were Bird, Spin, Lime, Jump (owned by Uber), Lyft, Ofo, Razor, Ridecell, Hopr and Uscooters. 
In first announcing the pilot program, an early May program update issued by SFMTA detailed its policy and priorities. The agency's StreetTalk report statement is instructive for municipalities looking to regulate scooters, while providing mobility options to residents. Excerpts from the report follow.
"The SFMTA's Board of Directors approved a new permit system and pilot program for shared, motorized scooters. The decision comes on the heels of an ordinance unanimously passed by Board of Supervisors on April 17, requiring that companies offering shared, motorized scooters have a permit from the SFMTA. The SFMTA's new "Powered Scooter Share Permit Program" establishes a 12-month pilot program, which may grant up to five permits. For the first six months, a total of 1,250 scooters may be permitted. If the first six months go well, that total may increase to 2,500 in months seven through 12. The increase in permitted scooters would be tied directly to how well any permitted operators meet the standards we set out in their permits. As part of their permit application, companies must demonstrate how they will minimize their impact on San Francisco's sidewalks, while maximizing their transparency to the public. Specifically, operators would need to provide user education, be insured, share trip data with the city, have a privacy policy that safeguards user information, offer a low-income plan, and submit a proposed service area plan for city approval. Operators will also need to have a plan in place to address sidewalk riding and sidewalk parking, which may include measures like locking scooters to bike racks.
Ensuring that their customers comply with the rules of road will be a critical element in both receiving a permit and operating as a permitted company. The SFMTA is looking to the companies themselves to develop robust user education so that their customers know how to properly ride and park the scooters. The permit and pilot reflect the SFMTA's data-driven method to better understanding how new mobility services impact our city and communities. It's a model similar to approaches we have taken in the past, including using pilots and short-term permits to better understand the needs and impacts of new services such as on-street car sharing and electric moped sharing.
Holding companies to high standards in the public interest
The SFMTA sees the interest in providing more mobility options as a good thing. At the same time, we believe that any use of the public right-of-way should be in the public interest. The new permit and pilot was built to prioritize public safety, build in equity and focus on accountability. The conditions that we're asking the companies to meet tie back to real challenges and the overall goals we aim to achieve: ensure safety and access, promote equity, and increase accountability. During the 12-month pilot, the SFMTA will evaluate how a shared scooter system works in San Francisco. We'll be assessing the pilot's effectiveness and company compliance through field observation, counts, citations issued, data received, complaints received and other measures. The pilot's results will inform future policy recommendations and next steps. It's possible for the SFMTA to arrive at these recommendations before the 12-month mark, or make adjustments during the pilot.
Administering a program at no cost to taxpayers
Managing a new permit program and pilot will take time and resources. To that end, the SFMTA is ensuring that our involvement does not come at the expense of taxpayers by recovering program costs through a $5,000 application fee and $25,000 annual permit fee, and creating a $10,000 endowment per company to cover city costs associated with property repair and maintenance. To the extent that motorized scooter sharing helps make our transportation system safer, more equitable and more accessible, we support it."
One cannot say they were not warned. As reported in an article in SFGate April 16, cease-and-desist letters were sent to Bird, LimeBike and Spin. The article noted that the city claimed the companies were violating either state or city laws. The article further reported the letter referred to "un-permitted motorized scooter rental was creating a public nuisance on streets and sidewalks...and endangering public health and safety." In doing so, it called on the companies to halt operations until regulations could be put into place. It also impounded dozens of scooters, showing it was not afraid to flex its regulatory muscle with the companies who took a risky "land first, ask for permission later" stance.
Santa Monica Announces Trial Program
In Santa Monica, regulators have approved a 16-month trial program, to start mid-September, which will include Santa Monica-based Bird, as well as Lime, Lyft and Jump. Bird and Lime each can have 750 scooters operating in the city, while Jump and Lyft each can have 250 scooters and 500 bikes. That number can increase or decrease based on their utilization and performance, according to the city. "The selected companies bring a wide range of local, national and international experience that will contribute to a comprehensive and informative pilot program," David Martin, director of planning and community development of Santa Monica, said in a press release. "The City looks forward to working closely with each of these operators to identify innovative solutions that help create a viable, well-operated long-term shared mobility program in Santa Monica."
An article in the Santa Monica Mirror provided details of a recently approved City Council decision to charge scooters a land use fee. The report noted that e-scooters are going to get charged rent and have been officially banned from the beach bike path. On August 28 at the weekly City Council meeting a resolution was passed to charge e-scooter operators a fee for using the public right of way. The staff recommended that this fee be added to the current charges levied on scooters companies under the Shared Mobility Pilot Program, those costs being $20,000 per operator as well as $130 per device annually. Mobility Manager Francie Stefan updated the Council on the plans. While the focus of the item may be e-scooters, Stefan specified that this is a part of a larger increase of new mobility devices – as well as Transport Network Companies (TNCs) like Uber and Lyft – on the streets. 
Bird was the first dockless scooter rental company to launch in the country, having kicked off its services in Santa Monica in September 2017. Its relationship with the city has had its share of challenges, according to numerous reports. One article published by CNet Magazine, detailed the new policies. It noted that the City Attorney's Office filed a complaint on nine criminal counts against the startup in December. Presently, the relationship seems to have settled into a more workable situation with new regulations in place.
After rolling into cities at record pace this past summer, many cities, like these three California examples, have moved swiftly to write rules and regulations. Prioritizing public safety, while making way for alternative mobility options, is certain to remain a challenge. Decisions on dockless scooters will continue to make news, and necessarily so. The dockless mobility movement is here to stay. That being the case, lessons are being learned on all fronts -- within city councils which are setting rules on scooters, and at the companies that make them. In setting standards for, and, as such, commanding more respect from, scooter abd bike companies, leaders in cities of all sizes across the country are wise to take lessons from each other, and stay educated on best practices as they take effect.