Chicago Welcomes car2go On Demand Transportation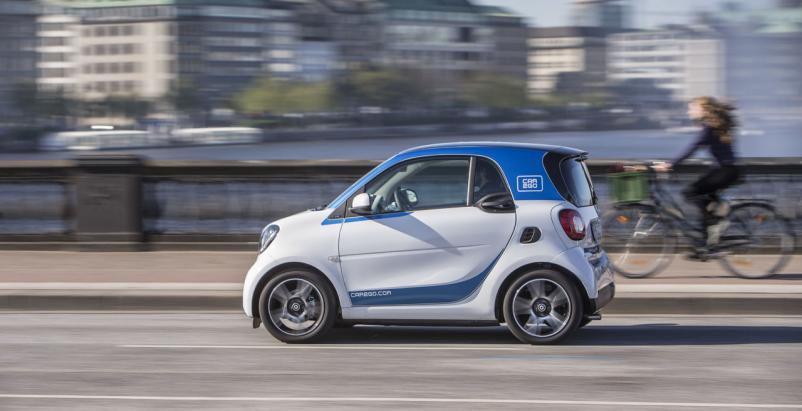 The world's largest and fastest-growing free-floating carsharing service is coming to the Windy City. In bringing its pioneering mobility offering to Chicago, car2go will be the first and only free-floating carsharing service in Chicago, as of its July 25 launch. Chicagoans will have access to 400 shared Mercedes-Benz + smart car2go vehicles. Key selling points for users, included in a news release issued by the company on June 20, include the ability to find a car2go vehicle nearby, reserve it for up to 30 minutes, start and end trips at favorite places, and not having to pay parking. Users park in non-metered street parking spaces dedicated to car2go-only spots when done.
"Chicago is a global leader in transportation innovation and this new pilot program will help us stay at the forefront while supporting our commitment to providing safe and reliable ways to get around Chicago," Mayor Raum Emanuel said. "I look forward to seeing this program succeed and scale up to reach neighborhoods across Chicago," he added.
A flexible and "on demand" mode of transportation, car2go complements existing public transportation by bridging the gaps between the "first and last mile" of a member's commute. car2go members use a free, downloadable app on their smartphone to find, reserve, take and end trips in car2go vehicles.
Chicagoans will be able to make one-way trips without having to pick up or return car2go vehicles at fixed locations or by a certain time. This drives home the difference between car2go's model and other carsharing services operating in Chicago. car2go members can view, reserve and access car2go vehicles through its award-winning mobile app, which is available on iPhone and Android smartphone devices.  When members are finished using a vehicle, they may park at any approved parking space within the car2go Home Area, which includes 29 square miles. This includes on-street residential permit parking and designated car2go parking spaces. The borders of the Home Area are clearly identified in the car2go app. Fuel, parking, insurance, and maintenance are all included, and there are no monthly or annual fees.
Registration for membership opened on June 20, 2018. Members have instantaneous access to a fleet of several hundred shared vehicles and can conveniently end their trip in any approved space within car2go's Home Area, including residential permit areas and car2go designated parking spaces. Chicagoans can register for free by using the code CHI2018, noted the June 20 news release. They'll also receive $15 in car2go credit. Offer valid through August 23 after which car2go members only pay a standard one-time $5 sign up cost, in addition to their use of the a car2go vehicle – whether that be by the minute or by using the Trip Package that works best for them.
The company says users enjoy the many benefits of access to shared vehicles without the increasing hassles and expense of city car ownership. The company noted research proving that car2go's free-floating model helps mitigate traffic congestion, reduces air pollution and integrates with other transit and sustainable transportation options, thereby helping cities move more people, more efficiently.
"Chicago is ideally suited for car2go, with the city fully embracing free-float carsharing as a way to enhance its mobility ecosystem by providing its citizens – including the 800,000-plus Chicagoans who don't own a vehicle – with a brand new mobility option," said Paul DeLong, CEO of car2go NA. "Ultimately, our service is designed to complement public transit, and has been proven to bring numerous economic and environmental benefits to the cities in which we operate all over the world. In fact, our members consistently report spending less time and money driving. Our mission in Chicago is simple: to provide a transportation option that improves the lives of Chicagoans."
"CDOT is committed to supporting a robust transportation network that provides good, accessible and affordable transportation and transit options in a variety of modes for all Chicagoans. We're pleased that car2go has stepped forward to undertake this pilot project through which we will be able to assess the operational impacts and demand for this service," Chicago Department of Transportation (CDOT) Commissioner Rebekah Scheinfeld said. "We also applaud car2go for their strong commitment to the Vision Zero traffic safety effort and making our streets safer for all users." car2go is the first carsharing service in the U.S. to actively support Vision Zero by providing its members free online road safety courses by the National Safety Council.
A wholly-owned subsidiary of Daimler North America Corporation, car2go N.A., LLC, offers an innovative mobility solution in rapidly growing urban areas. The company currently boasts 3.3 million members in 23 cities worldwide, with more than one million in the United States and Canada. The  carsharing network of affordable, eco-friendly Mercedes-Benz and smart vehicles includes a fleet of nearly 14,400 vehicles in 24 locations in North America, Europe and Asia.
In March, 2018 Daimler AG – car2go's parent company – and BMW Group agreed to combine their mobility services to form a new joint-venture mobility powerhouse offering seamless access to on-demand mobility services including free-float carsharing; ride-hailing; parking; electric vehicle charging; and multi-modal trip services. Fast Company named car2go one of the most innovative transportation companies of 2018. TIME Magazine ranked the car2go app #5 on its "Top 10 Apps of 2017" list.
Citing an August, 2016 carsharing report by Frost & Sullivan in its June 20 news release, car2go shared data estimating the global carsharing market will grow from 7.9 million people in 2015 to over 36 million people by 2025.