Chicago Drivers To Benefit From Enhanced Navigation Connectivity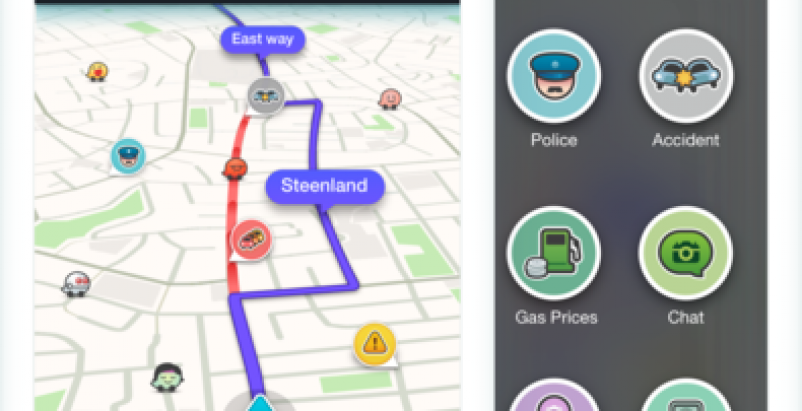 Credit: Waze
Two transportation-related mobile apps are combining to make life safer and easier for Windy City drivers. The concept: enhanced navigation connectivity. The goal: reduce crashes and improve traffic flow. Google-owned navigation app Waze and Chicago-based parking space app SpotHero are teaming up with the City of Chicago to install beacons along Chicago's five miles of multi-level streets. Through this partnership, the two mobility companies will install more than 400 Waze Beacons devices which deliver Bluetooth-enabled connectivity to driver's cell phones where GPS signals can't reach. The initiative, which became available Labor Day weekend, aims to put an end to underground signal blackouts.
"Chicago is working to be a leader in transportation and technology," said Chicago Deputy Mayor Robert Rivkin during a recent event at SpotHero's Loop office. "It's not just a question of adopting every new technology first, but it's about figuring out how to best align technology with people's daily needs," added Rivkin.
In a news release issued by SpotHero said it and Waze share a mission to improve mobility. Previously, drivers using Waze or other GPS services would lose reception on Chicago's lower roads, hindering their ability to navigate to their destination accurately. This loss of connection creates driver confusion and can lead to traffic crashes and congestion. Extending connectivity underground remains a challenge in tunnels and underground roads worldwide, and until now for Chicago's Lower Wacker Drive, Lower Lower Wacker Drive, Lower Columbus Drive, Lower Michigan Avenue and other locations.
GPS signals can't reach Chicago's underground roads, as noted in a Chicago Tribune article detailing the program. As drivers become more dependent on technology to get around, their navigational skills deteriorate, said Gil Disatnik, head of the Waze Beacons program. If motorists drive into a tunnel and lose their guide, they get nervous and slow down. The beacons may help prevent that, he said.
The beacons, which will be installed and owned by the Chicago Department of Transportation, do not collect data. They emit a signal that can aid navigation apps like Waze, and are available for use by all developers looking to make it easier and safer to get around Chicago. According to reports, the devices are about two inches by two inches and are placed about 100 feet apart, and will be placed out of easy reach to avoid theft and tampering. Each beacon contains a battery expected to last five years.
Waze has helped install beacons in seven other cities, including Boston and Pittsburgh in the U.S. Batteries in the beacons last four to six years, and they don't require much maintenance after installation. According to the news release about the development of this technology, and the challenges that led to it, the idea came from an engineer's personal travel troubles. A Waze engineer Gil Disatnik first encountered in 2014 after he lost GPS signal driving through a Boston tunnel and missed the turn to the airport. After months of developing a solution, Disatnik launched the Waze Beacons Program in 2016, and it is now live domestically in Boston and Pittsburgh as well as internationally in Brazil, France, Italy, Israel and Czech Republic. Worldwide, more than 3,000 Waze Beacons have been installed on 46 miles of tunnels and roadways, and have powered connectivity for millions of drivers.
"The City of Chicago is committed to being a leader on innovative transportation investments that improve mobility, safety and the quality of life for our residents," said Mayor Rahm Emanuel, City of Chicago, in an announcement about the program. He added, "Chicago is home to a thriving tech industry, and it's great to work with local startup SpotHero and with Waze who are working to help make everyday life easier for Chicagoans and visitors alike."
With its headquarters in Chicago, SpotHero says that it envisions a world where people get everywhere, easier. The company connects mobility leaders, vehicles and drivers with the largest network of off-street parking in North America through its HeroConnect platform, a parking API and SDK, and provides the connective tissue to exchange data and payments. SpotHero is also the leading parking reservation service with more than 20 million cars parked and the most app downloads nationwide. This full ecosystem approach makes parking facilities future-proofed, cities more accessible, and the world more connected. Founded in 2011, the company has raised $57.5 million in funding, as noted in the company's August 29, 2018 news release.
For its part, Waze is "where people and technology meet to solve transportation challenges." According to the company, Waze is a platform that empowers communities to contribute road data, edit Waze maps, and carpool to improve the way people move about the world. Waze partners with municipalities and transit authorities to reduce traffic and congestion—leveraging current infrastructure while impacting city planning. Waze also works closely with tech and automotive brands to reimagine what transportation looks like today. 
In looking to "outsmart traffic," the partnership is perfectly-suited for Chicago and the challenges its roads can bring to drivers. The project partners note that Chicago is a prime test city for the use of the combined app beacons. Mobile devices are often challenged by the city's infrastructure, including popular shortcuts on roads which take drivers through tunnels. Navigation connectivity is challenged when cars pass under and through the tunnels and multiple elevations of downtown streets along the Chicago River. These multiple tiered streets, for example "Lower Wacker and Upper Wacker" can cause cellular blackouts, and cause driver confusion, often resulting in crashes. In seeking to improve traffic flow and driver safety, the newly-announced enhanced navigation connectivity, which became available Labor Day weekend, is expected to address those top priority concerns.