Cadillac Announces Super Cruise Rollout and V2X Communication Plans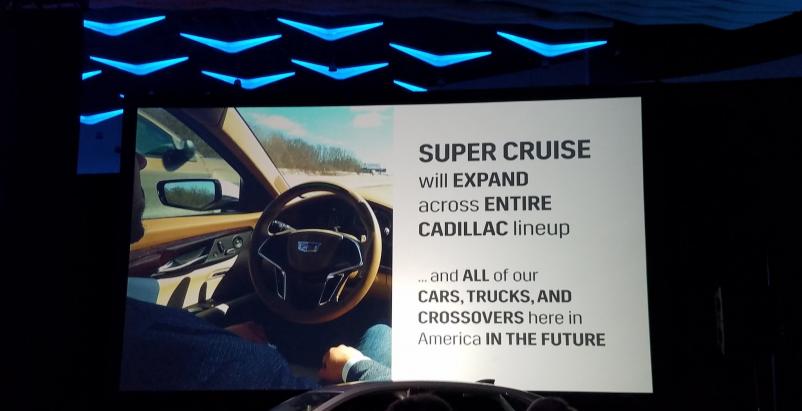 Cadillac's Super Cruise is coming to all of its models, according to news released during the Intelligent Transportation Society (ITS) Annual Conference in Detroit. The world's first true hands-free driver assistance feature for the freeway, Cadillac's Super Cruise, will be available on all Cadillac models, with a rollout beginning in 2020. The technology will be introduced in other General Motors brands after 2020. Mark Reuss, GM executive vice president of Global Product Development, Purchasing and Supply Chain, shared the news with industry experts during Wednesday morning's ITS session. Today's announcement also included news that the company will offer V2X communications in a high-volume crossover by 2023. Future plans include expanding the technology across the Cadillac portfolio.
Reuss told ITS conference attendees that GM is "committed to ushering in a new era of personal transportation," saying technologies like Super Cruise, and V2X communications will enable it. According to Reuss, the expansion "demonstrates Cadillac's commitment to innovation, and to making customers' lives better."
The company first pledged Cadillac would begin offering advanced intelligent and connected technology in its vehicles at the 2014 ITS World Conference. There, GM Chairman and CEO Mary Barra offered a keynote address which was echoed in today's news.
"Cadillac is proud to be the leader for the company's innovation," said Steve Carlisle, Cadillac president. "Groundbreaking technologies like these continue to provide unparalleled comfort and convenience for our customers."
The Super Cruise, driver assistance feature is made possible by precision LiDAR map data, high precision GPS, a state-of-the-art driver attention system and a network of camera and radar sensors. According to the company, it requires an active OnStar service plan with emergency services to function. Customers can drive hands-free on more than 130,000 miles of limited-access freeways in the U.S. and Canada. The Cadillac 330 Hudson St New York, NY 10013 2 driver attention system helps to keep drivers engaged and detects when drivers need to pay more attention to the road. Even while using Super Cruise, drivers must always pay attention and not use a handheld device.
Cadillac introduced vehicle-to-vehicle (V2V) communications on the CTS sedan in 2017, which uses Dedicated Short-Range Communications (DSRC) technology. Using the Basic Safety Message as a base, V2V can be extended to the roadway infrastructure and other roadway users (e.g., cyclists, pedestrians, etc.) establishing a V2X ecosystem. Using V2X, compatible vehicles can be notified of hazardous road conditions, traffic light statuses, changing work zones and more. With a range of nearly 1,000 feet, drivers can be alerted to possible threats in time to avoid a crash, according to the news release.
The company has been a leading auto luxury brand since 1902, and resports that its global growth has been driven by an expanding product portfolio featuring distinctive design and technology.