Boulder County, CO Commits to GoEV Initiative, Moves to Electrify Fleet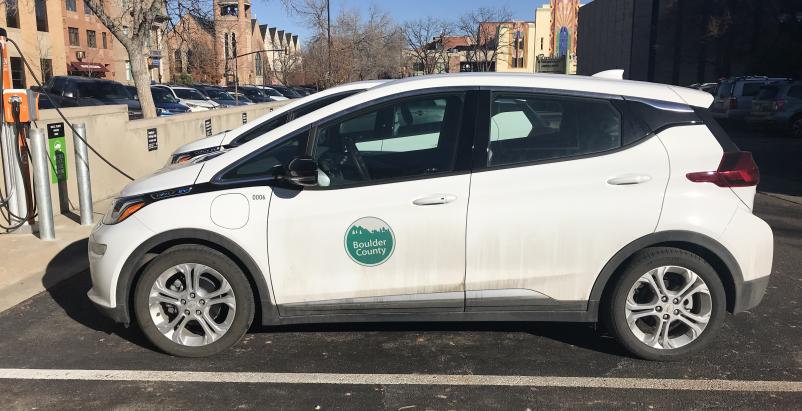 Credit: Boulder County, CO 
Boulder County has become the first Colorado County to commit to being a GoEV community, as its Commissioners recently adopted a clean energy transportation electrification plan. The Board of County Commissioners approved a resolution during its November 13 meeting, according to a news release issued after its passage, whereby the County pledges to be a GoEV County and to develop a transportation electrification plan with implementation strategies.
GoEV is a movement supported by the Southwest Energy Efficiency Project (SWEEP), the Sierra Club, Conservation Colorado, Clean Energy Economy for the Region (CLEER), and Colorado Public Interest Research Group (CoPIRG) which encourages local governments to pledge to develop electric vehicle action plans.
The petroleum-fueled transportation sector is now the largest source of greenhouse gas emissions in the nation and is a contributing factor to air pollution and climate change, threatening the health of Boulder County residents and the sustainability of our planet, noted the news release detailing the resolution. The transportation sector needs policy support to move toward adoption of clean energy technology, including electric vehicles (EVs), that reduces our dependence on foreign fuels and supports a healthy environment and economy.
"It is clear that our transportation system needs to not only be cleaner and more environmentally friendly but also less costly in regards to maintenance costs," said Commissioner Elise Jones. "Electrifying our vehicles is a solution that solves these needs and Boulder County is committed to leading this change," added Jones.
"We have been working to electrify our county fleet because it saves taxpayer money over the life of the vehicle," according to George Gerstle, Boulder County Transportation Director. Gerstle noted, "Electric vehicles require less maintenance, use less fuel, and are better for the environment," adding, "As more vehicle models become available, we will be moving towards electrifying our pickup trucks, vans, and heavier equipment. We'll also be advocating that RTD and other transportation providers, like Lyft and Uber, use electric vehicles."
The term "electric vehicle" includes Battery Electric Vehicles, Plug-in Hybrid Electric Vehicles, and Hydrogen Fuel Cell Vehicles. The electrification of cars, trucks, and buses is needed in order to achieve deep reductions in carbon pollution, and the benefits grow over time as utilities transition to higher levels of renewable energy. Boulder County will not be able to meet GHG emission reduction goals without electrifying the transportation sector.
Some of the goals Boulder County is pledging to work towards include:
100% of new, light duty vehicles purchased by the county shall be electric vehicles when possible
Supporting the electric vehicle charging station infrastructure needed to accommodate the transition to electric fleet vehicles.
Working with the community on programs, policies, incentives, and regulatory approaches to transition 30% of all residential, business, and municipal vehicles within the county to zero emissions by 2030, and 100% of all vehicles by 2050.
Boulder County is dedicated to being a leader in the use of clean energy, establishing policies and programs that conserve energy, promote sustainability, and support Colorado's goal of nearly one million EVs on its roads by 2030. Noteworthy is that the residents of Boulder County have shown their support for reducing GHG emissions through overwhelming support of the county sustainability tax, and by having the highest level of EV adoption of any county in Colorado.
About GoEV Initiative
Leading the charge on electric transportation, GoEV partners believe that Colorado cities have a unique opportunity to lead on climate policy. According to information provided by the GoEV initiative http://https://www.goevcity.org/, the initiative reports that many cities have taken action on emission reductions and led the way to cleaner energy in the electricity sector with ambitious renewable energy commitments. It further contends, "They can do the same in the transportation sector by setting bold targets for electric vehicle (EV) adoption, and by implementing policies and strategies to kick the EV transition into high gear. By supporting electric transportation options, municipalities give residents the opportunity to reduce emissions, breathe cleaner air, save money, and lead the way for greater EV adoption nationwide."
According to GoEV, the state of Colorado released Colorado's Electric Vehicle Plan, in January, 2018, which set the goal of nearly a million EVs on the road by 2030. Achieving this goal is key to meeting state targets for carbon emissions reductions and fixing our air quality problems, but it won't happen without cities stepping up to meet the challenge, according to GoEV's reporting.
The driving force behind GoEV include the following guiding principles:
Transportation is a significant and growing contributor to emissions, and reduced emissions from transportation are essential for the climate and offer many local benefits, including better air quality, improved health, and financial savings.
Mobility should be increasingly shared, electric, and affordable to provide the greatest public and private benefits.
The transition to clean transportation should be just and equitable, and provide improved mobility and access to jobs and healthcare for lower-income communities, people of color, the disabled, the elderly and youth.
Cities should be increasingly designed for people (not just cars). Efficient and human-designed cities include walking, biking, public transit and shared trips that create thriving and more livable communities.
Cities should work with utilities and state entities to create favorable policies for transportation electrification in areas such as infrastructure, incentives, allocation of VW settlement funds, vehicle standards, and utility investment.
The Initiative provides a range of resources to municipalities seeking to commit to its shared visions, including a GoEV Toolkit, which serves as a catalog of local policies, strategies, and programs designed to advance the transition to EVs. The toolkit, according to the GoEV website, takes a holistic approach to the transportation electrification, with specific policy recommendations for public transit, municipal fleets, taxis, ride-hail services, and personal car ownership. Most of these tools have been implemented in cities, counties, states, and utilities in Colorado and across the country.
Boulder County, Colorado is home to more than 300,000 residents and includes some of the most diverse, natural landscapes and sustainable development along the Northern Front Range of Colorado, as noted on its website. From visionary open space, land use and sustainability policies to forward-thinking and compassionate human services programs, Boulder County government prides itself on helping to foster a vibrant, healthy and active community, according to its website, which also includes a detailed section on the County's Sustainable Transportation Priorities. The county seat is the City of Boulder. Other incorporated towns and cities include: Erie, Jamestown, Lafayette, Longmont, Louisville, Lyons, Nederland, Superior, and Ward.