Combatting Oversupply And Over Servicing In Bike Sharing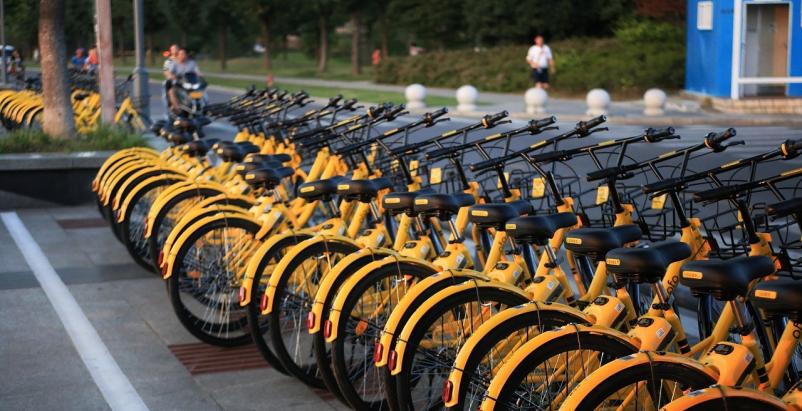 The Bike Share boom saw a phenomenal rise in both docked and dockless public Bike Sharing systems. Today, these schemes are being forced to rethink their approach if they want to succeed in the long-term. It's not about who can supply the most bikes in a market, but about how effectively they can manage and maintain their existing operations.
In the race to win global market share, dockless, or free-floating, Bike Share providers were quick to deploy their multi-coloured bikes on local streets, globally. It led to an oversupply of bikes in many regions which didn't cater to local demand. It was one of the first times we saw the full extent of the management issues in dockless schemes with stacks of abandoned and damaged bikes.
Free-floating schemes are often positioned as having no cost to a city, but they have to ask themselves is "free" really free? There can be enormous costs associated with making sure bikes are parked appropriately and not cluttering an already busy urban landscape. Local residents, city planners and operators should all have a say in how free-floating schemes are implemented and managed.
Operators that had their eyes on expansion gave little thought to management of its resources. They were happy to invest heavily in new bikes and oversupply the market. It meant Bike Share Schemes had actually counteracted the local demand and did more harm than good in some cases.
Today, we're seeing dockless Bike Share operators pull out of major cities with ofo, Mobike, oBike, Reddy Go and Gobee recently shutting down operations around the world. In 2018 alone, Ofo has pulled out of Australia, India, Israel and numerous cities across the US including Washington D.C., Chicago and Miami. It's a warning sign that investment is not purely enough to succeed in new markets.
While dockless schemes may be pulling out, new micro-mobility modes of transport including e-scooters and e-bikes are entering cities at a rapid pace. This brings a new level of management challenges with the constant need to swap or charge batteries.
Over Servicing in Docked Bike Share Schemes
For traditional, docked-based schemes, oversupplying is not as much of an issue. It's restricted by the physical infrastructure and can only ever have enough bikes to fill the docking stations. But operators can risk over servicing the market. Over servicing involves unnecessarily carrying out rebalancing, maintenance or any other operational tasks when it's not needed. 
Over servicing may seem positive. It means operators are continuously managing bikes and resources to ensure its riders have access to their services. In reality, over servicing the market can actually limit growth. Operators have to invest a huge amount of time, money and effort in carrying out operational tasks. If these activities are not needed, it's wasted resources that can't be used to grow and benefit the Bike Share Scheme.
According to European Cyclists' Federation (ECF), OPEX costs for a public Bike Share Scheme is estimated at around €1,500 – €2,000 per bike per year. The ECF also estimates that the redistribution of bikes accounts for around 30 percent of the total operational costs.
Unnecessarily carrying out rebalancing and other operational activities can make running a Bike Share Scheme difficult. It adds to the operator's cost and with very low prices for bike rentals, operators can struggle to maximise profits. Operational efficiency can be the difference in succeeding and growing in a market or losing out to faster and more efficient competitors.
Over servicing and usability is something that we carefully track through our data and Artificial Intelligence (AI) platform. We compare usability figures to identify how global Bike Share Schemes operate and manage its resources. In our previous released data, the usability figures indicated that Chicago and London performed at the top of its group which included London, Paris, New York and Chicago.
Chicago has been consistent in delivering a reliable Bike Share Scheme to its riders. It had a usability figure of 99.3 percent which means bikes and docking points are available at the station or nearby over 99% of the time. London topped the group with 99.4 percent but showed signs of over servicing the market. It could be at most risk of using too much city resources to manage its operations.
According to ITDP's Bike Share Planning Guide 2018, the London cycle hire scheme had the highest average operating cost per trip of $3.40. In comparison, Washington, D.C., Chicago and Denver had $2.55, $2.59 and $3.24 per trip, respectively. Identifying where operators could be over servicing and tightening up internal processes holds huge potential to increase bottom lines, and for global growth.
How to Tackle Oversupply and Over Servicing
For docked and dockless schemes, the players that act fast and take a smarter approach to their management will be the winners in this competitive industry. It's simply not enough to supply the bikes, operators need to efficiently manage their resources. The operational side can't be an afterthought.
Having a single operational model across numerous cities is unlikely to work. Every city and state is unique with hundreds of different parameters like the amount of public transport available, number of train and bus stations, the weather, the topography or a number of other things. To grow globally, docked and dockless operators need a streamlined process that uses data and new technologies such as AI.
Data has the potential to track how the local city operates and deliver real insights into how its resident behave. But data in itself holds little value. The real value comes from how it's analysed and the insights behind it. This is where AI plays a critical role.
AI can take tons of data from the cityscape and deliver new intelligence to operators. It can predict future demand based on local trends and conditions that are changing every day. That level of insights can be invaluable to operators both large and small.
Operators can accurately predict how many riders it could have at any given time, where they will be going and how long they will be there for. That can help operators plan in advance and evolve as the day goes on. It drastically reduces wasted trips and streamlines the entire back-end process to deliver a better managed Bike Share Scheme to riders and a more profitability business for the operator.
With data and AI, operators can plan redistribution based on local demand, not on an outdated schedule. It ensures bikes and resources are available when and where it's needed. Riders aren't left stranded either with or without bikes but instead they can fully rely on it for their day-to-day use.
Operational efficiency can be the foundation for growth locally, regionally and around the world. In Chicago, having a platform that can optimise operations enabled them to triple the amount of bikes they had without increasing their internal resources. Our BICO platform was able to evaluate processes and find ways to improve existing operations.
Bike Sharing in the Future
Bike Share Schemes have grown substantially across the US and around the world. According to Bike Share in the U.S.: 2017 Report by Nacto, the number of bikes more than doubled from 42,500 in 2016 to around 100,000 by the end of 2017. The introduction of micro-mobility means of transport has dramatically added to the growing number of schemes with e-bikes, e-scooters and other electric-assisted transportation fast becoming popular choice of short-term trips.
To better manage dockless Bike Share Schemes, cities across the US are adopting stricter regulations. In Washington D.C. the dockless fleet is restricted to 400 whereas Seattle adopted plans to let four Bike Share companies operate up to 5,000 bikes each. In Chicago, participating Bike Share Schemes needed to incorporate a 'lock-to' technology that meant its dockless bikes had to be locked to a physical infrastructure.
The increase in regulations and pressure on operators raises big questions around large scale Bike Share Scheme operations and how it will be rebalanced and maintained in the future. For growing e-bike and e-scooter schemes, operators will most likely need a rebalancer that can ensure batteries are fully charged for the riders. It will require smarter and more efficient operational efforts.
As schemes around the world grow in popularity, the focus will be on delivering a reliable and sustainable cycling experience. We believe the key is to form the right partnerships and take advantage of the latest technologies such as AI to track resources, optimise management processes and accurately serve local needs. That way operators can deliver a sustainable scheme and maximise revenues.
We've seen significant benefits from having a smart platform that collects tons of local data to deliver actionable insights for operators. They are free to look ahead to the future and rely on continued and optimised operations in each city they operate in.
Tom Nutley is the Head of Operations at Stage Intelligence. Stage Intelligence specialises in developing Artificial Intelligence (AI) solutions for the transport and logistics industry. It enables its partners to rapidly respond to changing demand and accelerate how they make decisions.