APTA, Vision Zero Analysis: Public Transit Use Reduces Deaths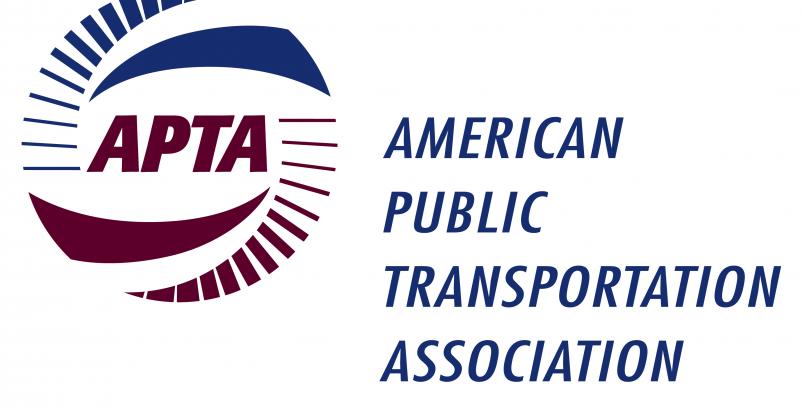 Cities with higher public transit use can dramatically cut their road traffic death rates, according to a newly-released data analysis. The American Public Transit Association (APTA) and Vision Zero Network have partnered to boost public transit use, and published an analysis intended to support city leaders in creating safer cities. Its findings show that metropolitan areas with higher public transportation use – among modes such as heavy rail, light rail, frequent bus service and commuter rail – can cut their traffic fatality rate up to 40 percent.
The detailed report, "Public Transit is a Key Strategy in Advancing Vision Zero and Eliminating Traffic Fatalities," identified ways in which metro areas with higher public transportation use has resulted lower traffic fatality rates. Specifically, metro areas with frequent public transit use of more than 40 annual transit trips per capita, have up to 40 percent of the traffic fatality rate of metro areas with fewer than 20 transit trips per capita, according to an APTA news release issued at the end of August. The analysis was published ahead of ATPA's Annual Meeting, which will be held September 23-26, 2018, at the Music City Center and Omni Nashville. A summary of the program has been included in this article.
"One of the most powerful traffic safety tools a city can employ to eliminate deaths and injuries due to road traffic crashes is its public transportation system," said APTA President and CEO Paul P. Skoutelas. He added, "It takes just a modest increase in public transit use to result in a dramatic decrease in traffic fatalities."
Metro areas that move from 20 annual public transit trips to 40 per capita represent a modest increase in public transit mode share but can provide disproportionally larger traffic safety benefits, according to the analysis.  On average, this increase would translate to people taking just two additional public transit trips per month.     
"Every day 100 people die due to traffic crashes on America's roads, and increasingly communities are committing to Vision Zero because they believe that everyone deserves to be safe on our streets," said Leah Shahum, Founder and Director of the Vision Zero Network. Shahum added, "Investing in strong public transit systems helps communities improve safety for everyone on the roads." Since 2014, more than 30 U.S. communities have committed to Vision Zero goals and strategies – zero traffic deaths and severe injuries among all road users.
The analysis of the most recent data shows that for individuals, public transportation continues to be one of the safest ways to travel, and is, in fact, ten times safer per mile than traveling by car. Public transportation modes that serve longer trips can help reduce total vehicle miles traveled and provide safety benefits to users, according to the study.  For instance, traveling by commuter and intercity rail is 18 times safer for passengers (measuring fatalities) than traveling by auto. Public transit benefits even people who do not use it and are otherwise safe drivers because it helps reduce the risk of being the victim of other drivers' mistakes, according to the analysis.   
The study highlights that a robust public transit system creates these life-saving benefits because it provides for a greater mode shift from the auto to safer travel on public transit; an alternative for high-risk and vulnerable road users; and compact development which provides for lower and safer traffic speeds.
The latest data from the National Highway Traffic Safety Administration (NHTSA) reports that there were 37,461 deaths due to automobile traffic crashes in 2016.  This is a 5.6 percent increase from the previous year. In addition, these auto traffic deaths cost the nation $871 billion per year.  
"It is essential our elected leaders on all levels continue to provide strong investments in public transportation because of its extensive traffic safety benefits," said Skoutelas. "We are partnering with the Vision Zero Network to encourage city leaders, public transit and traffic safety professionals to collaborate and leverage use of their public transit systems to move towards the goal of zero deaths and injuries on our roadways," added Skoutelas. 
"For too long, we have undervalued the significant safety benefits of robust public transit networks, so we look forward to stepping up cooperation to grow public transit and safety together," said Vision Zero's Founder and Director, Leah Shahum.
 
The analysis is based on the methods used in the APTA research publication The Hidden Traffic Safety Solution: Public Transportation. As noted in the news release, APTA said it is "pleased to partner with the Vision Zero Network to share promising strategies for greater coordination and cooperation between public transit professionals, Vision Zero proponents, and others interested in safe mobility for all."
In releasing its latest report, APTA provided insight from a number of traffic safety and public transit leaders. Each weighed in on how cities can leverage their public transportation system as a powerful traffic safety tool to move towards the goal of zero deaths and injuries on our roadways. 
"Subways, buses and trains are the safest modes of transportation and serve to make the roadways in transit-rich cities like New York among the safest in the country," said Polly Trottenberg, Commissioner of New York City's Department of Transportation, and the Metropolitan Transportation Authority Board Member.  She added, "As New York continues to improve and expand our mass transit systems, we are also aggressively working towards the goals of Vision Zero – eliminating all fatalities and serious injuries on our roadways."​
"In San Francisco, we are redesigning our streets to achieve the dual benefit of safety for all road users and increased transit reliability, in support of our goals to eliminate traffic fatalities while increasing public transit ridership and mode share," stated Edward D. Reiskin, Director of Transportation of the San Francisco Municipal Transportation Agency (SFMTA).
"Shifting trips onto public transit creates safer, healthier, and more vibrant communities," offered Monica Tibbits-Nutt, Board Member of the Massachusetts Bay Transportation Authority. Tibbits-Nutt added, "Creating less conflict among modes and building the infrastructure to support it is fundamental to Vision Zero's success, as such, giving dedicated access to transit vehicles is a major step in improving transit movement and keeping other modes safe."
The Vision Zero Network is a nonprofit project working to advance the goal of Vision Zero. The Network convenes leaders in the realms of public health, transportation planning & engineering, policy, law enforcement, community advocacy, and the private sector to develop and share promising strategies and to support strong, distributed leadership to make Vision Zero a reality.
The American Public Transportation Association (APTA), based in Washington, D.C., is a nonprofit international association of 1,500 public and private sector organization which represent a $68 billion industry that directly employs 420,000 people and supports millions of private sector jobs. According to its communications team, APTA members are engaged in the areas of bus, paratransit, light rail, commuter rail, subways, waterborne services, and intercity and high-speed passenger rail. This includes: transit systems; planning, design, construction, and finance firms; product and service providers; academic institutions; transit associations and state departments of transportation. APTA is the only association in North America that represents all modes of public transportation, and notes that its members serve the public interest by providing safe, efficient and economical transit services and products.
The Association's Annual Meeting, according to details on its website is set for September 23-26, 2018, at the Music City Center and Omni Nashville. Hosted by WeGo Public Transit (formerly the Nashville Metropolitan Transit Authority), APTA's major policy & management conference attracts public transportation leaders and managers from all sectors. Participants are encouraged to join discussions with colleagues to share best practices.
The ATPA Annual Meeting program will include an Opening Session featuring keynote address from Daymond John. As Founder/CEO of FUBU, Presidential Ambassador for Global Entrepreneurship, and Star of Shark Tank, John's presentation, "Where Public Transportation Goes, Community Grows," to be held in the Grand Ballroom. A fundraiser and reception for the APTA Foundation will be held, celebrating 30 years if supporting the next generation of transit leaders, as will a Products and Service Showcase. Topics for ATPA's Educational Sessions include: Envisioning the Workforce in the Mobility Landscape; A CEO Panel on Making the Transition to Electric Buses; Innovative Mobility Practices; Transit and TNCs - Mobility Partnerships and Revenue Opportunities; among dozens of others. Additionally, important public transit and passenger rail legislative issues that will be debated in Congress during the year ahead will be covered in the Federal Legislative Overview with Congressional staff members. The meeting's final day, September 26, will offer a Closing General Session, "Discovering Transit's Value Message in Big Data," followed by an FTA Capital Projects Workshop and FTA Safety Management Systems (SMS) Training for Executives.